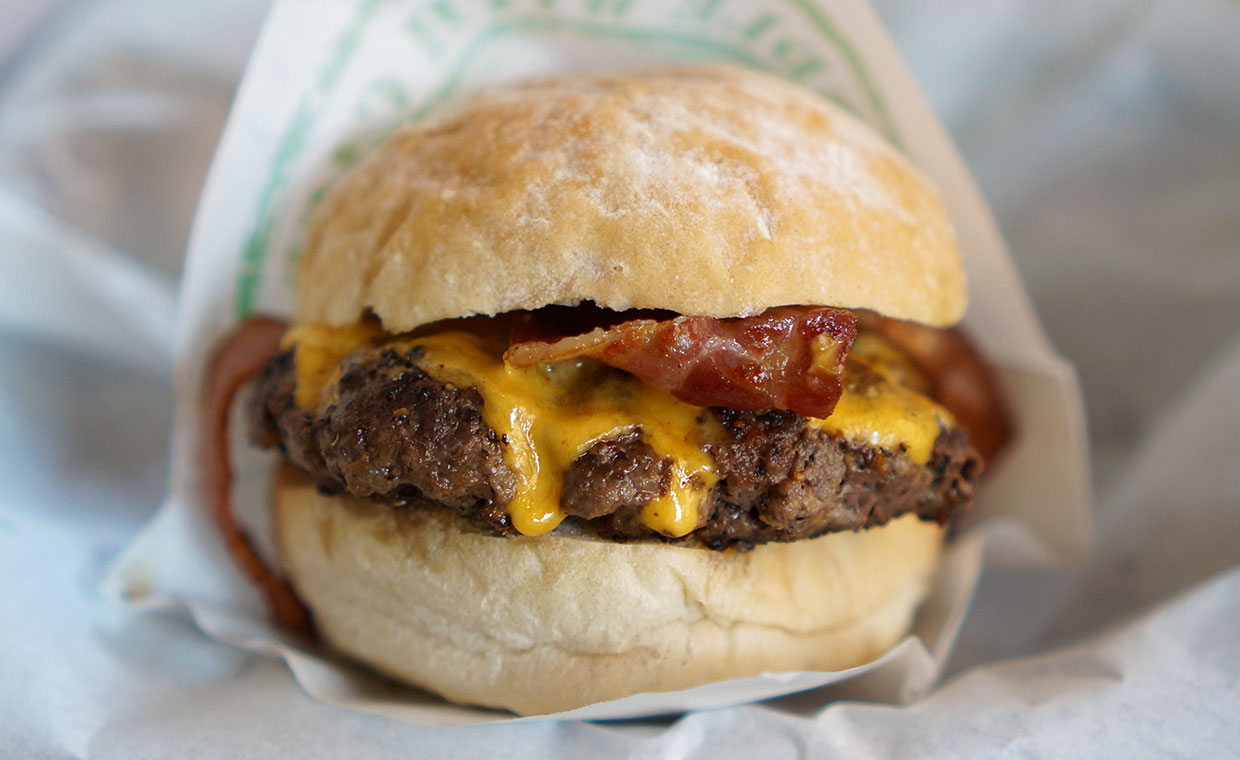 Uppdatering, januari 2018: Pete's Kitchen har nu stängt för gott.
Pete's Kitchen slog upp dörrarna nu i sommar på Lilla Essingen och har även en foodtruck som åker runt i i Stockholm. De profilerar sig på att ha sitt egenbakade bröd och att de tillverkar sina egna toppings från grunden.
Menyn innehåller blandade alternativ, från enkla cheeseburgare till chiliburgare med chili con carne och en mexikansk burgare med nachos, salsa och guacamole. Priserna är från 95 kronor för en enkel cheeseburgare upp till 135 kronor för de mer avancerade burgarna. Inga av hamburgarna har några standardingredienser, utan här får du noggrant titta på menyn för att se vad som erbjuds.
För att testa grunderna så tog vi en enkel cheeseburgare med bacon, som helt enkelt bestod av bröd, kött, ost och bacon. Och inget mer – inga grönsaker eller såser. Vi kände oss lite skeptiska till brödet när burgaren serverades, då det mest såg ut som en semmelbulle med rikligt med mjöl på toppen. Och tyvärr; redan vid första tuggan märkte vi av glappet mellan de fina ambitionerna och det faktiska slutresultatet. Brödet var kompakt och torrt utan någon speciell smak. Köttet skulle tillagas medium-well, men hamnade närmare well done på skalan. Det hade en god grundsmak men kändes även det kompakt och lite torrt.
Om genomförandet hade levt upp till ambitionerna som anades så hade vi förmodligen kunnat rekommendera ett besök, men nu blir det tyvärr tvärtom.
In English
Pete's Kitchen opened up it's doors in the island of Lilla Essingen earlier this summer and they also have a food truck in Stockholm. They seem to focus on their locally baked bread and making all their toppings from scratch. The prices range from 95 SEK for a single cheeseburger to 135 SEK. Trying their bacon cheeseburger (containing bread, meat, cheese and bacon – nothing else), we clearly saw the difference between their ambitions and the actual execution. Sadly, the bread was compact, a bit dry and didn't taste of much. The meat that they say should be cooked medium-well was well done, and also compact and a bit dry. Thankfully, the patty had some good flavours. We wish we could give Pete's Kitchen a recommendation, but the end result just wasn't good enough.