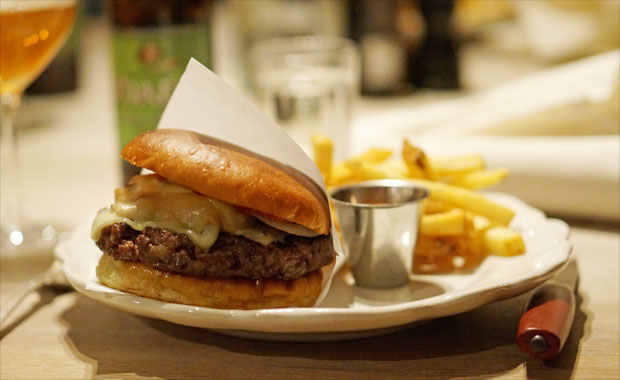 Allmänna Galleriet öppnade 2004 vid Fridhemsplan i Stockholm, och fokus ligger på kött av hög kvalitet. Intresset har varit kontinuerligt högt och de har kunnat köra sitt eget race. Men med det sagt kan det vara vanskligt att inte titta på vad konkurrenterna gör.
Burgaren vi serverades såg snygg ut, men brödet var inte uppvärmt. Dessutom var osten anonym och det låg ett oväntat tjockt lager tomatsås på köttet. Första tuggan var en besvikelse, med intetsägande smak. Men det blev värre.
Vi uppskattar vårt kött medium rare, och vid cirka 58 grader är köttet rosarött och saftigt. Men burgaren på AG var rare, på gränsen till bleu. Vi påtalade detta i tron om att det blivit en miss, men fick som svar att kärnan ska vara 45 grader och att burgaren vi fick var perfekt stekt.
Alla förutsättningar finns här och det kunde ha blivit så bra, men istället hamnade resultatet någonstans mellan tråkigt och lätt obehagligt. Steak tartare på vitt bröd med ost och ketchup är ingen höjdare, oavsett kvaliteten på köttet. Att brödet inte heller hade värmts på insidan gjorde att burgaren inte höll ihop under hela måltiden, och det är väl det minsta man kan begära?
In English
Allmänna Galleriet, commonly known as AG, is a restaurant located at Fridhemsplan in Stockholm. Their main focus is high quality meat and they have a very good reputation. All the conditions for a great burger is here, but instead we got a bland tasting and undercooked burger that disappointed us all. If they don't show their burgers love, neither should you.