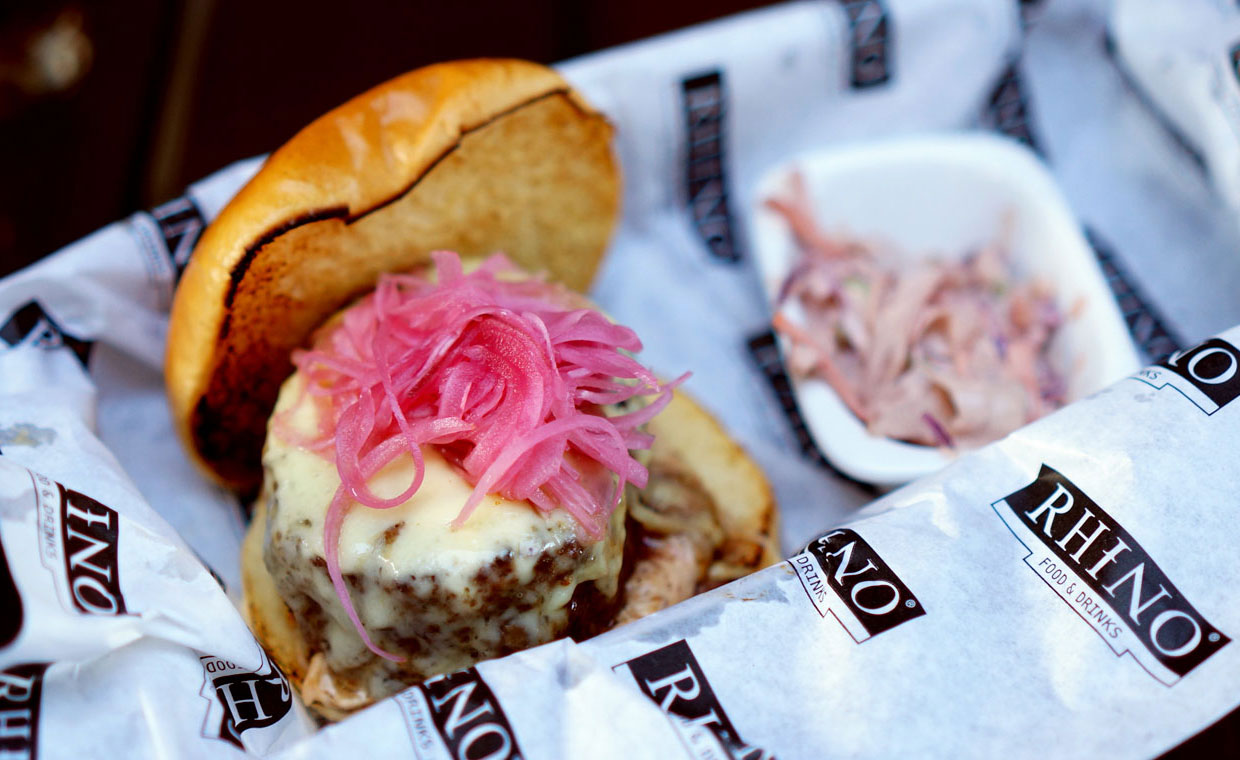 En kort promenad över bron från Hornstull ligger Liljeholmskajen – ett kontorstätt område som tenderar att vara lite dött efter kontorstid. Men det finns en del ställen här som motiverar till kvällshäng, bland annat Rhino.
Valet föll på den enda genuina burgaren på menyn: The Royale with Cheese. Första intrycket var inte bra, då köttpucken var konstigt hög och misstänksamt jämnt rund. Brödet var förhållandevis litet och bränt i kanterna och smaksättningen var enkel och udda; ost, syltad rödlök och aioli smaksatt med rostade tomater.
Men efter den skeptiska första tuggan kunde vi konstatera att köttet visserligen var genomstekt, men att allt smakade riktigt gott. Alla delar bidrog till helheten och lyfte varandra, och till och med det grå köttet var saftigt med en angenäm köttsmak. Tillbehören överraskade tyvärr inte lika positivt; våra pommes frites smakade bara frityrolja och vår coleslaw hade en rökig smak som tog över lite väl mycket.
Rhino bjuder inte på en klockren upplevelse, men vi kan inte förneka att burgaren var god. Omdömet blir en trea, men det är en stark sådan. Om du är hungrig i Liljeholmen är det värt en liten promenad för ett besök.
In English
Rhino are located at Liljeholmskajen, a ten minute walk over the bridge from Hornstull. They serve classic diner food, and so we ordered their "The Royale with Cheese" burger. The first impression wasn't that good, as the patty looked big and prefabricated and the bun was small and a bit burnt. Thankfully appearances can be deceptive, as the burger turned out to be really tasty. Even the grey patty was juicy and flavourful, so if you're in the Liljeholmen/Hornstull area they're well worth a visit!