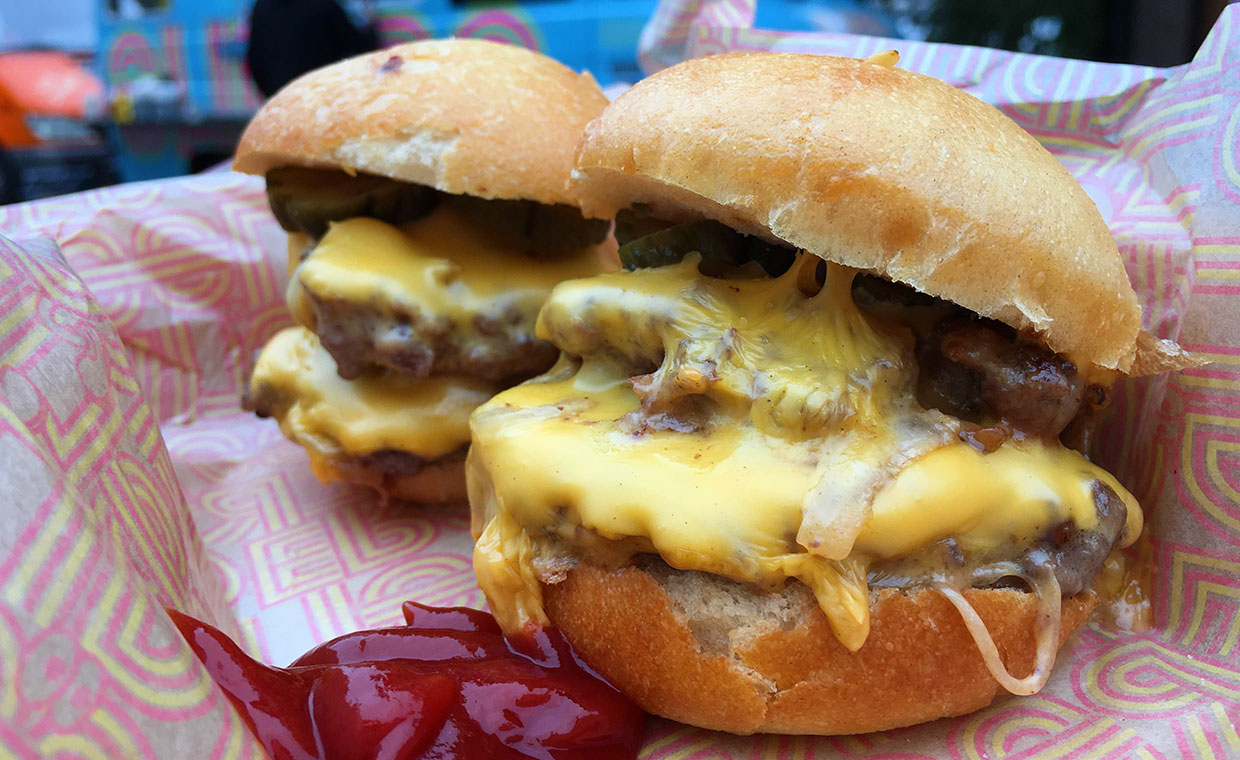 Sliders by Flippin' Burgers kom tvåa i Juryns pris på Stockholm Burger Fest 2016!
När burgarlegendarerna Flippin' Burgers blivit varma i kläderna med sin hamburgarrestaurang (som vi rankar som bäst i Sverige) så valde de att inte expandera med fler renodlade restauranger, utan det första steget var en food truck som först började rulla på Stockholms gator under slutet av 2015. Sedan dess har det gått spikrakt uppåt, och de vann silver på vår egen hamburgarfestival Stockholm Burger Fest 2016. Det är inte svårt att se varför.
På den läckert designade Sliders-foodtrucken serveras inte fullstora hamburgare, utan små sliders. Dessa miniburgare består av två köttpuckar på 40 gram, ekologisk ost, ett lass med stekt lök och deras egeninlagda pickles. Till detta serverar de även pommes frites och hantverksläsk från Dryck Sthlm på tapp.
Det finns mycket att gilla här. Priset på 55 kronor för en dubbelslider och 25 kronor för pommes frites är utmärkt, även om deras sliders har krympt i storlek sedan lanseringen. Men de är väldigt goda – och klart bättre än pommes fritesen. Läsken är såklart god den med, men det är ju burgarna som är viktigast här.
Som tur är smakar de riktigt bra. Det är en härlig sörja av kött, ost och lök som härjar fritt på stekbordet, och även om finessen och helhetskänslan från restaurangen kanske inte återfinns så finns det något betryggande i att mumsa i sig små kvalitetsburgare från några av Sveriges bästa burgarskapare.
In English
The food truck Sliders by Flippin' Burgers won second place in the Judges' Award at Stockholm Burger Fest 2016, and it's clear why. This little brother to Sweden's best burger restaurant only sell sliders, mini burgers with cheese, fried onions and their homemade pickles. The ingredients meld together excellently on the griddle, and the taste is amazing – gooey and juicy at the same time. The price is equally good – 55 SEK for a double slider with 100 grams of meat. We're left wanting a bit when it comes to the fries, and we miss the finesse (and the excellent cheese) from the main restaurant. But Sliders by Flippin' Burgers aren't to be missed if you see them rolling in Stockholm.