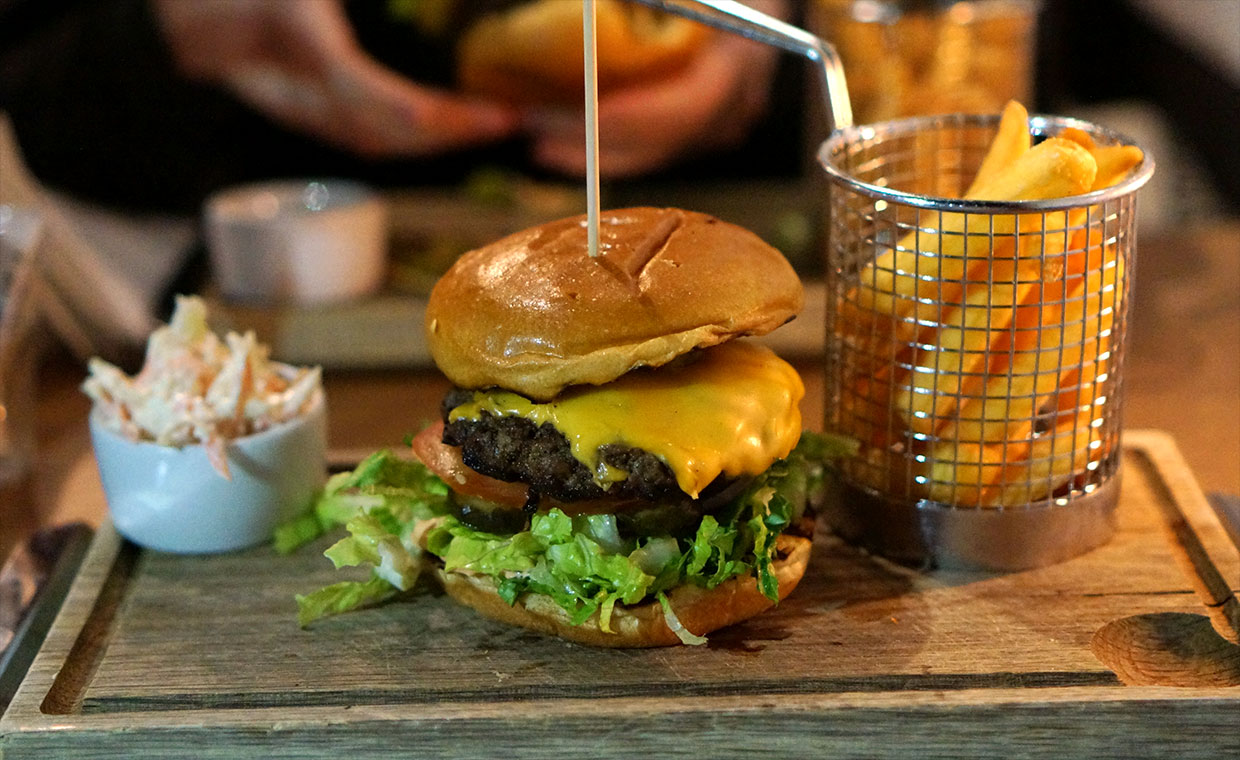 Uppdatering, mars 2017: Steak n' Beer har nu stängt för gott.
Steak n' Beer ligger vid Hornsbergs strand på Kungsholmen – nästan vägg i vägg med Lily's Burger. De fokuserar, som du kanske redan gissat, på kött och öl. På sommaren är området folktätt, men när vi besökte dem var det på en vanlig vardagskväll under vintern och väldigt lugnt.
Innan vårt besök hade vi läst på nätet att de serverade wagyu-kött, men vår servitör informerade oss kort att de använder "svenskt kött" och att de serverar sina burgare tillagade "well done". Varningsklockorna till trots beställde vi deras Steak Burger – husets burgare med bacon, cheddarost, tomat, sallad, picklad lök och en "hemlig" dressing. För 145 kronor ingick även ett valfritt tillbehör samt coleslaw.
Våra burgare såg helt okej ut, men de hade ett antal problem som skvallrade om att det inte är just burgare som är deras specialitet. Köttet var kompakt och smaklöst, briochebrödet gick sönder medan vi åt, den rikligt tilltagna salladen var likt tomaten iskall, och allt var lite för stort och högt för att enkelt kunna ätas med händerna. Osten, baconet och dressingen smakade visserligen rätt gott och lyfte helhetsintrycket något. Tillbehören var också godkända, även om pommes fritesen hade mer krispighet än smak.
Allt som allt serverar Steak n' Beer en ganska typisk pub-burgare i ett område där bättre alternativ finns bara ett stenkast bort.
In English
Steak n' Beer is located in Hornsberg on Kungsholmen – right next door to Lily's Burger – and unsurprisingly focus on meat and beer. We tried their Steak Burger with bacon, cheddar, tomatoes, lettuce, pickled onion and their "secret" sauce. The burger looked kinda nice, but the meat was compact and boring, with a dry brioche bun and ice-cold vegetables. The bacon, cheese and dressing tasted ok though, and lifted the burger somewhat. For 145 SEK we got a side-order plus cole slaw, and both our fries and the slaw were a bit better than the burger. All in all Steak n' Beer serve a regular pub burger, just a couple of footsteps away from a better alternative.