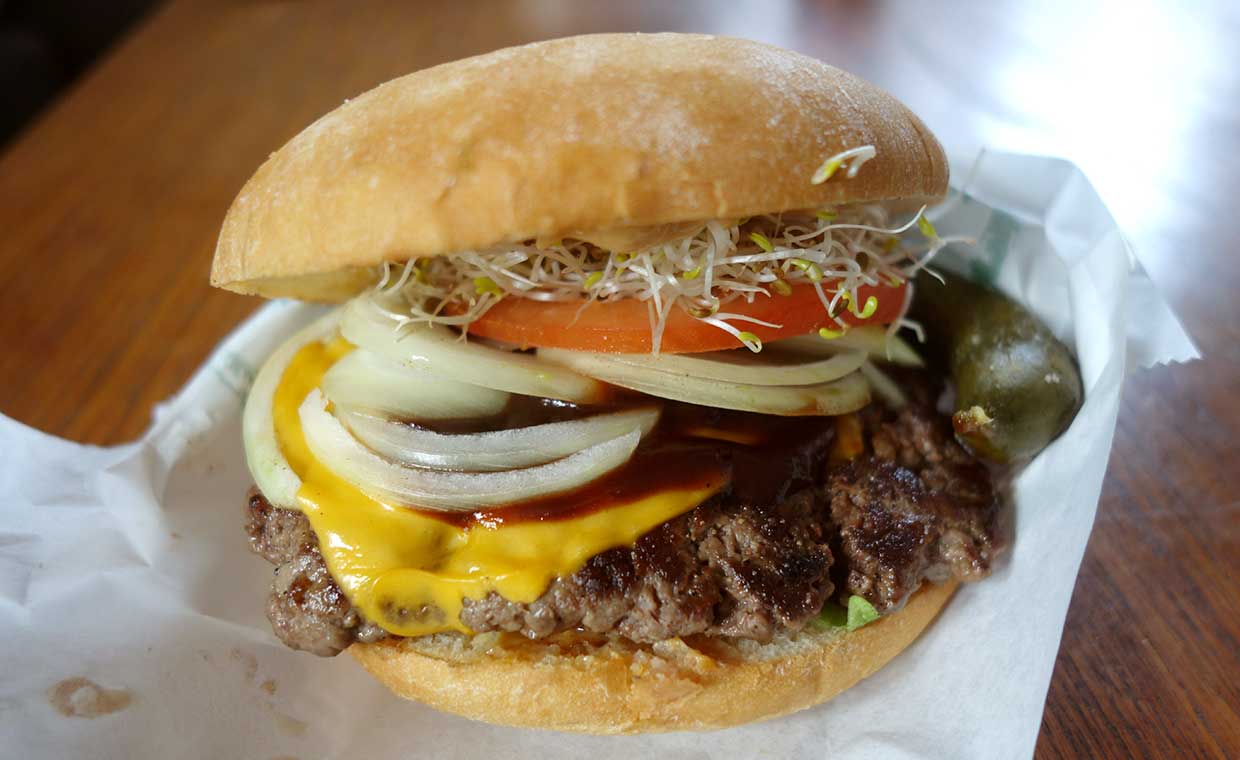 Med ett namn som Super Burger kan man lätt förvänta sig storverk rent smakmässigt, men foodtrucken som åker runt på Stockholms gator bjuder inte på särskilt många överraskningar.
Det mest ordinära med Super Burgers burgare är själva brödet, som är ett ganska tråkigt vetebröd som har rostats lätt. Det är ganska fluffigt, men smakar nästan ingenting. Köttet är det bästa med måltiden, och har stekts mediumrosa. Det smakar riktigt gott med den krämiga osten som ligger smält ovanpå, men det faller tyvärr ihop alldeles för lätt. Dessutom kostar osten tio kronor extra, vilket är lite provocerande då en burgarmeny med läsk och grillad sötpotatis annars kostar rimliga 95 kronor.
Annars gör de andra ingredienserna varken från eller till, och de till synes malplacerade alfalfagroddarna smakar till exempel inget alls och stör egentligen mest på ett utseendemässigt plan. Den grillade sötpotatisen med aioli är snarare ugnsrostad med tråkig konsistens och så gott som utan kryddning, och kan hoppas över utan några som helst problem.
Tyvärr lyckas inte Super Burger leva upp till sitt namn. Om de andra ingredienserna höll samma nivå som köttet skulle de ha en chans, men det räcker inte med bara en bra komponent.
In English
With a name like Super Burger it's easy to imagine an amazing meal, but this Stockholm food truck doesn't live up to its name. The best ingredient is the actual meat, with an excellently pink medium patty that tastes great with a slice of (overpriced) cheese. The bread is fluffy but quite boring and doesn't really taste of anything, and we were just generally underwhelmed with the burger and the terribly boring roasted sweet potatoes. If the other ingredients were as good as the meat they'd be on to something, so fingers crossed that they'll step their game up.