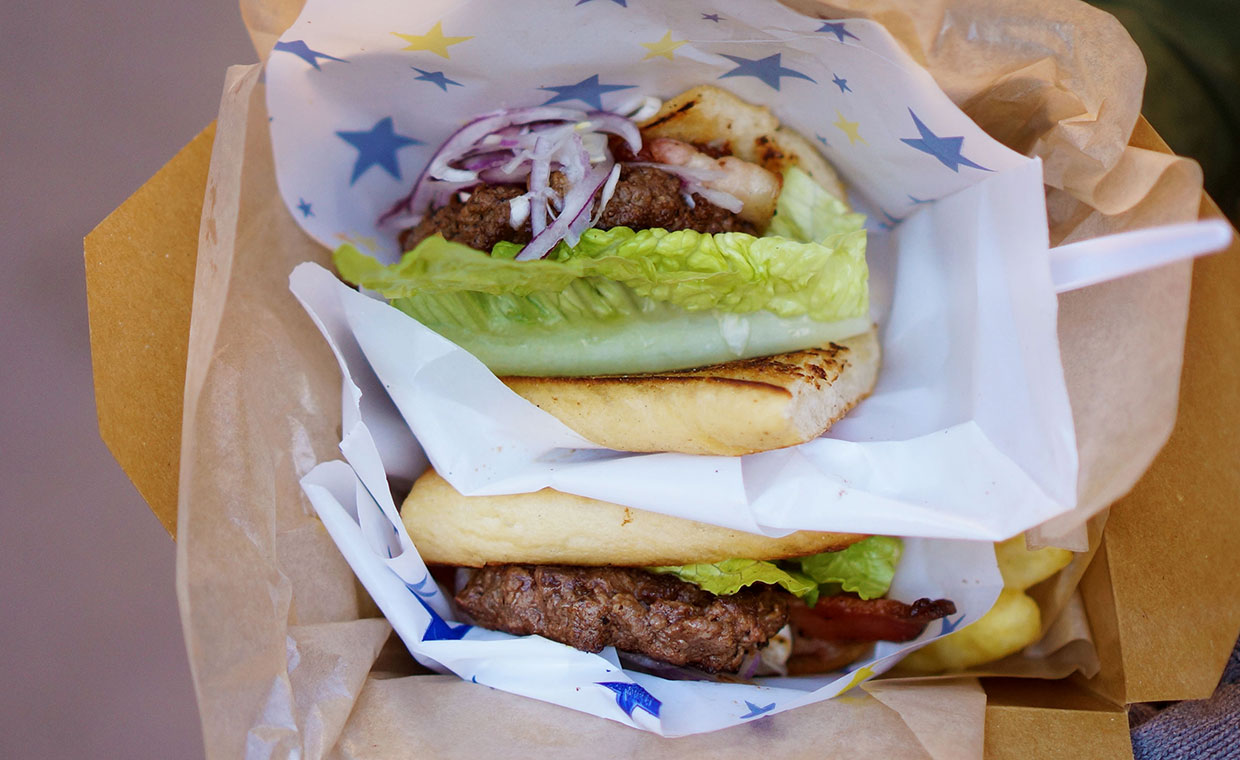 Med en gammal truck från New York City Police Department har SWAT Street Food en av de mest uppseendeväckande truckarna i Stockholmsområdet.
Förutom burgare serverar de friterad krabba, ugnsbakad oxbringa, högrevschili samt friterad kyckling. Vi valde att testa deras Hellmann's Burger för 95 kronor som serverades som två mindre högrevsburgare på 90 gram vardera, tillsammans med bacon och majonnäs i två surdegsbaguetter. För detta pris ingick även pommes frites.
Vårt första intryck var att burgarna kändes mer som mackor på grund av valet av bröd, och när vi väl tog en tugga så förbättrades inte intrycket avsevärt. Brödet var förvisso mjukt och fint rostat, men det passade helt enkelt inte som ett burgarbröd. Köttet var tyvärr ganska kompakt och torrt vilket gjorde att det blev lite bökigt att äta i en smal surdegsbaugette. Detta medförde att burgaren inte höll ihop under måltiden. Köttet smakade dessutom inte så mycket som vi hade önskat.
Pommes fritesen som serverades till var av en tjockare standardtyp, som kunde ha haft en bättre krispighet. Sammanfattningsvis är vi besvikna på SWAT Street Foods burgare, och vi hoppas att de arbetar vidare för att förbättra både köttet och valet av bröd.
In English
With an old truck from New York City's Police Department, SWAT Street Food arguably has the coolest looking food truck in Stockholm. They serve their burgers with 2 x 90 g patties with bacon and mayo inside two sourdough baguettes. With that said we prefer a classic brioche bun over a sourdough baguette every day day of the week. The meat was unfortunately quite compact and tasteless, which was the biggest problem with this burger. The fries were okay, but they could have been crispier. Overall we were disappointed and we hope they will improve their meat and bread choices.