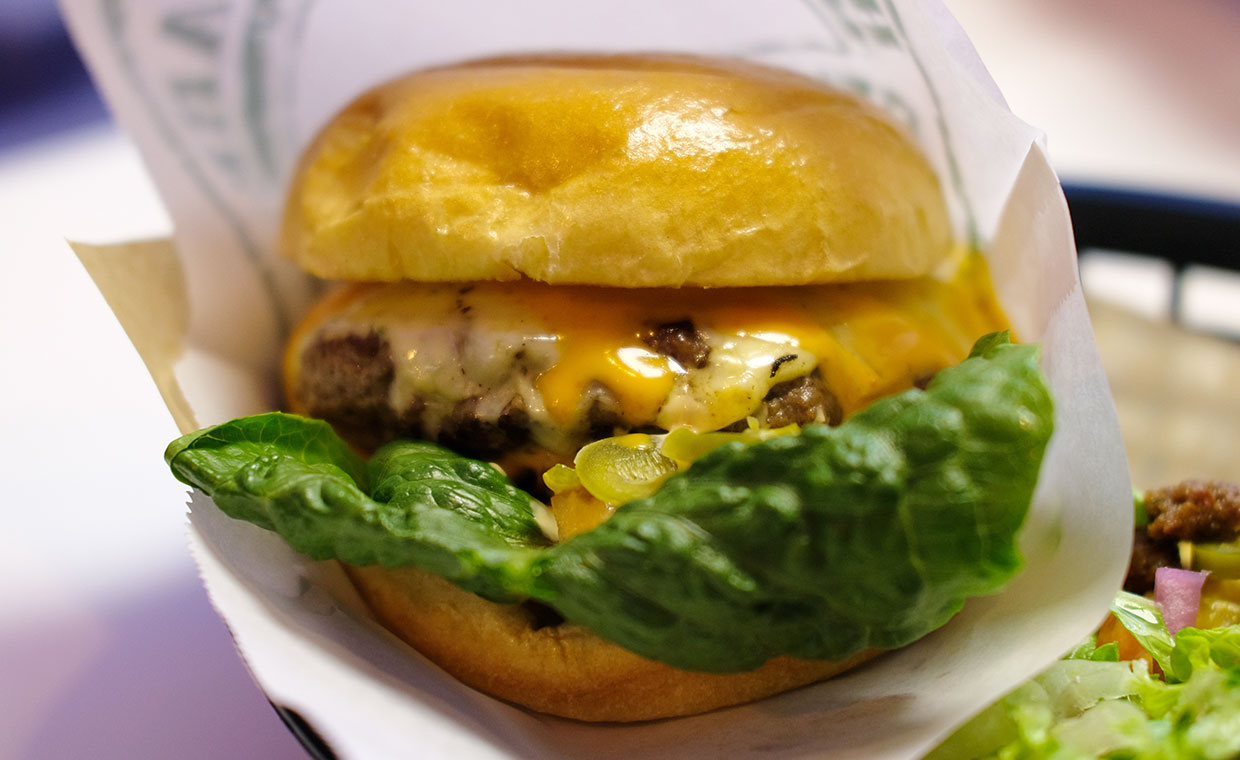 The Diner är ett litet hak som ligger tio minuters promenad från tunnelbanestationen Fruängen i Stockholm. Det ligger längst ned i ett bostadshus, och belysningen i den lilla lokalen är stark och hård.
Menyn består av en blandning av tio rätt olika burgare, med allt från enkla ostburgare till varianter med ägg och lökringar på. De har även kyckling- och fiskvarianter utöver de vegetariska alternativen med halloumi eller bönpuck. Priserna ligger alla runt rimliga 80 kronor med möjligheten att lägga till 20 kronor för både pommes frites och en dryck. De flesta burgarna verkar serveras med ett stort salladsblad som sticker ut på alla sidor. Det såg lite konstigt ut, men det var som tur var både krispigt och fräscht.
Vi testade deras Flamethrower-burgare som kom med pepperjack-ost, grön chili och jalapeño-majonnäs. Köttpucken var rätt tjock, men de hade stekt och kryddat den rätt vilket gav den en god smak och en struktur som höll samman väl. Kryddmässigt var den rätt stark, men långt ifrån så farligt som namnet antydde. Smakerna gifte sig bra, med en viss reservation för deras rätt tråkiga hamburgerdressing som inte ens fanns med i menyn. Den kan ha lagts på av misstag, men detta var inget större problem.
Vi testade även deras milkshakes och "dirty fries" – pommes frites med ost, sås och soltorkade tomater – men inga av dessa bjöd på några smaksensationer. Trots lite ovanliga val och lite brister i detaljerna så är The Diners enkla burgare klart godkända, och helt klart bäst i Fruängen.
In English
The Diner is a small and a bit harshly lit burger joint a ten minute walk from Stockholm's Fruängen subway station. They offer a varied menu of meat, fish, chicken and veggie burgers at low prices (around 80 SEK, plus just 20 SEK for a drink and fries). Their Flamethrower burger with Pepper Jack cheese, green chili and jalapeño mayo was spicy without being overpowering. The patty was fairly thick but properly cooked with a nice taste and texture. The biggest surprise was the huge salad leaf sticking out from the burger, but at least it was crispy and fresh. Most of the flavours worked well together, except for their old fashioned and out of place burger sauce. Their milkshakes and dirty fries didn't really impress us either. But despite a few odd choices and a couple of missed details we did enjoy The Diner's simple and solid burger offerings.