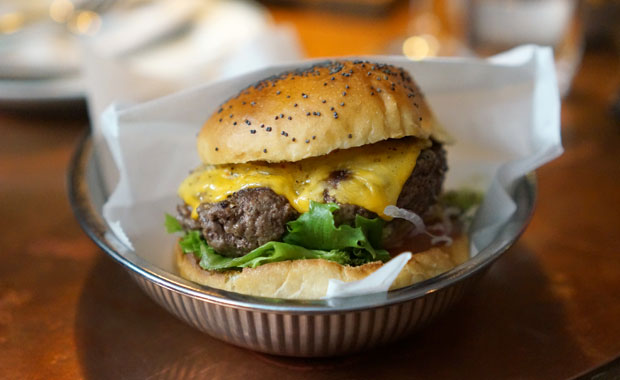 Burgare är inte vardagsmat. Ja, inte enligt The Flying Elk i alla fall. Sedan starten 2013 har de hunnit ha sex olika burgare på sin meny, men bara en i taget och bara på lördagar och söndagar.
När vi är på besök heter burgaren Florida Jawbreaker och den tar smak från jalapeño- & avokadocrème, chipotlemajonnäs, dubbel cheddarost samt de vallmofrön som pryder brödet. Det låter som en het burgare, men smakupplevelsen var balanserad och förvånansvärt mild.
Men det är inte odelat bra, för trots att Frantzén och hans flygande älg kan sina burgare har deras tidigare skapelser haft mer karaktär och särprägel. Köttet är jättebra och de trippelfriterade pommes fritesen är smått fantastiska, men det saknas någonting; det där flyktiga som lyfter allt från bra till wow. Brödet hade varit bättre utan vallmofrön, men de tillför en smakkomponent som ändå passar in.
Prisnivån på strax under 200 kronor för en burgare utan pommes frites är hög, men det är också kvaliteten. Om plånboken tillåter tycker vi att du ska komplettera burgaren med pommes frites och kanske en milkshake så kommer din lördag eller söndag garanterat att nå ett par nya nivåer.
In English
The Flying Elk is located in Stockholms Old Town and has served up a casual fine-dining experience since 2013. Their burger is rather expensive, but the quality is suitably high. They only serve their burgers during the weekend, and they change their menu every now and then. During our review visit we got the "Florida Jawbreaker" with jalapeño and avocado creme, chipotle mayo and cheese with surprisingly well-balanced flavours. And don't forget to order a side of triple fried french fries – they are truly amazing.