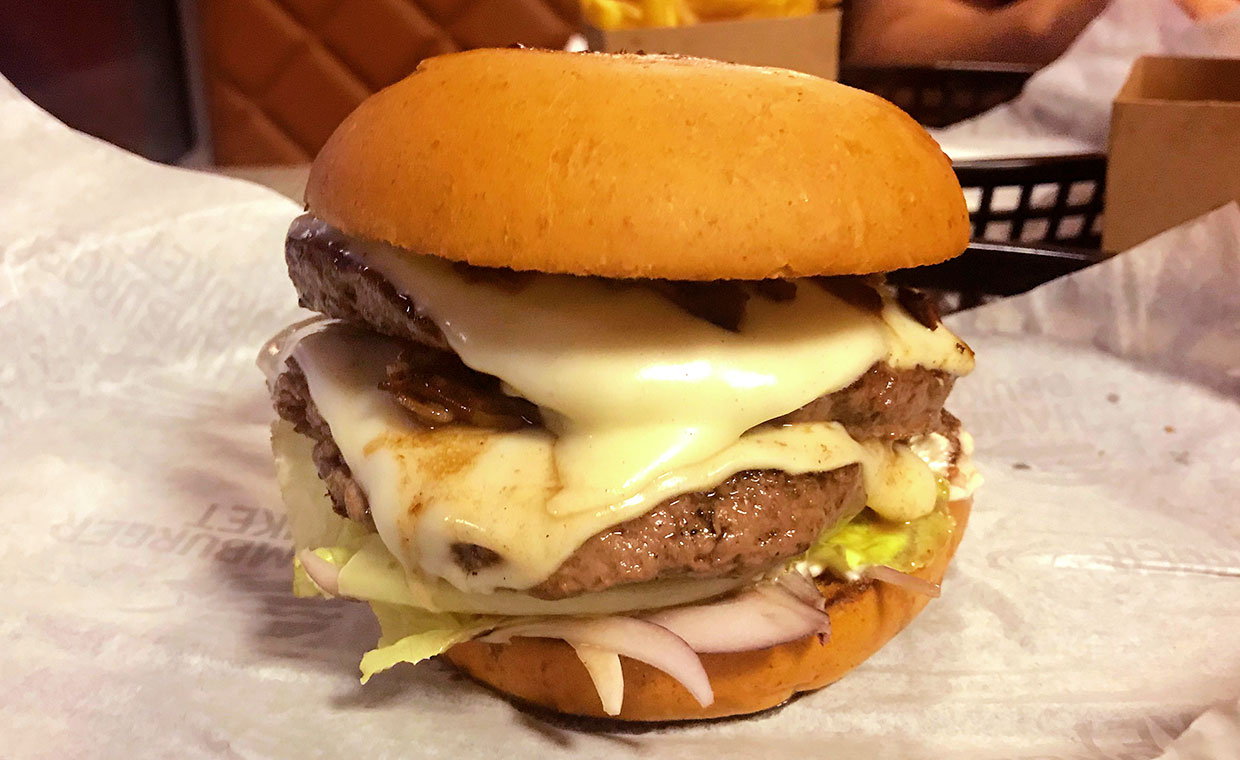 I februari 2016 lades "Texas Star" i Örebro ned och ägarna slog upp portarna i Eskilstuna istället, med ett nytt koncept och ett nytt namn: "Hamburgerbruket". Nu är de tillbaka i Örebro och redo att ta sig an den ständigt växande konkurrensen i stan.
Med hela 14 olika burgare på menyn, plus diverse tilltugg och såser vid sidan av, så finns det en hel del att välja bland. Vi valde att ta oss an den första och största på menyn kallad "Släggan", eller "Brukets egna Excalibur" som de själva kallar den. Släggan bestod av två puckar av 100% högrev, dubbel ost, dubbel bacon, vitlöksdressing, barbecuesås, sallad, tomat och lök.
Vi minns att vi upplevde Texas Stars burgare som en godare (svensk) snabbmatsburgare, och det var i princip samma upplevelse nu. Köttet var hyfsat saftigt, men dåligt kryddad. Brödet var mer som ett bröd från frukostbordet, än ett bra burgarbröd. Kombinationen vitlöksdressing och barbecuesås blev en aning för mycket och dominerade smakupplevelsen. Osten var nästintill smaklös och salladen såg ut att komma från roten av ett salladshuvud. Som helhet blev vi inte särskilt imponerade av denna burgare, men 99 kronor för en meny med dryck och riktigt god pommes frites är ingenting att klaga på.
Hamburgerbrukets slogan "Som snabbmat, fast godare" stämmer ganska bra överens med det vi har upplevt, men när vi kliver in på en restaurang med fokus på bra burgare så förväntar vi oss mer än detta.
In English
After "Texas Star" had to close up, the same people opened up "Hamburgerbruket" in Eskilstuna – new city, new name, new concept. Now they are back in Örebro, ready enter the competition again. We decided to try their "Släggan" which had two patties of 100% chuck, double cheese, double bacon, garlic sauce, barbecue sauce, lettuce, tomato and onion. Just like with the burgers at Texas Star, the experience is basically that of a fast food burger, but slightly better. The meat was a bit juicy, but poorly seasoned. The bread was something similar to a breakfast bread, the cheese was tasteless, and the combination of both garlic and BBQ sauce was too much for our taste. The prices are good though (just like their fries), 99 SEK for a whole menu is very fair. Their slogan "Like fast food, but better" does match our experience, but that just means they're better than the bad ones, not that it's a really good burger.