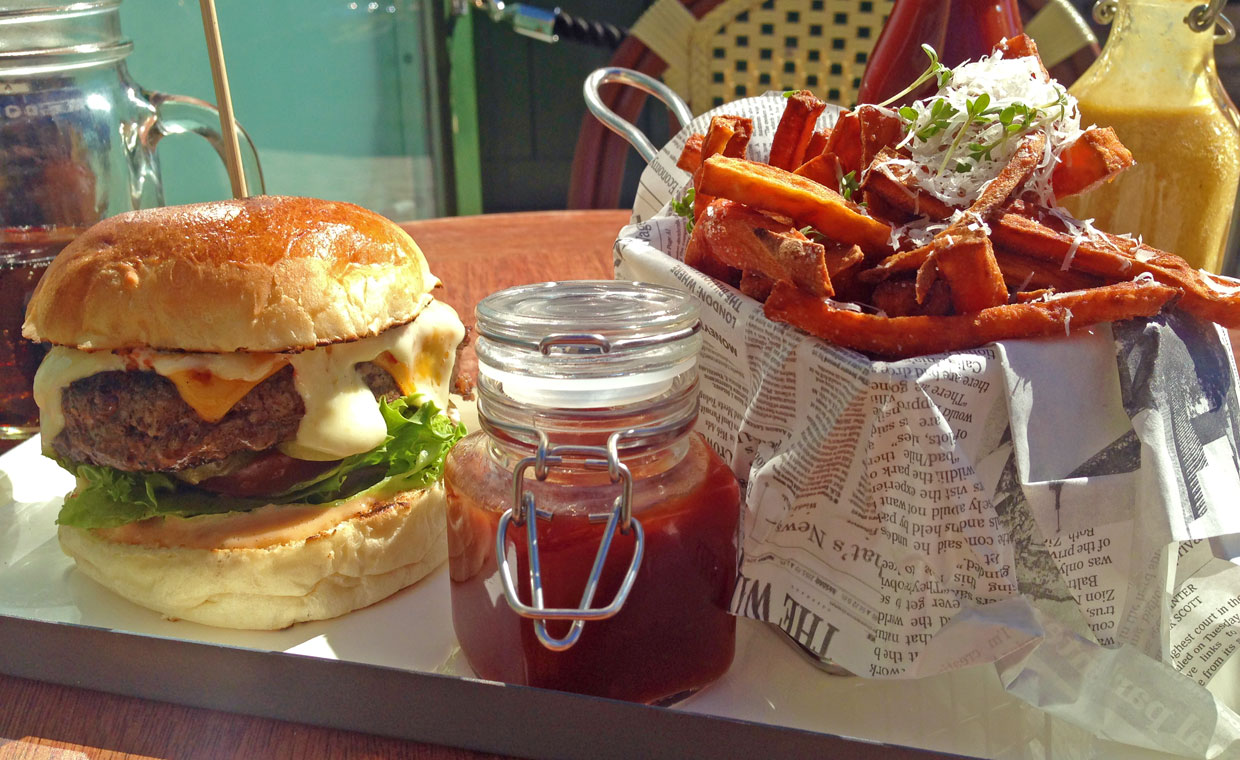 Brooklyn Visby, även kallade Brooklyn Burgers 'n Bar, öppnade på Gotland i april 2015. Inredningen känns USA-inspirerad och går i mörka färger, och lokalen är i övrigt stilren med en stor uteservering. För en gångs skull frångick vi vår vana att alltid ta en ost- och baconburgare och valde istället deras egen Brooklyn Burger med chilicheddar och jalapeñomajonnäs, samt en laddning pommes frites gjorda på sötpotatis.
Det lokalt bakade brödet från Brödboden på Södertorg var mjukt och fluffigt, men ändå föredömligt rostat på insidan och stekt på utsidan. Köttpucken var tjock och fin med en liten rosa kärna kvar. Jalapeñomajonnäsen var något för rinnig, men som tur är var den full av smak. Chilicheddarn hade däremot mått bra av att få lite mer smakmässigt utrymme då den försvann litet bland de övriga smakerna. Sötpotatispommesfritesen var jättegoda med söt smak och krämigt innehåll, och de kompletterades utmärkt av den heta BBQ-dippsåsen.
Burgaren kostar 120 kronor (och en dubbelburgare kostar endast 20 kronor extra) vilket gör Brooklyn Visby till ett prisvärt alternativ, och helt klart den godaste burgaren vi har ätit i Visby.
In English
Brooklyn Visby, also known as Brooklyn Burgers 'n Bar, opened in Gotlands largest city in the spring of 2015. We ate their Brooklyn Burger with a spicy jalapeño mayo dressing, chili cheddar and an excellent and slightly pink patty. The bread from a local bakery is soft and slightly toasted too. This is by far the best burger we've eaten in Visby!