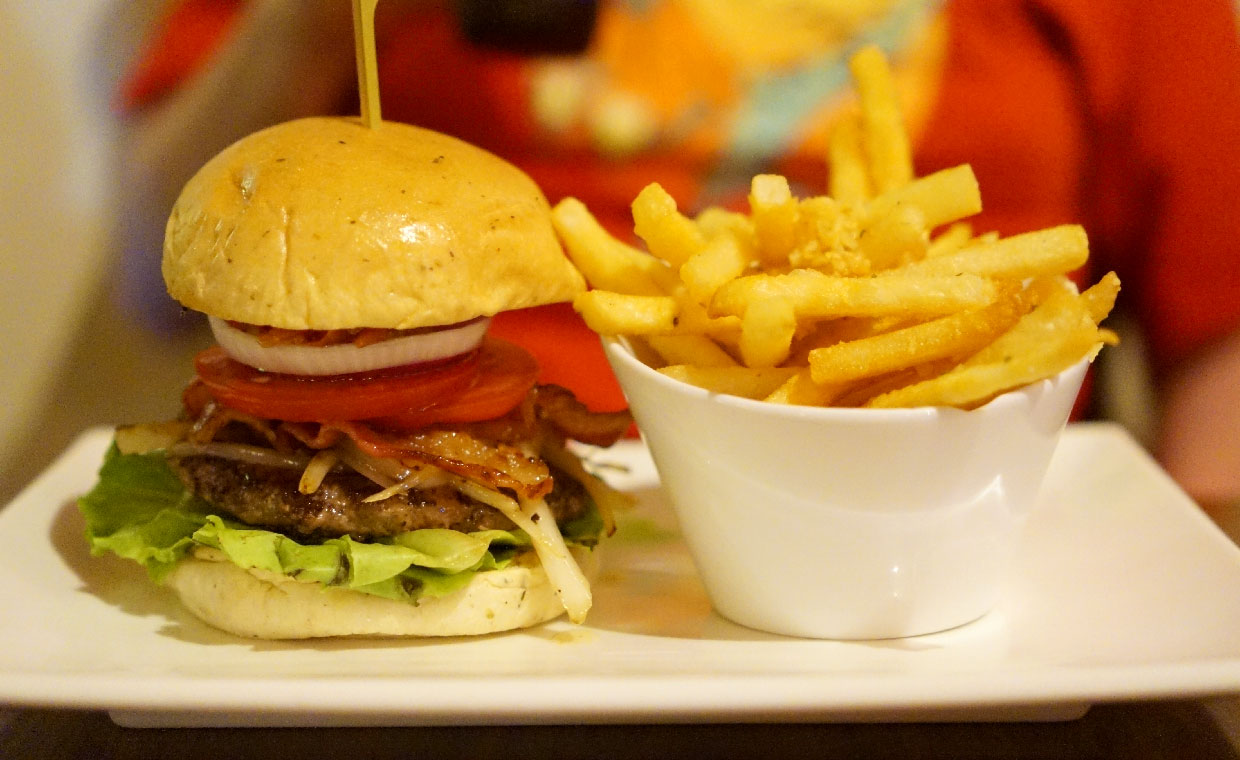 Kiwi Gourmet Burgers, förkortat KGB utan uppenbar Sovjetkoppling, är ett burgarhak i en liten gränd i Taipei grundat av ett par Nya Zeeländare. Vad som gör det lite speciellt är att de importerar kycklingen, lammet och biffen själva från Nya Zeeland.
Menyn de har kan vara bland de större vi har sett, och det är nästan lite skrämmande med alla valmöjligheterna. Du får bland annat välja en köttpuck av biff, stekt eller friterad kyckling eller ett vegetariskt alternativ i normal eller mindre storlek. De har även ett par separata lammburgare. Priset för en normalstor landar i närheten av 300 TWD vilket är ungefär 80 SEK.
Efter lite besultsångest valde vi en Basic with Everything med biff; en burgare med sallad, tomat, rödlök, deras egen (och goda) tomatrelish, bacon och grillad lök. Den serveras i en lustig stapel som ser svåräten ut men som går att klämma ihop. Brödet som de beställer från en närliggande bagare är gott med rätt seghet, hållbarhet och lagom smak och alla tillbehör är riktigt goda. Tyvärr var köttet ofantligt torrt och segt, vilket förtog hela upplevelsen. Om köttet varit bättre hade de fått ett helt annat betyg men som det är går den inte att rekommendera, särskilt inte med så många andra bra burgarställen i Taiwans huvudstad.
In English
Kiwi Gourmet Burger was founded by two New Zealanders, and is located in a small alley in Taipei. Their speciality is that their beef, chicken and lamb is imported from New Zeeland. The menu is simply huge with lots of burgers of differing themes with a selection of beef, fried or grilled chicken, or even vegetarian patties. We tested a Basic with Everything which is a slightly odd looking stack of sallad, tomato, red onion, tomato relish, bacon and grilled onion. Their bread is made by a local baker to their specifications and is really good. Everything in the burger was tasty except for the meat itself, which was extremely dry and chewy. With better meat this would have been a recommendable burger but as it is you should skip it – especially since Tawian's capital city has so many other good burger alternatives.