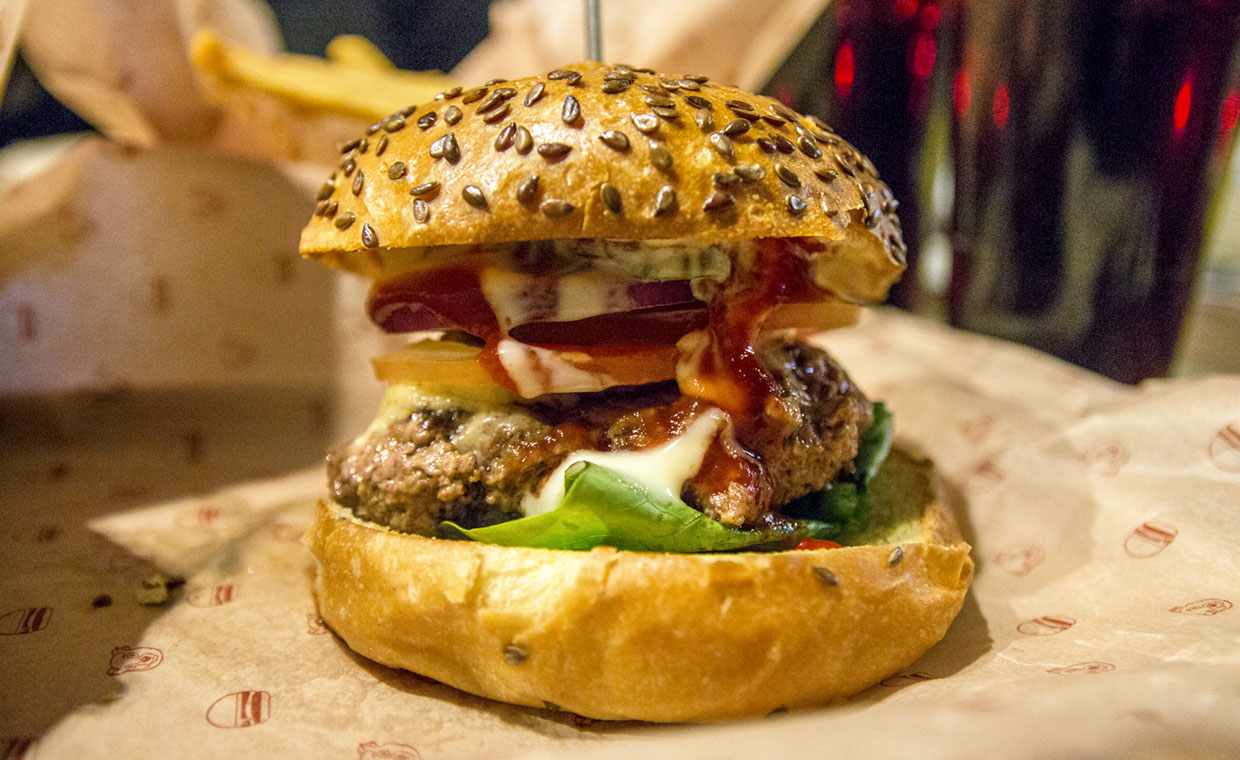 Läs våra åsikter om "Impossible Burger"
Bareburger de fokuerar främst på att servera helt ekologisk mat, och har restauranger i hela USA och i flera andra länder. Fast de finns främst i New York, där de har cirka 20 restauranger. Vi besökte den som ligger i Greenwich Village.
På menyn finns valet att komponera sin egen burgare, vilket vi också gjorde. Vår valde ett briochebröd, en köttpuck på nötfärs samt tomat, rödlök, dillgurka, majonnäs, cheddarost, senap och ketchup. Burgaren smakade helt klart fräscht, men bristerna var tydliga redan vid servering. Alla ingredienser skapade en väldigt hög burgare som var nästintill omöjlig att äta med händerna.
Köttets smak var godkänt, trots att fetthalten var rätt låg. Tyvärr så hade stekprocessen gjort pucken aningen torr och oval, vilket gjorde att den snarare liknade en pannbiff än en burgare. Briochebrödet liknande heller inte något av det vi är vana vid, då det var alldeles för stort, samt torrt, kompakt och saknade stekyta. Den absolut största behållningen var deras pommes frites, som smakade helt otroligt gott.
Det kändes som att Bareburgers passion snarare låg hos ingredienserna än hos själva burgarna. Ambitionerna är det inget fel på, men smakmässigt var det mer som en sportbarsburgare som inte fått tillräckligt med kärlek.
In English
Bareburger focus on organic ingredients, and are located all over the U.S and in several other countries. We visited their restaurant in Greenwich Village, New York – where they have their stronghold. The burger was definitely fresh, but its faults were immediately obvious at serving. The many ingredients made the burger very tall and difficult to eat with our hands. The patty was overcooked and dry, but tasted alright. The brioche bun lacked crust and was both dense and far too big for the patty. However, the fries were absolutely delicious and the highlight of our visit. It's a pity that the rest of the meal wasn't prepared with the same passion.