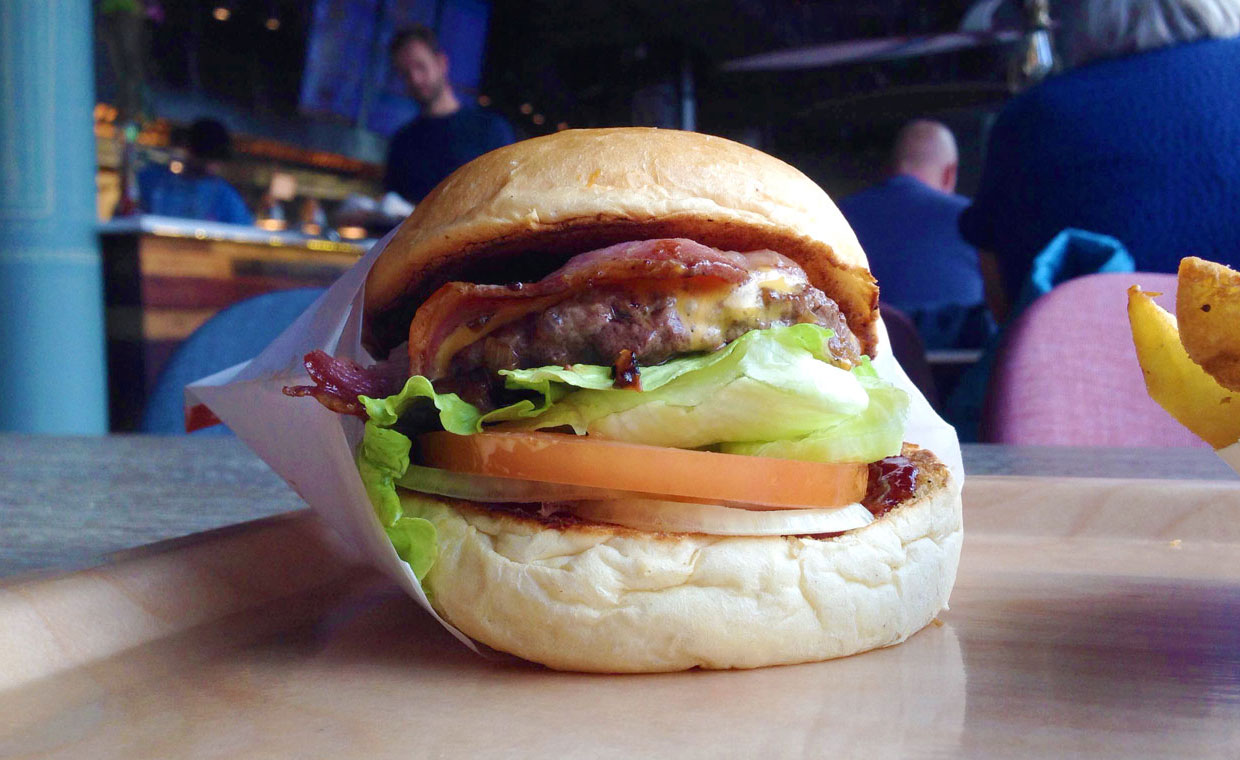 CaliBurger är en asiatisk snabbmatskedja som nyligen har öppnat sin allra första restaurang i Europa bredvid gallerian Täby Centrum i Stockholm. Med en meny och estetik inspirerad från det klassiska burgarhaket In-N-Out Burger blev vi givetvis väldigt nyfikna på denna nykomling.
Vi märkte snabbt att de inte hade hunnit anpassa sig helt till den svenska marknaden ännu. Prisjusteringar pågick fortfarande vid besöket, och när vi frågade om den hemliga menyn – som deras restauranger i andra länder erbjuder – tittade personalen frågande på oss.
Vi beställde deras BBQ Bacon Cheeseburger, som tillsammans med läsk och pommes frites kostade 95 kronor. Vi la på tio kronor extra och uppgraderade våra vanliga pommes frites till Wild Fries, som serverades med smält ost, grillad lök och deras signatursås.
Själva burgaren presenterades fint i en pappersficka, och höll ihop exemplariskt under hela måltiden. Brödet var bra rostat och barbequesåsen var överraskande god med rätt mängd sötma och rökighet. Men betyget drogs ner väsentligt av det ganska smaklösa och kompakta köttet, samt de kylskåpskalla grönsakerna. Deras Wild Fries var däremot mycket goda även om de kunde ha varit lite mer fasta i konsistensen.
CaliBurger är överlag ett mycket roligt tillskott på Stockholms burgarscen, alla misstag till trots.
In English
CaliBurger is a fast food chain from Asia that recently opened their first European restaurant next to Täby Centrum in Stockholm. Their inspiration from the classic burger joint In-N-Out Burger is obvious and intrigued us. We tried the BBQ Bacon Cheeseburger and Wild Fries with melted cheese, grilled sweet onions and their Cali sauce. The burger had a nice roasted bun and the barbecue sauce was surprisingly tasty. But the patty was quite compact and tasteless, and the vegetables were way too cold. We really liked their Wild Fries, even though we would have preferred a bit more texture.