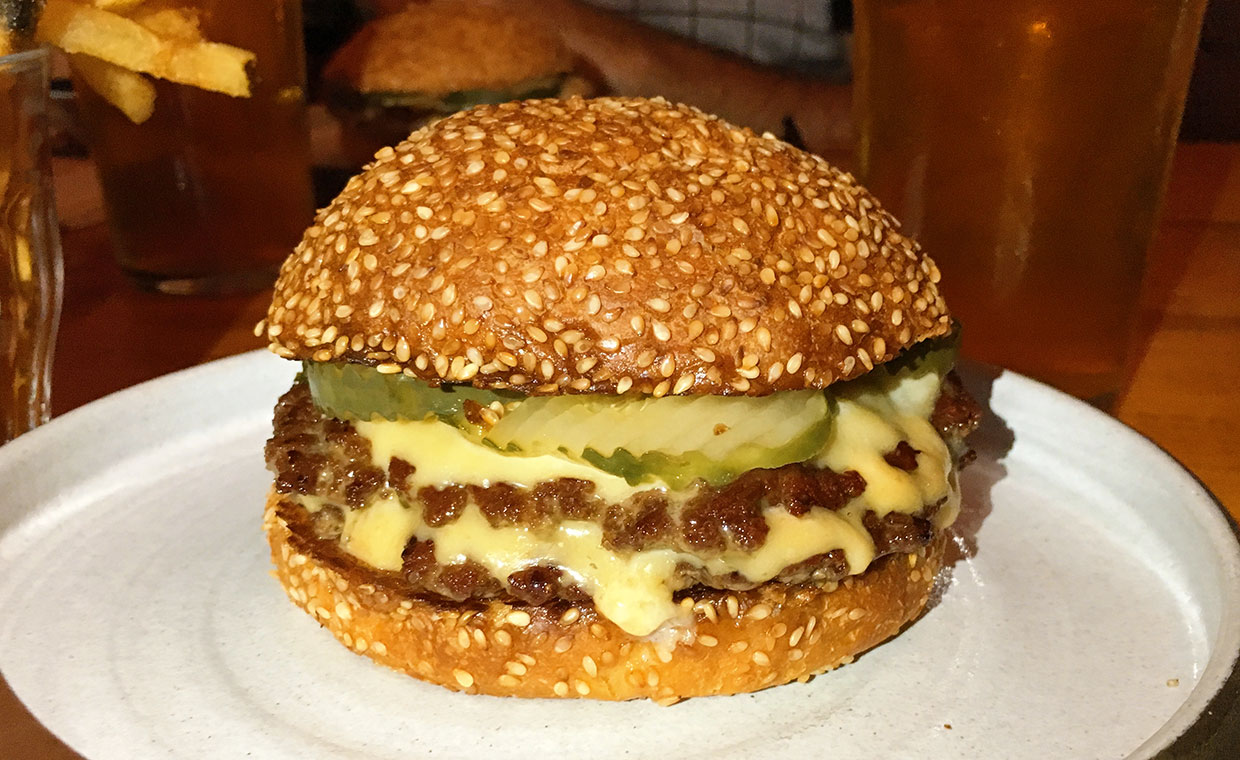 Uppdatering, augusti 2017: Salvation Burger har nu stängt för gott.
Salvation Burger är ett av de senaste hajpade burgarhaken på Manhattan i New York. Men det är kanske inte så konstigt med tanke på att det har startats av kocken April Bloomfield, som bland annat ligger bakom den världskända burgaren på The Spotted Pig.
Salvation Burgers lokal är flådigt inrett med påkostade inredningsdetaljer och en lyxig bar som ser ut att kunna leverera riktigt fina drinkar. Men som vanligt låg vårt fokus på burgarna, och här valde vi att testa deras Classic Burger för 17 dollar, och betalade två dollar extra för pommes frites.
Burgaren var utan tvekan både estetiskt tilltalande och välbyggd. Brödet var pepprat med sesamfrön som gav en härlig knaprighet, men det kunde ha haft en lite mindre tuggig textur. Köttet från Aprils Bloomfields White Gold Butchers var av hög kvalitet och var lika saftigt som det var välsmakande. Deras egentillverkade ost var smakrik utan att ta över, och fungerade bra tillsammans med deras dressing samt deras egen sötsyrliga pickles.
Överlag var vi väldigt nöjda med deras burgare, och förutom att brödet kunde ha varit lite följsamt hade vi gärna sett att priset var lite lägre. Men förutom detta anser vi helt klart att deras burgare ligger i New York-burgarscenens toppskikt.
In English
Salvation Burger is a fairly newly opened and pretty hyped burger joint in East Midtown, Manhattan, New York. One of the founders is the chef April Bloomfield, the mastermind behind the famous burger from The Spotted Pig. So naturally our expectations were set high. The quity high price-tag was justified by the high quality ingredients, and their Classic Burger with two thin patties was juicy and had both a good crust and excellent flavour. Their homemade cheese was really flavoursome as well, without being overpowering. The bun could have been fluffier, but other than that everything was on point. Salvation Burger may not be the best, but they definitely serve one of the better burgers in New York.