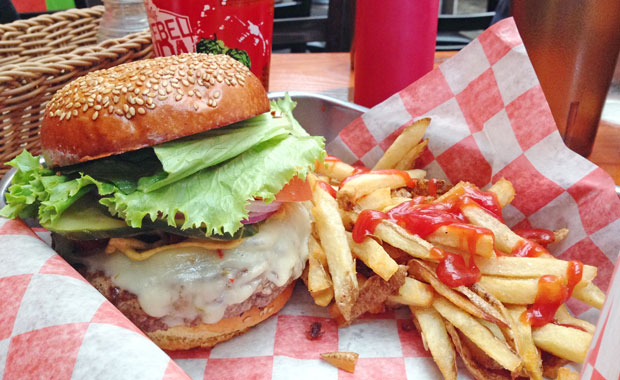 I den hippa och numera väldigt burgartäta Brooklyn-stadsdelen Williamsburg vi The Burger Guru. Från ett anspråkslöst hörn leds vi in via en smal gång till den stora ljusa och inbyggda bakgården. Väl på plats beställer vi varsin öl och en av deras klassiska hamburgare gjord på ekologiskt kött.
Det är en rejäl pjäs med mycket grönsaker, och den serveras fint på en rostfri bricka med en omgång lite pommes frites, som dessvärre är något för mjuka. Hamburgerbrödet är fint rostat, är något torrt och tråkigt, och sesamfröna på brödets ovansida spär på detta intryck med sin nötiga eftersmaken.
Köttet är lite för välstekt men på något sätt ändå saftigt, och väl pepprat. Mycket av smaken göms dock i det berg av pepperjack-ost som hopar sig högst upp. Det var dock en trevlig överraskning att få en riktigt god saltgurka bland de fräscha grönsakerna, något som annars brukar utelämnas.
The Burger Guru levererar i det stora hela en god burgare. De står sig rätt bra mot den tuffa konkurrensen i området (även om de inte kan mäta sig med Blue Collar) men med ett ganska högt pris och lite lathet i detaljerna så får de se sig slagna och i stället ladda för rond två.
In English
The Burger Guru are located in New York's Williamsburg district, and do their best to take on all the other Brooklyn based burger joints. The patty may be slightly overcooked, but its still juicy and well-seasoned. We were a bit disappointed by the somewhat stale bread and soggy fries, but the heaps of pepperjack cheese and the crisp gherkin were a treat. However, the price is a bit steep, and the vastly superior Blue Collar is less than 10 blocks away ...