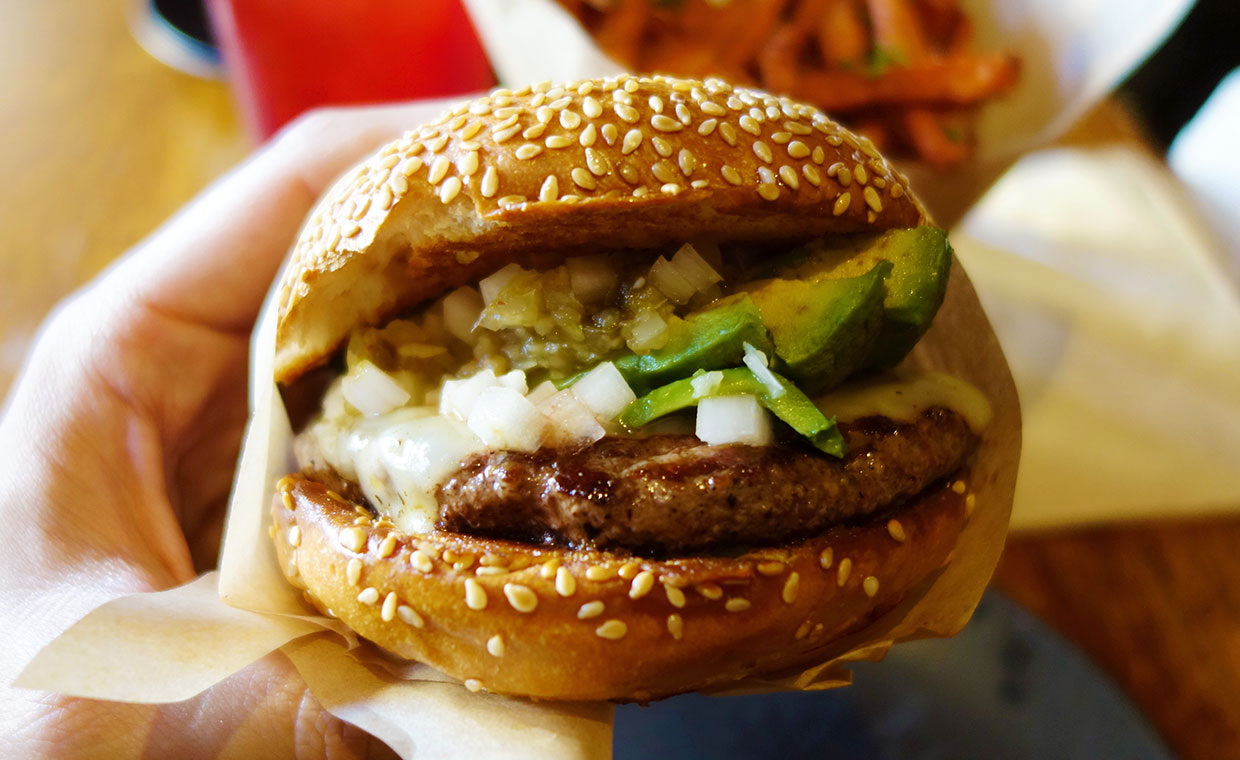 Vårt första besök på Roam Artisan skedde redan 2012, och då haglade lovorden. Kanske var det den godaste burgaren vi hade ätit då, men det var ett par år innan Burgerdudes.se öppnade. Därför fick recensionen dröja några år till nästa San Francisco-resa. Tiden har förändrats, och den lilla restaurangen har expanderat till en liten minikedja i och utanför staden.
Denna gång beställde vi nästan exakt samma burgare som första gången – i ett hopp om att återskapa känslan. Det blev en burgare med avokado, pepper jack-ost, jalapeño-relish och hackad gul lök för elva dollar (under hundralappen). Det största problemet var nog att själva köttpucken var alldeles för torr och tråkig. Trots att den var fint rosa så var den ändå rätt tuggig, och inte alls så saftig som vi mindes den. Brödet var riktigt gott och saftigt, och hade enkelt klarat av att hantera en saftigare burgare, vilket kändes som ett missat tillfälle. Den enkla ostskivan var dessutom minimalt tunn och trist, och tillförde inte så mycket. Däremot gillade vi både jalapeño-relishen och löken, samt den generösa mängden avokado.
Sötpotatatispommesfritesen var riktigt goda, och vi gillade även deras egenproducerade läsk. Och visst var Roam Artisan bra – tyvärr bara inte sådär fantastiskt som vi mindes dem. Antingen så har våra smaklökar förfinats eller så har kvaliteten sjunkit något under de dryga fem åren som passerat. Ja, kanske både och.
In English
We first visited Roam Artisan in 2012 – before we started reviewing burgers here at Burgerdudes – and back then it was one of our all-time favourites. Now, 5 years and several expansions later, it's time for a proper verdict. We tried an almost identical burger as last time, with avocado, pepper jack cheese, jalapeño relish and chopped onions for 11 USD. The biggest let-down was the actual patty, which was dry and chewy despite being nice and pink. The excellent bun could easily have handled a juicier burger, which felt like a missed opportunity. The thin slice of cheese felt like a waste as well, but we enjoyed the spicy jalapeño relish, the crunchy onions and the generous amounts of avocado. The sweet potato fries and home-made sodas were a real treat as well. Sure, Roam Artisan still serve a good burger – they're just not as good as we remembered them.