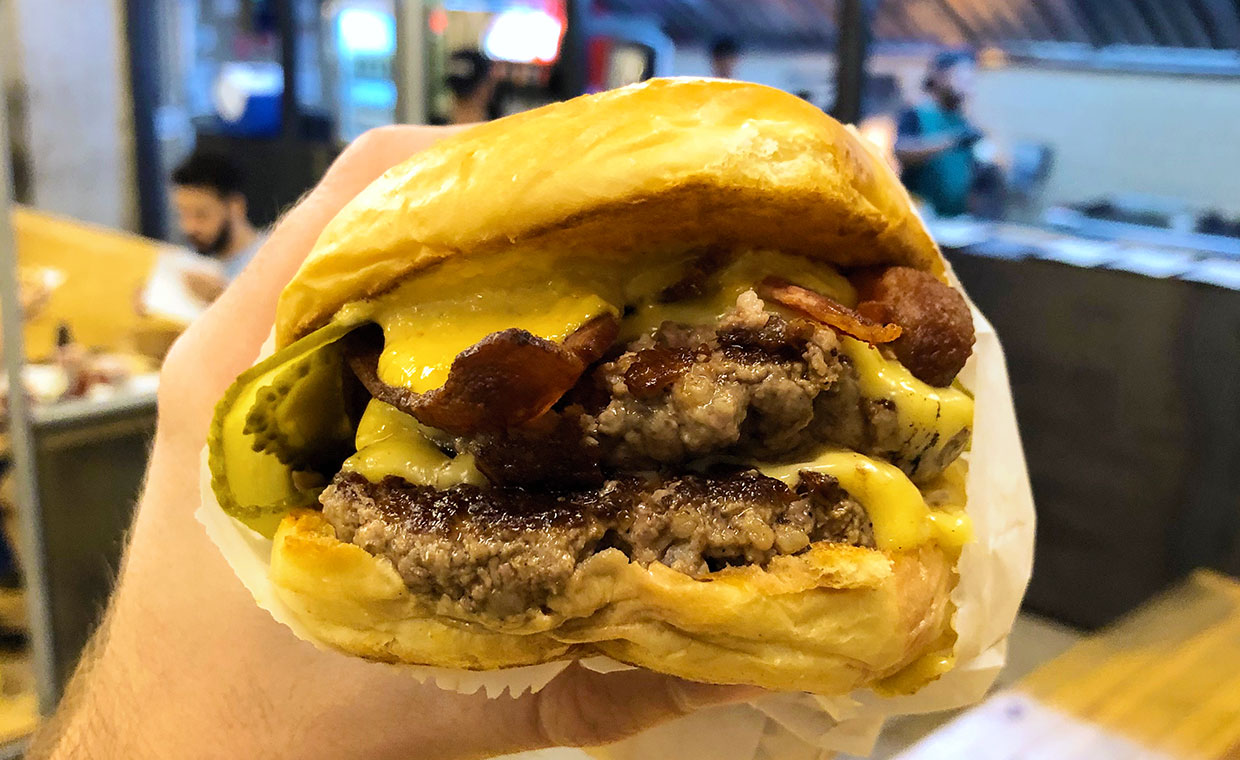 Bullguer är en burgarkedja som först öppnade 2015 i São Paulo, och som sedan dess har expanderat till ett tiotal restauranger runt om i Brasilien. De har ett väldigt gott rykte om sig att servera gedigna smashburgare till ett rimligt pris. Vi har hört detta löfte tidigare om andra burgarhak i Brasilien, men vi hade ändå höga förhoppningar när vi beställde en dubbel "Lumberjack" för 31 reais (cirka 75 SEK).
Vår burgare serverades i en pappersficka, och var charmigt konstruerad med fin färg och genomtänkta proportioner. Brödet kändes härligt följsamt både i handen och vid första första tuggan. Även köttet var riktigt bra med en tillfredsställande stekyta och saftighet, något vi tidigare har haft svårt att hitta i Brasilien. Baconet, gurkan, osten och majonnäsen var fint avvägda och skapade en fin harmoni i munnen.
Köttet var dock lite väl saftigt för brödet, som tyvärr blev genomblött på nolltid. Vi tyckte även att köttet var lite väl salt, särskilt tillsammans med det salta baconet. Deras pommes frites var i alla fall riktigt bra, med ett fint krisp och härlig smak.
Bullguer serverar kort och gott riktiga toppenburgare. Visst finns det smådetaljer och finjusteringar vi anser att de borde arbeta med, men grunden och konceptet sitter där. Tillsammans med Cabana Burger är Bullguer tveklöst en av de bästa burgarkedjorna i Brasilien just nu.
In English
Bullguer is a burger chain that first opened in 2015 in São Paulo, and that have grown to 10+ restaurants throughout Brazil. They're knows as a place that serves premium smashburgers at great prices, and even though we've heard that one several times before in Brazil, our hopes were high when we ordered a double "Lumberjack" for 31 reais (about 8 USD).
Our burger came served in a paper pocket, and had been expertly built with great proportions. The bun was nice and squishy, and the patties had a lovely char and were super-juicy – something we've had problems finding in the country. The bacon, pickle, cheese and mayo worked well with each other, and really enhanced the flavours.
Unfortunately, the meat was a bit too juicy for the buns, and they quickly became quite soggy. The patties were a bit too salty, especially together with the bacon. But apart from that we were really happy with our meal, and we liked the crispy and flavoursome french fries as well.
Bullguer serve top notch burgers, and even though we found a few things we'd like them to tweak, we were happy with the basics. Together with Cabana Burger, Bullguer sit at the top of the fast-food chain in Brazil.