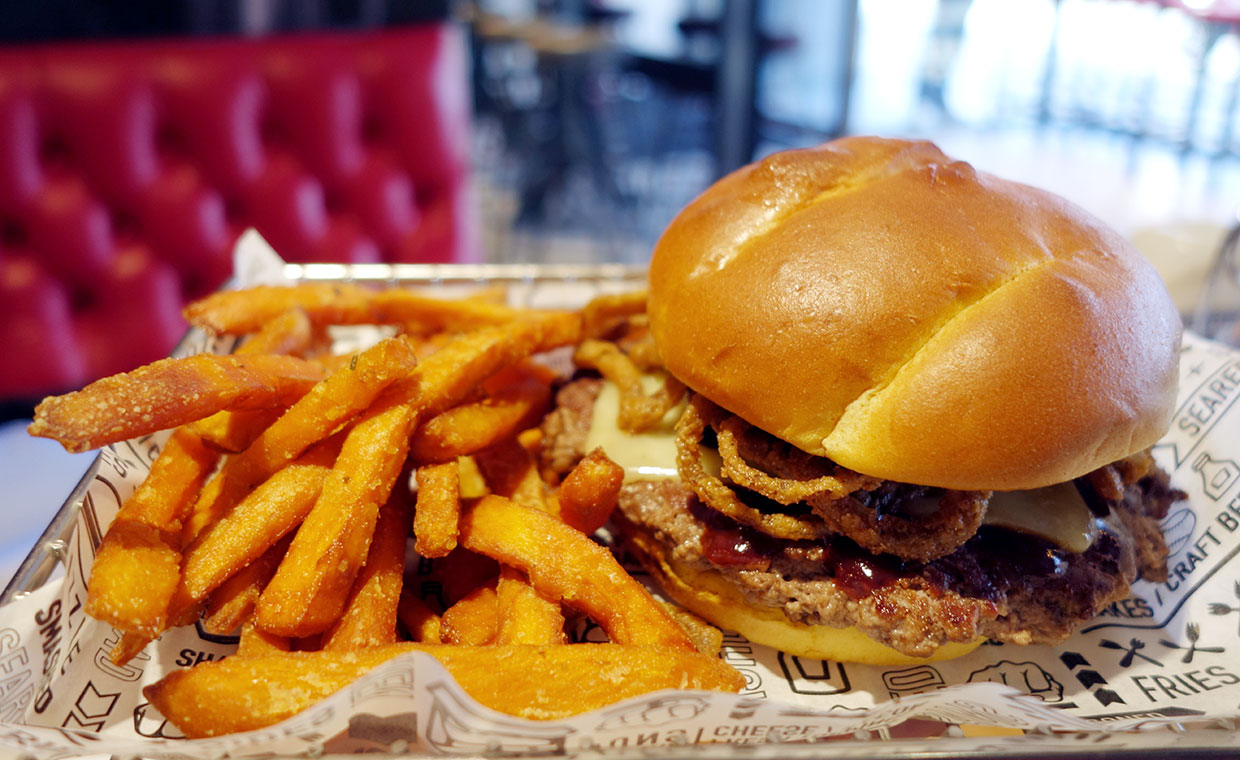 Smashburger är en amerikanskt snabbmatskedja i det övre segmentet som numera har fler än 300 restauranger runt om i världen. Likt andra "fast casual"-kedjor av rang (som Shake Shack, Five Guys och In-N-Out) så är allt kött färskmalet, vilket är ett slags minimumkrav för att vi ska anse dem vara intressanta.
Tyvärr känns det inte som att kvalitetstänket har nått så mycket längre än att de ska nå upp till detta grundkriterium, då de flesta andra komponenterna känns som hämtade från vilket snabbmatsställe som helst. Vi har testat Smashburger vid ett par tillfällen, men problemen har alltid varit samma.
Vår BBQ-, cheddar och baconburgare såg riktigt tråkig ut när den serverades. Det briocheliknande brödet var väldigt torrt och tuggigt, och kändes knappt dagsfärskt. Köttet var ganska torrt och smakade nästan ingenting alls, men det var i alla fall lite rosa i mitten. Baconet, barbecuesåsen och den friterade löken tillförde inte heller något nämnvärt i smakväg. Sötpotatispommesfritesen var i alla fall klart godkända, men extrakryddningen med vitlök, rosmarin och olivolja var lite för tam.
Vi kan uppskatta de många valmöjligheterna när det gäller bröd och alternativ till kött, samt att själva köttet åtminstone är färskt, men Smashburger står sig verkligen inte i konkurrensen med de mer ambitiösa alternativen som nämndes ovan.
In English
The global fast casual chain Smashburger have more than 300 restaurants all over the world, and serve burgers with freshly ground patties – which is something of a pre-requisite for us to try them out. Unfortunately they always seem to fall flat when it comes to everything else. The smashed patty still had some pinkness to it, but didn't taste of much and was quite dry. The brioche-esque bun was chewy and also pretty dry, and the bacon, bbq sauce and fried onions didn't really do much at all. We quite liked the sweet potato Smashburger fries, but the garlic, rosemary and olive oil seasoning was hardly noticeable. Smashburger may offer a nice variety of buns and alternatives to meat, but they really pale in comparison with other fast casual chains such as Shake Shack, Five Guys and In-N-Out.