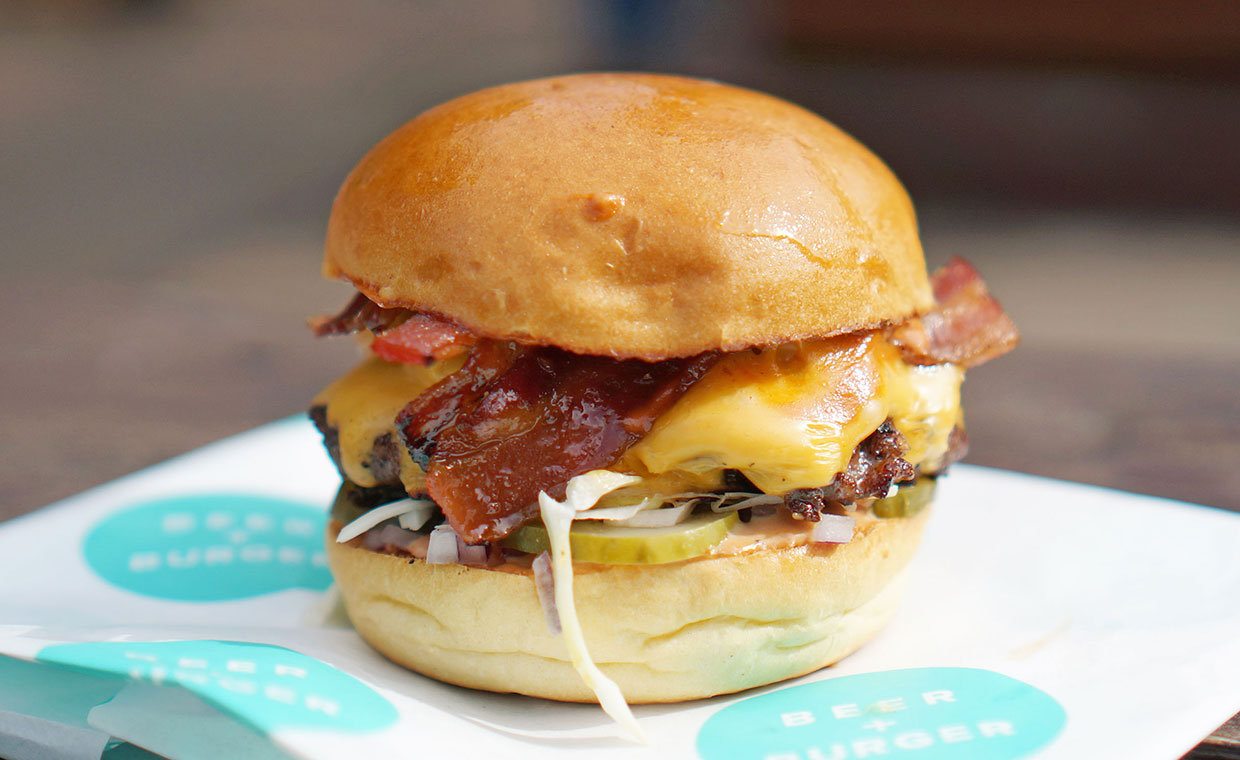 Beer + Burger är en Londonbaserad restaurang vars namn skvallrar om deras fokus. Utöver burgarna har de nämligen 20 ölkranar och hundratals andra öl på flaska. Vad som inte nämns är att de dessutom har en löparklubb, men vi gissar att namnet hade nog blivit lite långt.
Burgaren som vi testade på National Burger Day 2017 hette "Double Double". Den var som namnet antyder en burgare med dubbla köttpuckar och dubbel ost. Puckarna var gjorda med Angus-nötkött som hängmörats i 36 dagar, vilket gav dem en riktigt god smak. De andra tillbehören var sallad, rödlök, inlagd gurka, lönnsirapsglacerad bacon och vad som kallas "goop". Baconet hade en god och subtil smak av lönnsirap, men med en sötma som inte tog över. Och "goop" visade sig vara deras variant av en hamburgerdressing. Den var god, men denna gatuköksliknande enkelhet passade inte så bra med de andra komponenterna.
Det var rätt svårt att sätta betyg på Beer + Burger medan vi åt den. Köttet och brödet höll hög kvalitet, men kombinationen av smaker från dressingen, osten och salladen kändes som tagen från fick oss att tänka på det lokala gatuköket. Men efter ett tag, när vi hämtat oss från den långa burgarfestivalen så kände vi att kvaliteten på ingredienserna snarare gav oss en tillräckligt härlig nostalgikänsla för ett högre betyg.
In English
Beer + Burger is a restaurant in London where the focus seems to be in the same order as their name, having 20 beer taps and hundreds of bottles on site. The burger we tried at National Burger Day 2017 was one called "Double Double", and was a cheeseburger with double meat patties and double cheese. The meat came from a 36 days aged Black Angus beef with a great meaty flavour. The other toppings were shredded white cabbage, red onion, pickles, maple bacon and "goop". The bacon had a subtle taste of maple without being overly sweet, and "goop" was their take on a classic burger dressing. The combination of flavours felt a bit out of place – like finding a gourmet burger from a run-down fast food kiosk – but the high quality of all the components created a nice and nostalgic feeling.