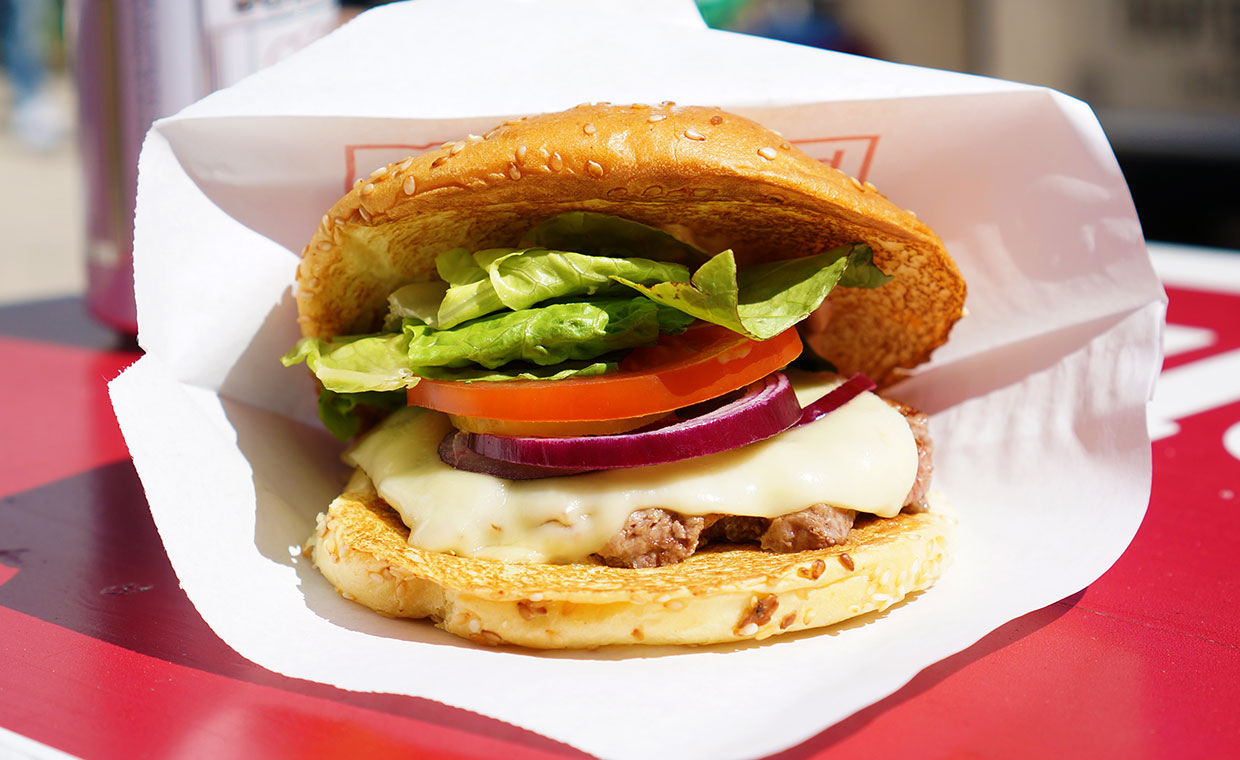 Burger de Ville finns i Hamburg, Wien samt på två ställen i Berlin. Vi besökte deras food truck i Berlin som står på en fejkad sandstrand alldeles i närheten av Checkpoint Charlie. Solstolarna, parasollerna och de plastiga palmerna hade lätt kunnat kännas lite töntiga, men vid vårt besök pressade solen upp temperaturen vilket gav det hela en trevlig inramning.
Den stora silverfärgade burgarbussen har blivit populär bland såväl berlinarna som hos turisterna och skryter med 100 procent färskmalt Angus-kött i sina burgare. En enkel burgare går på runt 50 kronor och pommes kostar motsvarande 20 kronor, så det är en förhållandevis billig måltid. Vi valde att testa deras cheeseburgare och första intrycket var positivt – brödet var snyggt rostat och köttet hade en bra stekyta och var uppenbart handformat. Enkelburgaren är rätt liten, men det går att göra sin burgare dubbel för cirka 25 kronor till. Tyvärr föll burgaren platt när vi väl började äta – köttet var alldeles för hårt stekt och ganska smaklöst, salladen var kall och smaklös, och brödet var … you guessed it … smaklöst.
Det var inte jättedåligt, utan mest tråkigt – så där så att man liksom tappade intresset för burgaren halvvägs. Vi kan tänka oss att komma tillbaka för en öl när det är varmt ute, men Berlin bjuder på betydligt bättre burgare än så här.
In English
Burger de Ville has locations in Hamburg, Vienna and Berlin. We visited the one located by Checkpoint Charlie in Berlin. Their big silver bus was surrounded by fake palm trees, sun chairs and a lot of sand, which adds to the experience – whether you like or not. The burger itself is on the small side, but it's pretty cheap and you can make it a double by adding a few more euros. We went for their cheese burger, and everything looked good, but the patty – made with Angus beef – was well done and kinda tasteless. The same went for the bun and the greens – ok looks but no real taste. Come for the kitschy surroundings and have a beer or two on a sunny day, but keep your expectations low if you are hungry.