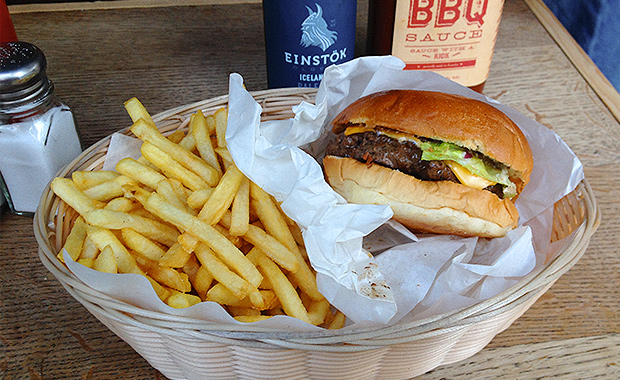 Uppdatering, mars 2018: Tommi's Burger Joint i Malmö har stängt för gott.
Tommi's Burger Joint är något så annorlunda som en isländsk hamburgerkedja, som numera även finns i flera europeiska städer som Reykjavik, Oslo, Köpenhamn, London, Berlin och Rom. Grundaren Tommi Tómasson är mer meriterad än de flesta i burgarbranschen. Redan 1981 öppnade han sin första kedja på Island: Tommi's Hamburgers. De lagar enkla och prisvärda burgare, och har alltid ett gäng lokala heta såser till hands.
Menyn är enkel och burgarna är klassiska med sallad, tomat, lök, ketchup, senap och majonnäs. Ost och bacon finns som tillval. Trots ett gott bröd så stördes upplevelsen av att köttet i deras Steak Burger inte valts med särskilt mycket omsorg, då den innehöll flertalet stora fettbitar. Burgarna skulle även vara mediumstekta med en rosa kärna, men två av oss fick genomstekt kött. Och precis som stekgraden så skiljde sig våra omdömen åt. En i gruppen sa besviket att det smakade som en snabbmatsburgare, vilket ju med facit i hand kanske ändå var någon slags ursprunglig målsättning med kedjan. Generellt var vi dock nöjda och enades om ett medelbetyg, för man kommer rätt långt på att servera billiga och rätt goda burgare.
In English
Tommi Tómasson started his first burger chain in 1981 so he's been around for a while. His latest creation Tommi's Burger Joint is his most successful one, serving up tasty fast food burgers, but the quality is a bit uneven – two of our burgers were well done and two of them were medium (they were all supposed to be medium, of course). The famous sauce bar with local varieties in Malmö is a let down when compared to other Tommi's locations, but it still beats most of the competitors. If you're hungry and not looking to spend a fortune we still recommend a visit.