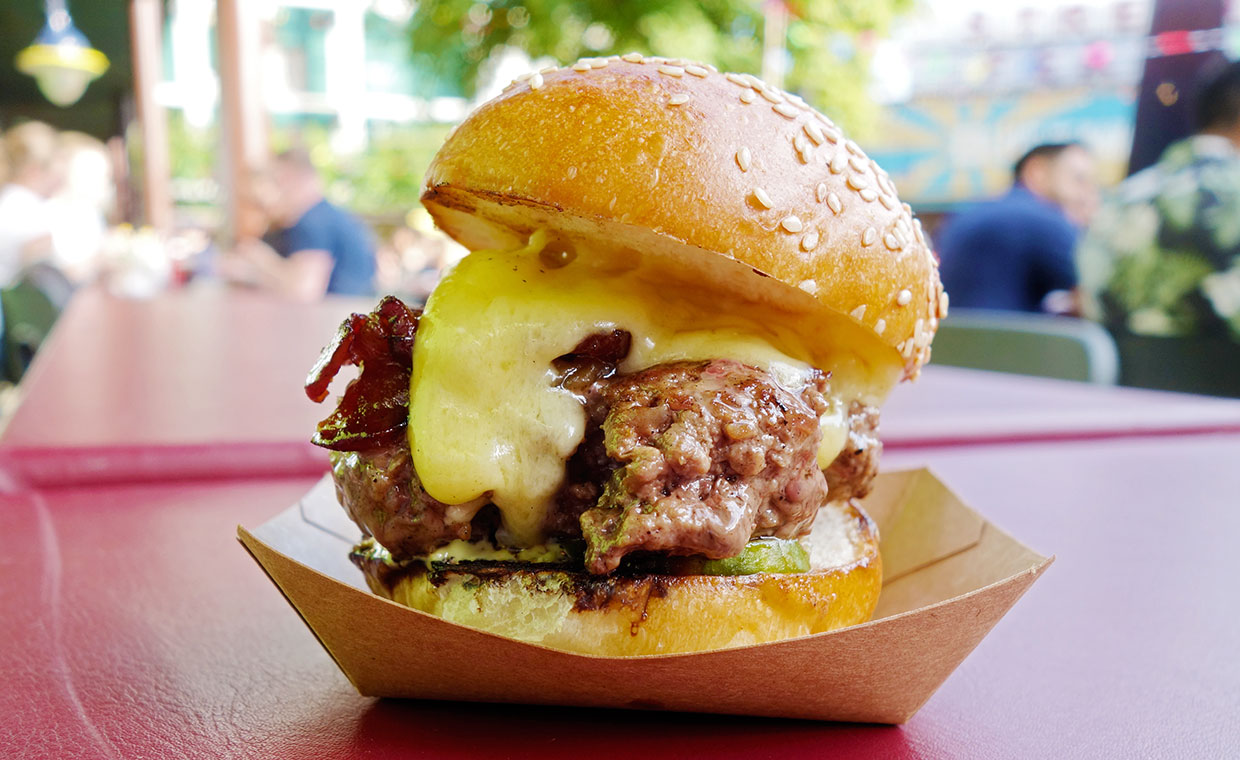 Handsome Burger startade som en liten streetfood-verksamhet i Galway, och finns numera även i Dublin. Under sommaren 2019 vann de utmärkelsen Irlands bästa burgare, och vi testade deras skapelse på Bundance Burger Festival i London några veckor senare.
The Deal Breaker, som burgaren hette, innehöll hängmörat kött från Irland, Derg-cheddar, kanderat bacon, lök, dressing och "keltiska" pickles. Det var en hög och kladdig burgare, och köttets höga kvalitet märktes redan vid första tuggan. Köttet var djupt och smakrikt, men kunde faktiskt ha varit lite saftigare. Smaken doldes dessutom något av den superstarka osten som täckte hela burgaren. Derg-cheddarn var väldigt god, men den övertydliga sältan var för dominant och släppte inte fram de andra smakerna.
Deras pickles var också rätt salta, men hade en fin syra som bröt av de många smakerna som samsades i den lilla burgaren. Det kanderade baconet tillförde en del rökig sötma, och vi hade gärna sett mer av den i burgaren. Själva brödet var lite tuggigt, eventuellt på grund av transporten, men det var i alla fall inte torrt och hade ändå en fin stuns.
Handsome Burger vet vad de håller på med. De noggrant utvalda ingredienserna bjöd på rejäla smaker, och det här är nog den bästa burgaren från Irland som vi har provat på. Vi ser redan fram emot att besöka deras riktiga restauranger.
In English
Handsome Burger started out as a small street food vendor in Galway, and have expanded into Dublin as well. In the summer of 2019 they were awarded The Best Burger in Ireland, and we got to try their hamburgers at the Bundance Burger Festival in London just a few weeks later.
The Deal Breaker, as the burger was called, had dry-aged Irish beef, Derg cheddar, candied bacon, onions, dressing and Celtish pickles. This was a tall and gooey hamburger, and the meat quality shone through after the first bite. The flavours were deep and beefy, but it could have been a bit juicier. The patty was a bit overpowered by the flavoursome Derg cheddar that covered our burger. It was tasty of course, but the intensive saltiness was too dominant.
The Celtish pickles were pretty salty as well, but added a nice acidity that cut through the richness. The candied bacon added some smokey sweetness, which we could have had more of. The bun was a bit chewy, perhaps due to being transported from Ireland, but it was bouncy and wasn't dry at all.
Handsome Burger know what they're doing. The carefully selected ingredients were super intensive, and this is probably the best Irish burger we've eaten. We're really looking forward to trying them at one of their locations back on the Emerald Isle.