Burgerdudes.se presenterar The Burgerdude
Månadens burgare på Barrels under juni 2017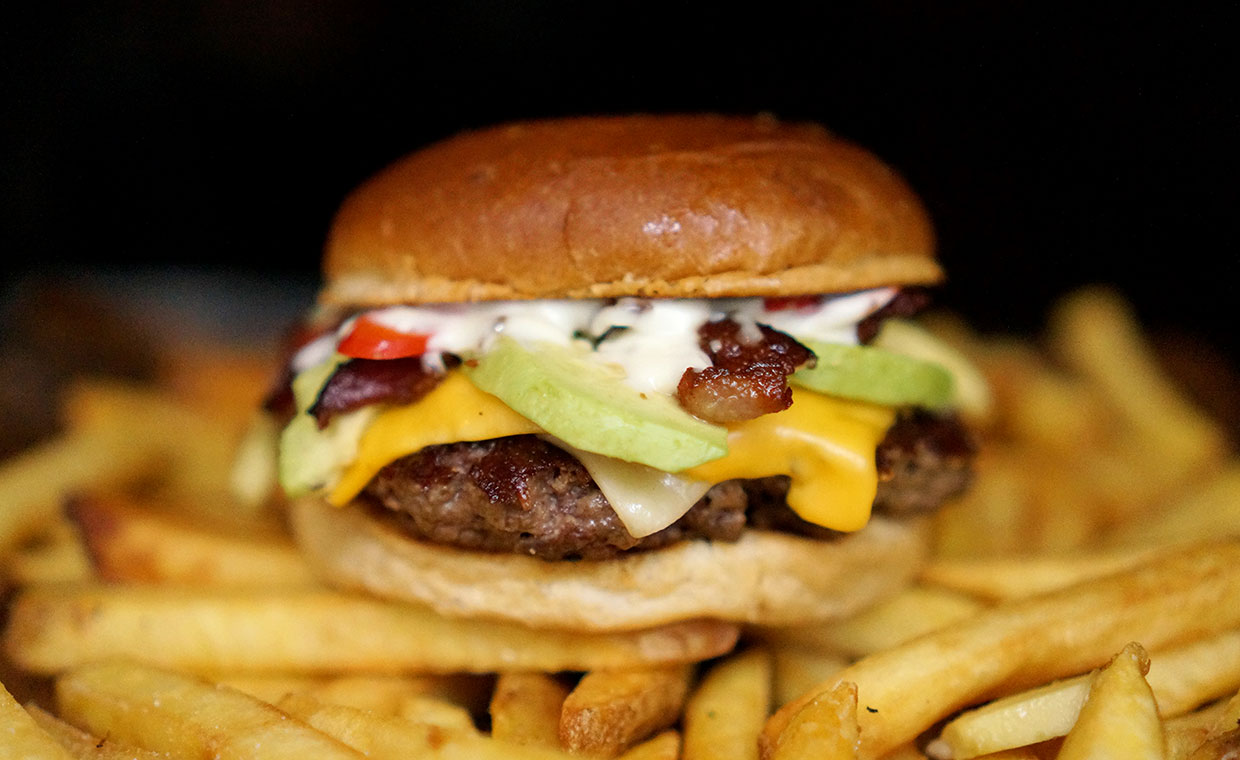 Vi på Burgerdudes.se har ätit burgare över hela världen, och vår första signaturburgare har fått massor av inspiration från våra resor.
The Burgerdude innehåller avokado, majonnäs, ett knaprigt baconhack, inlagd röd chili samt cheddar- och emmentalerost. Avokadon i kombination med majonnäsen ger en ljuvlig krämighet (populärt på burgare i Japan), som följs upp av ett knaprigt baconhack blandat med inlagd röd chili som livar upp smaklökarna. Under detta ligger det saftiga köttet med två ostskivor (cheddar och emmentaler). Vi tycker att denna kombination av smaker är helt magisk!
Till detta har vi även tagit fram ett tillbehör; pommes frites med rosmarinsalt. Denna kryddning är populär bland de bästa burgarhaken i England, och är något som vi har saknat på svenska restauranger!
The Burgerdude hade premiär på Stockholm Burger Fest 2017, där den snabbt blev en favorit bland alla tusentals besökare. Nu säljs den på Barrels Burgers & Beers båda restauranger under hela juni 2017, tillsammans med våra rosmarin-pommes.
Vi ser verkligen fram emot att höra vad ni tycker om den! Berätta gärna på Instagram med hashtaggen #TheBurgerdude.
Barrels två restauranger ligger på Stora Nygatan 20 i Gamla Stan och på Smålandsgatan 20 i centrala Stockholm.
In English
We have travelled the world eating burgers, and our first signature burger has been inspired by our many trips.
The Burgerdude contains avocado, mayonnaise, crispy chopped bacon, pickled red chillies and cheddar and emmentaler cheese, and we think it's absolutely amazing. The avocado and mayo combo is super creamy, and is popular in Japan. The crispy and salty chopped bacon and the heat from the pickled chillies liven up your tastebuds, and the two cheeses on top of the juicy patty all work together to create an incredible burger.
We've also got a special side order, namely french fries with rosemary salt. This combination is popular in England, and is something we've been missing here in Sweden.
We premiered The Burgerdude at Stockholm Burger Fest 2017, where it quickly became a crowd favourite among our several thousand visitors. The Burgerdude and our rosemary friews will be sold at both Barrels Burgers & Beers' locations (on Stora Nygatan in the Old Town, and on Smålandsgatan 22 in central Stockholm) throughout June 2017. We really hope you try it out!