Våra septemberburgare för Bastard Burgers
Tre fantastiska kampanjburgare från Burgerdudes
Nyhet skriven av
Toby Lee
, 01 september 2018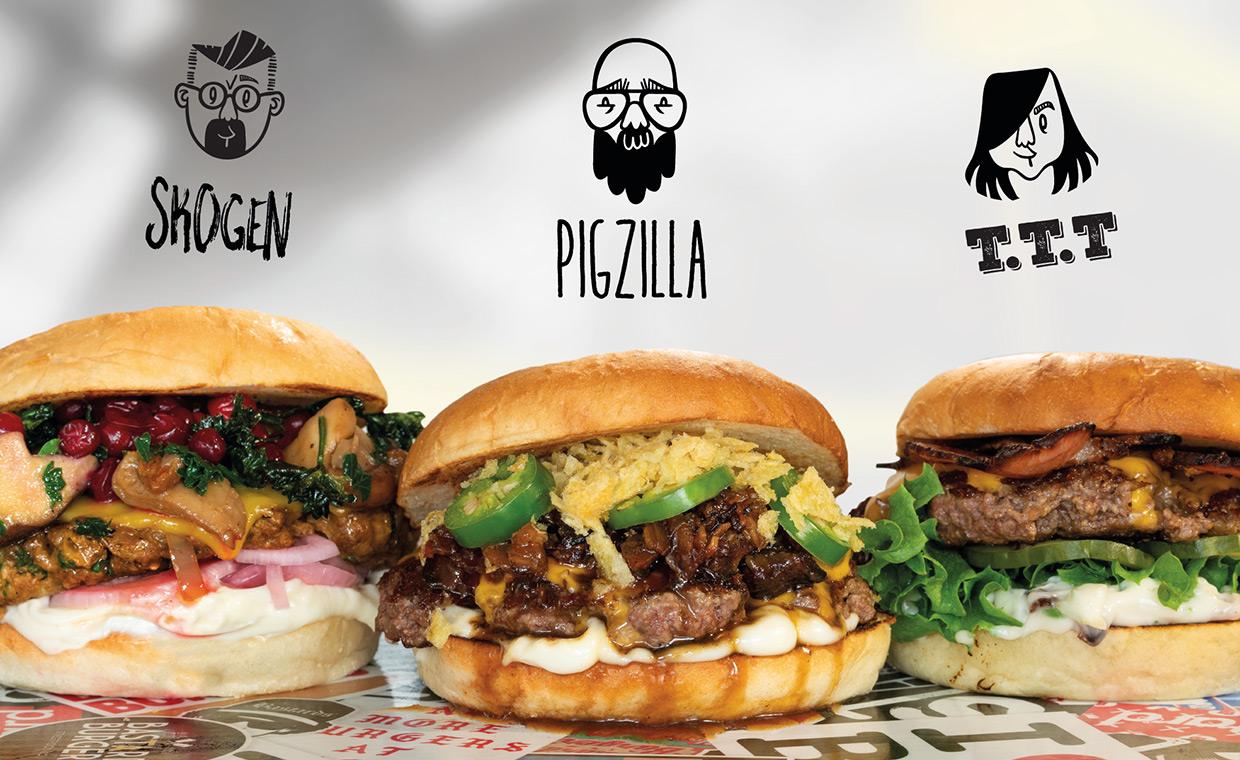 Som vi har nämnt tidigare så har vi tagit över menyn hos Bastard Burgers under augusti och september 2018. Augusti är nu förbi, så här kommer de tre burgarna som serveras under september!
Pigzilla av Linus Josephson.
Pigzilla är tillbaka, starkare, argare och mer dekadent än någonsin. Den svinigt goda burgaren från Burgerdudes-Linus innehåller ljuvlig baconsylt, lättkrossade potatischips, krämig majonnäs och jalapeños. Tillsammans bildar det en perfekt harmoni av sälta, sötma och hetta. Grisigt god helt enkelt!
Skogen av Marcus Sjöström.
Skogen är den perfekta höstburgaren, som har inspirerats av klassiska söndagsmiddagar med sina djupa och murriga smaktoner. Den friterade persiljan och de rårörda lingonen samspelar med svampen, löken och tryffelmajonnäsen för att skapa en matupplevelse som vi tror att alla kommer att bli nyfikna på och vilja testa. Den är dessutom 100 % vegansk, så att alla kan njuta av den!
Toby's Triple Threat av Toby Lee.
Toby's Triple Threat innehåller tre tillfredsställande trevligheter. TTT är en ost- och baconburgare med en härligt dekadent och örtig ankfettsmajonnäs med bacon som smakar helt ljuvligt. De intensiva smakerna lättas dessutom upp av picklesen och den fräscha salladen för en balanserad smakupplevelse. Gör dig redo för trippeltrubbel!
In English
Pigzilla by Linus Josephson
Pigzilla is back – angrier and more decadent than ever. This amazing burger creature from Burgerdude Linus has rich bacon jam, finely crushed potato crisps, creamy mayo and fiery jalapeños. Together they create a harmonious mix of sweetness, saltiness and heat that will make you squeal with joy.
Skogen by Marcus Sjöström
Take a walk through the forest with Skogen. This autumn burger from Burgerdude Marcus draws its inspiration from classic sunday dinners, with deep and satisfying flavours. The deep-fried parsley and tart lingonberries work together with the mushrooms, onions and truffle mayonnaise to create an exciting and inspired burger. And it's 100 % vegan as well, so that everyone can try it!
Toby's Triple Threat by Toby Lee
Toby's Triple Threat is a tremendously tasty triumph. The supremely secret ingredient in this bacon and cheese burger from Burgerdude Toby is a decadently rich duck fat mayonnaise with bacon bits and lashings of fresh herbs. The pickles and lettuce create a balanced taste experience you won't want to miss. It's quacking amazing!