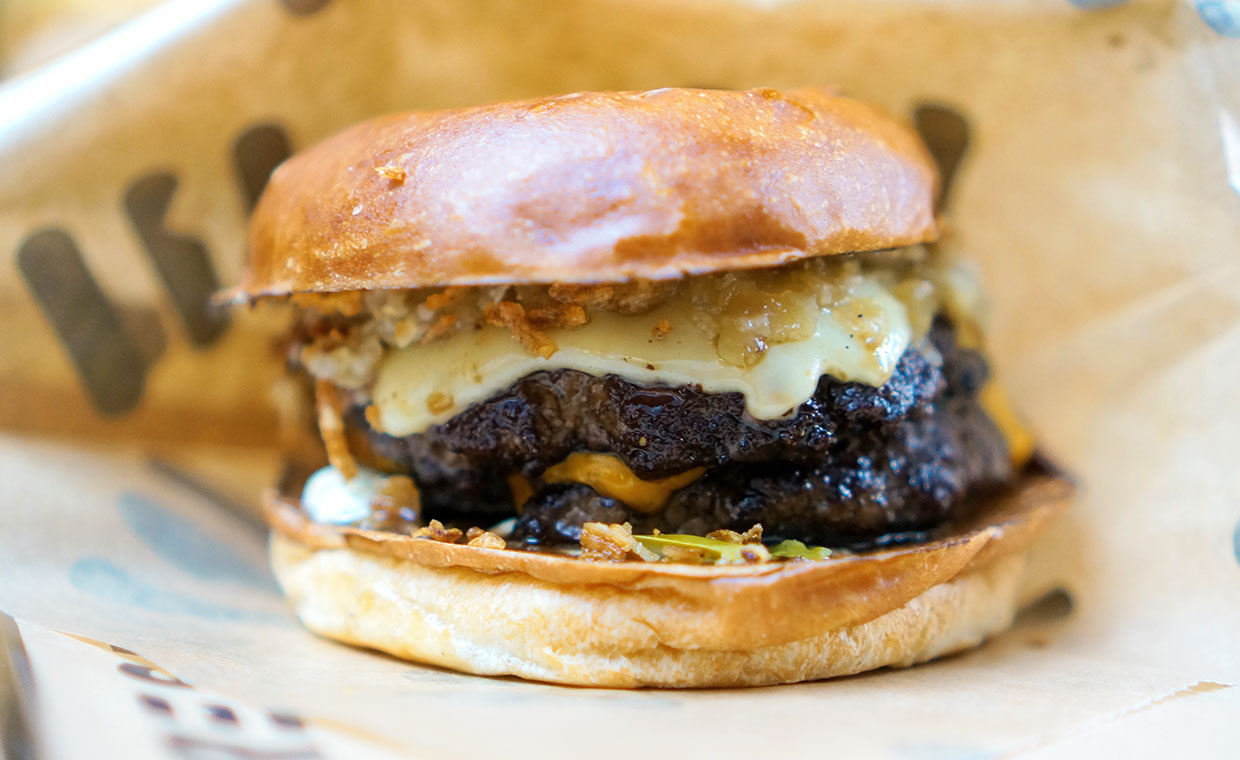 Stjärnkocken och köttexperten Johan Jureskog meddelade tidigare i år att han skulle öppna en burgarkedja med inspiration från Shake Shack, världens bästa burgarkedja. Jureskogs öppnade sin första restaurang på Jakobergsgatan i centrala Stockholm, och finns nu även i Lund, Mjölby, Värnamo. och Göteborg.
Deras stora och fräscha lokal kändes genomtänkt med fokus på snabbare serveringar, precis i linje med deras inspirationskälla. Menyn var det första vi reagerade på, med burgare prissatta mellan 85 och 139 kronor som samsades med champagne och konjak för tusentals kronor.
Vi testade två burgare – en dubbel cheeseburgare samt signaturburgaren Highfive. Vi försöker att aldrig döma en burgare för snabbt, men vårt första intryck var inget vidare. Burgarna som serverades var inte kärleksfullt konstruerade, utan var slarvigt hopbyggda.
Höjdpunkten var tveklöst köttet från svenska mjölkkor, som hade en god smak och en tillfredsställande saftighet. Tyvärr var det inte saltat eller pepprat tillräckligt för att vara riktigt bra, och vi tyckte även att den kunde ha haft en krispigare stekyta. Brödet var mjukt, men lite tuggigt och inte särskilt följsamt. Tryffelaiolin var dock väl avvägd på Highfive-burgaren, och trots att den låg både i toppen och i botten så var tryffelsmaken inte alls övermäktig.
Den ekologiska burgarcheddarn från Väddö Gårdsmejeri var härligt krämig, och Svarta Sara var också god. På tillbehörssidan var pommes fritesen klart godkända, men den smaklösa jordgubbsmilkshaken för 55 kronor var dessvärre rinnig och en av de sämre vi har druckit.
Som kedja har Jureskogs potential, och det går att göra något riktigt bra av konceptet. Men just nu känns det inte som att de riktigt når hela vägen fram för att kunna jämföras med Shake Shack.
In English
Jureskogs, the brain child of the star chef and meat expert Johan Jureskog, have just opened their first restaurant in central Stockholm. With inspiration drawn from Shake Shack our expectations were high. We tried their double cheese burger and their signature Highfive burger. The first thing we noticed was the sloppy presentation. We understand that it can be stressful in the kitchen, but it's a warning sign when details like these are overlooked. The patty was the star of the show; juicy and with a good flavour. We would have liked some more crust though, and quite a bit more salt and peppar. The bun was a bit chewy and didn't hold together that well. We liked the creamy cheddar and the fries, but the watery milkshake was a bit of a disaster. All in all, Jureskogs serve a decent burger and we see potential in the concept. But right now they have quite a far way to go if they want to be compared to Shake Shack.