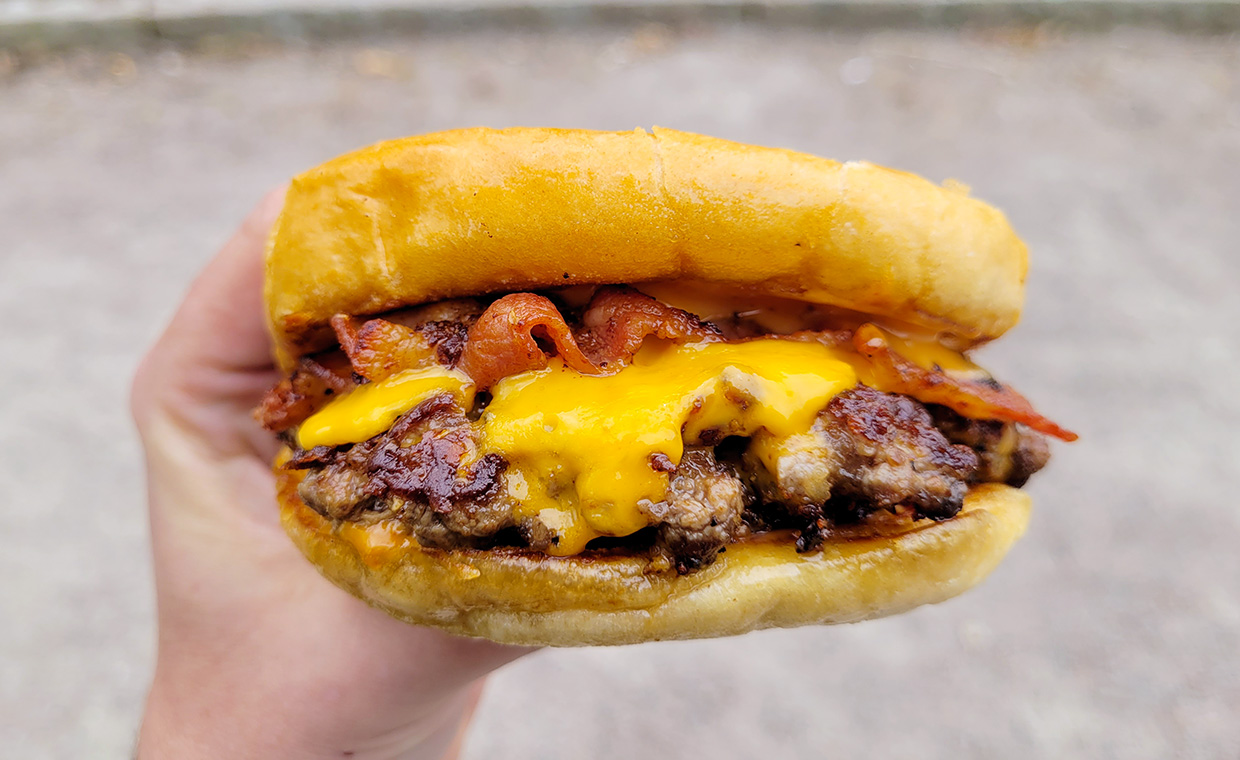 Hotbox Burgers öppnade i Halmstad under senvåren 2022 och har redan starka expansionsplaner. Menyn består av två fasta hamburgare, en månadsburgare och en halloumivariant. Vi har testat två av deras burgare vid olika tillfällen. The Cheese innehöll 120 gram kött från en närliggande gård, dubbla skivor ekologisk burgarcheddar, pickles, rödlök, senap, ketchup, majonnäs och något så spännande som rostad majs, medan The Hotbox innehöll samma mängd kött, cheddar, bacon, rödlök, chilisås och majs. Båda burgarna kostade 120 kronor, inklusive pommes frites och en läsk under lunchtid.
Trots att vi var först i kön så tog det rätt lång tid att få burgarna, men när de väl serverades så såg de riktigt fina ut – om än inte lika munvattnande som på sociala medier. Det lokalt bakade brödet var varmt och fluffigt och inbjöd till omedelbar njutning, och redan efter första tuggan ville vi ha mer. Köttet var saftigt, välsmakande och hade en rejält tilltagen stekyta. Cheddarosten bidrog till krämigheten – särskilt i vår The Cheese – och vi uppskattade verkligen deras goda bröd. Den ovanliga ingrediensen majs märktes dock inte av särskilt mycket dock, vilket gör att vi ställer oss lite frågande till varför de valt att ha denna ingrediens. Vi uppskattade den välbalanserade hettan och samspelet mellan smakerna i The Hotbox, men baconet var för sladdrigt och borde ha varit krispigare.
Hotbox Burgers har gjort ganska mycket rätt redan från start, och det märks att de använder sig av fina råvaror av hög kvalitet. Om de lyckas slipa till konceptet lite mer under tiden som de expanderar så har de god potential att bli en av de bättre minikedjorna i södra Sverige.
In English
Hotbox Burgers opened in Halmstad late in the spring of 2022, and have already started their expansion plans. Their menu consists of two regular burgers, a monthly creation and a halloumi burger. We have visited them twice and tried two different varieties; a The Cheese with a 120-gram beef patty from a local farm, two slices of organic burger cheddar, pickles, red onions, ketchup, mustard, mayo and something as surprising as roasted corn, plus a The Hotbox with the same amount of meat, cheddar, bacon, red onions, chili sauce and corn. Both burgers cost 120 SEK (12 USD), including an order of french fries and a soft drink during lunch hours.
Despite being first in line it took a while to get our burgers, but when they arrived they looked really good (but not as good as they did on their socials) The locally baked bun was invitingly warm and fluffy, and our first bite was amazing and made us hungry for more. The beef was tasty, juicy and with a deep crust, and the cheddar made everything nice and creamy – especially in out The Cheese. The bun tasted as good as it looked, but we didn't really notice the corn in any of our burgers, and we felt a bit confused as to why they'd even added this ingredient to their menu at all. We enjoyed the well-balanced heat and flavour composition in our The Hotbox, but the bacon was quite soft and ought to have been much crispier.
Hotbox Burgers are off to a good start, and it's obvious that they're using really high-quality ingredients. If they manage to up their game whilst expanding they're set to become one of the better small chains in the south of Sweden.