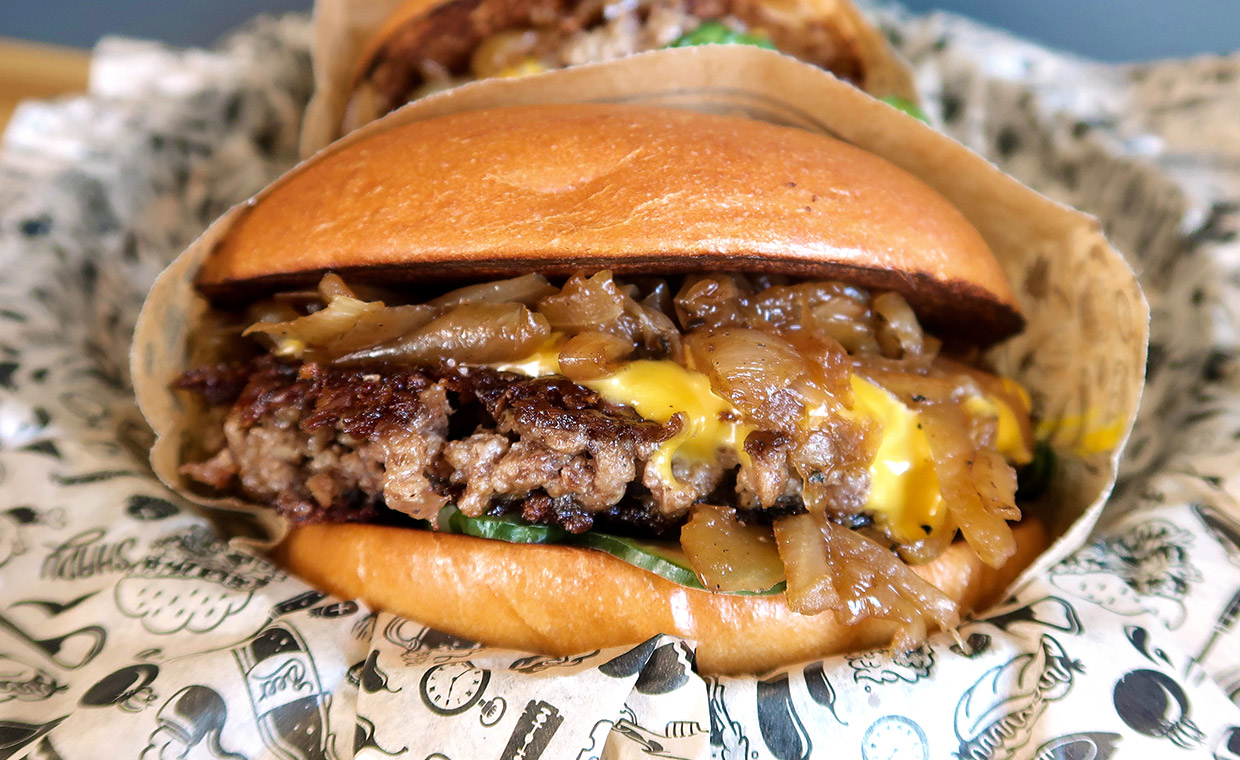 Shady Burgers öppnade sin första restaurang i Sölvesborg under sommaren 2017. Restaurangen blev så populär att de sedan dess har öppnat restauranger i Lund, Halmstad, Eslöv och Kristianstad. Idén är enkel men väl fungerande; Kvalitetskött som mals dagligen, hamburgerbröd som bakas lokalt samt fräscha råvaror. Menyn består av sex olika biffburgare och hela sju vegetariska eller veganska burgare. Bra jobbat Shady Burgers! Vårt val blev en "Basic Burger" med karamelliserad lök, dubbla skivor cheddar, picklad gurka och senap.
Burgaren såg god ut när den anlände till vårt bord, men saknades kanske det där lilla extra utseendemässigt. Själva köttpucken såg rätt kompakt ut, men hade en fin stekyta och var saftigt och gott. Däremot kunde det gärna ha kryddats lite mer med salt och peppar. Överlag så hade deras Basic Burger balanserade smaker, med rivig senap som bröt av väl mot den söta löken och den krämiga cheddarosten. Den picklade gurkan var mycket god och rundade av smakerna på ett föredömligt sätt. Däremot fick inte brödet full poäng då den undre halvan var lite för tjock jämfört med resten av hamburgaren. På plussidan var brödet mjukt och hade en smörig god smak och höll inne köttsafterna på ett bra sätt.
Priset på 100 kronor, inklusive krispiga pommes frites under lunchen, är dock mycket bra. Det är främst smådetaljerna som gör att de inte riktigt når upp till ett toppbetyg, men det hindrar inte oss från att rekommendera alla som befinner sig i närheten av en Shady Burgers-restaurang att testa deras goda hamburgare.
In English
Shady Burgers opened their first restaurant last year in Sölvesborg, and have recently expanded to the Swedish cities Lund, Halmstad, Eslöv and Kristianstad. With daily ground quality meat and locally baked buns, Shady Burgers demand to be taken seriously. We ordered their "Basic Burger", with a beef patty, two slices of cheddar, mustard, caramellised onions and pickles.
The burger looked good, but the patty looked a bit tough. But when we took our first bite it was juicy and tasted really good. We appreciated the thick crust, but would have preferred a bit more salt and pepper. Overall, the burger had a nice balance to it, where the kick from the mustard worked well against the sweet onions and the creamy cheddar cheese. We really enjoyed the house pickles as well. The bun did not get a full score since the lower part was way too thick, but we liked the buttery flavor and the fact that it held together nicely without letting any juices through.
With a price-point of 100 SEK for a burger (with tasty and crispy during lunch-hours) we definitely recommend that you visit Shady Burgers if you are in the south parts of Sweden.