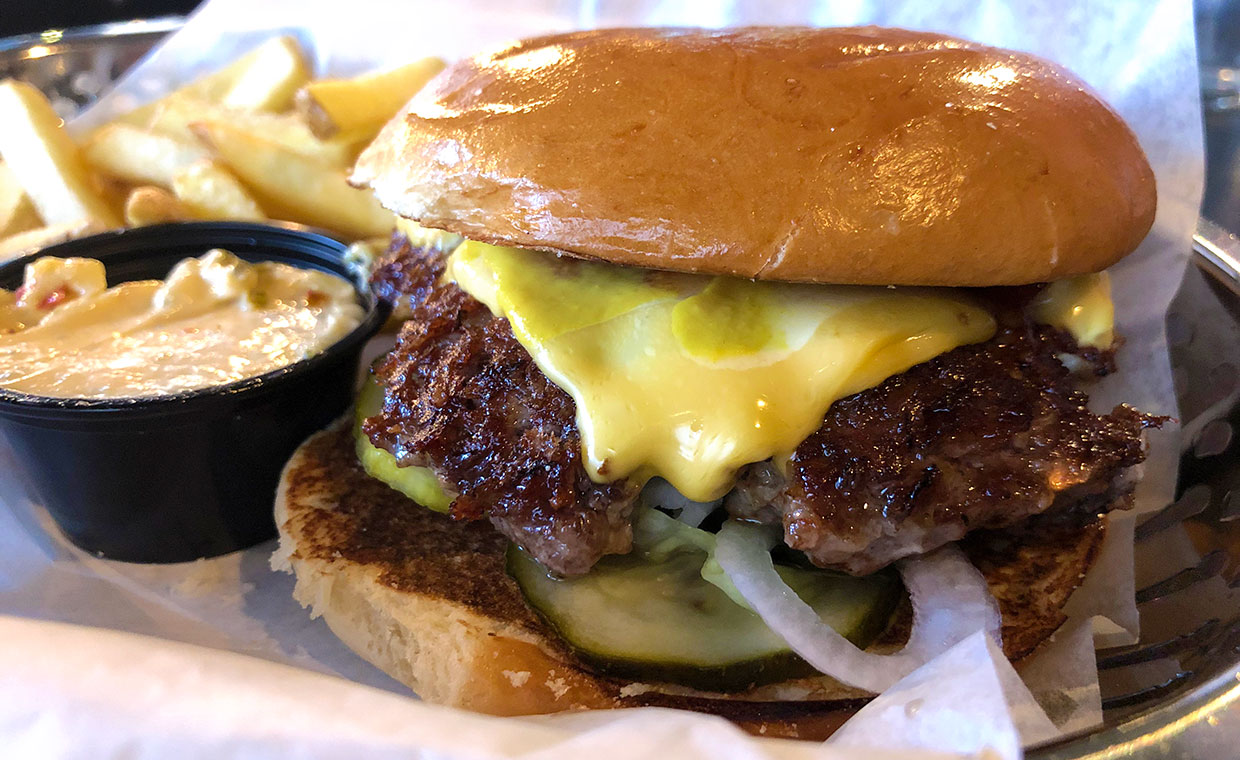 Hörnan Bar & Käk ligger i närheten av Stora torget i Linköping, och ser vid första anblick mer ut som en klassisk kvarterskorg än ett trendigt burgarhak med smashade burgare, freakshakes och hantverksöl.
Vi besökte dem under eftermiddagen och fick beställa från deras afterwork-meny där alla burgare kostade 129 kronor, inklusive tillhörande pommes frites och en dippsås. Valet föll på deras enkla Kermit-burgare med cheddarost, ketchup, senap, silverlök och pickles.
Burgaren serverades i en stålkorg, och vi gillade den direkt rent estetiskt. Brödet var härligt glänsande, köttet hade en gedigen stekyta och allt var snyggt monterat. Köttet var riktigt bra, med en rejält saftig smak och en stekyta som var nästintill perfekt.
Burgaren kändes riktigt bra i handen, och alla ingredienser var utmärkt fördelade. Det märktes direkt att den hade lagats med kärlek och eftertanke. Vår enda riktiga kritik är att köttet skulle ha behövt vila lite innan burgaren monterades. Nu vilade det saftiga köttet, som fortfarande droppade, på brödet som gjorde det onödigt blött och rinnigt. Som tur var så hade brödet ett fluffigt yttre och ett fint rostat inre som precis klarade av det saftiga köttet, men det var verkligen på gränsen.
Vi blev väldigt positivt överraskade av Hörnan Bar & Käk, och kan utan tvekan konstatera att de serverar de bästa burgarna i Linköping just nu.
In English
Hörnan Bar & Käk is located close to Stora torget in Linköping, and looks more like a regular Swedish pub than a trendy burger joint with smash burgers, freak shakes and craft beers.
We visited them in the afternoon and were treated to their after work menu where the burgers cost 129 SEK (about 14 USD), including french fries and a dip. So we ordered a simple Kermit burger with cheddar, ketchup, mustard, white onions and pickles.
Our burger came served in a metal basket, and looked really great. The bun was nice and shiny, the meat had an excellent crust and it was built with care. We really enjoyed the juicy and excellently seasoned and smashed patty.
We also liked the feel of the burger in our hand, and it was obvious to see that it had been prepared and built with love. Our main critique was that the patty should have rested a bit before being placed in the burger. Instead, it was placed – still dripping – directly on the bun and made an unnecessary mess. Thankfully the bun had been toasted properly and was still quite fluffy, but this is still an oversight.
As you can see, we were very satisfied by the burgers at Hörnan Bar & Käk, who definitely serve the best burger in Linköping right now.