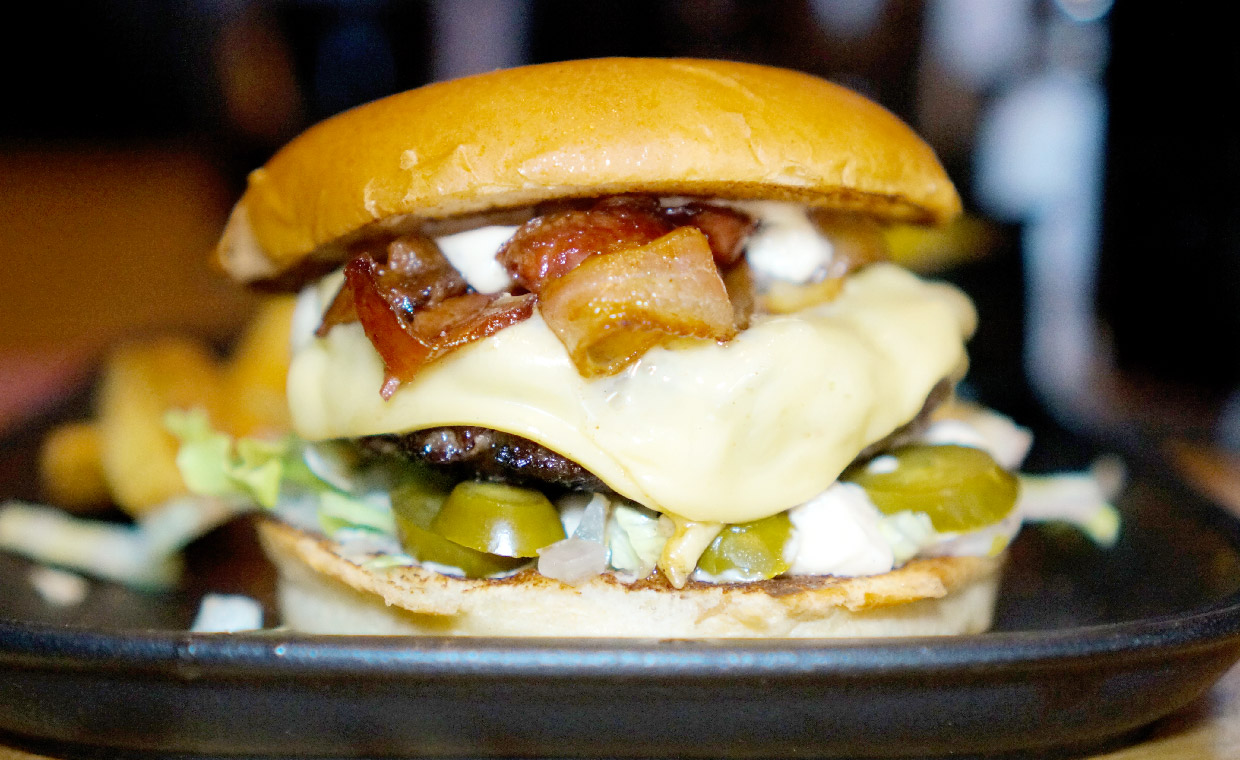 När Texas Longhorn först öppnade under tidigt 2000-tal så var de banbrytande, och om det inte hade varit för dem så hade nog inte Burgerdudes ens funnits. Många av våra första burgare tillsammans åts faktiskt på deras restauranger, men när vi recenserade deras tidigare burgarkoncept Texas Longhorn Burgers & Deli under 2015 så hade tiden gått ifrån dem. Fryst kött och alldeles för stort fokus på överväldigande såser faller oss inte i smaken längre. Men på senare tid har vi fått höra att de har blivit bättre, och i och med att alla deras restauranger runt om i Sverige nu bara heter Texas Longhorn igen så kände vi att det var dags för ett nytt besök.
Fast ärligt talat så märkte vi inte av någon nämnvärd förnyelse av varken deras lokaler eller deras maträtter. Inredningen var likadan som tidigare, med gott om trädetaljer och "fyndiga" skyltar. Och burgarmenyn såg ut som tidigare. Vår lunchburgare, en klassisk Eldorado med bacon, jalapeños, peppardressing och cheddarost, kostade 105 kronor inklusive en portion tjocka pommes frites. Men även när maten serverades så kändes det som att tiden stått stilla. För vår burgare såg i princip likadan ut som tidigare. Vi hade fått information om att köttet skulle vara färskt numera, men vår köttpuck var grå och tuggig – klassiska egenskaper hos en fryspuck, och en tydlig påminnelse om varför vi inte brukar recensera ställen som inte använder färskt kött. Brödet hade visserligen genomgått en förändring sedan sist, men denna gång var det ett sötkvalmigt briochebröd. Jalapeñosarna och baconet tillförde åtminstone lite hetta och krispighet.
Utöver dessa ingredienser så var det bästa med måltiden den ganska stora portionen samt det överkomliga priset. Vi hade faktiskt hoppats på lite mer nytänk från denna klassiska kedja, men om deras burgarutbud fortsätter att hålla denna klass så håller vi oss fortsättningsvis till deras vanliga kötträtter även i framtiden.
In English
When Texas Longhorn first opened in Sweden in the early 2000s, they were pretty groundbreaking, and we actually sort of owe our existance to them here at Burgerdudes – some of the first burgers we ate together were at various Texas Longhorn restaurants. But when we reviewed their now defunct burger concept Texas Longhorn Burgers & Deli in 2015 it was fairly obvious that they'd been left behind in the burger wars. Frozen patties and overpowering sauces aren't really our thing any more. Recently we've heard that they've stepped their game up again, and seeing as all their restaurants fall under the same name again we felt that it was time for a new visit.
But to be completely honest we couldn't really see any noteworthy changes when it came to the restaurant and their menu. The steakhouse look was still there, with wood details and "fun" signs posted everywhere, and the burger list remained unchanged. Our lunch burger, a classic "Eldorado" with bacon, jalapeños, pepper sauce and cheddar, cost 105 SEK (11 USD) including some thick-cut steak fries. And this sense of familiarity remained when they served our meal, because this looked just like we remembered it. We had been told previously that they've started using fresh beef, but our beef burger was grey and chewy – telltale signs of frozen patties and a reminder of why we mainly review places that use fresh meat nowadays. The bun had been updated since last time, but had been replaced with a sickly-sweet brioche bun. Thankfully, the jalapeños and bacon added some much-needed heat and crispy texture.
Apart from these ingredients, the best thing with our meal was the pretty generous portion and the reasonable pricing. We had hoped for at least a few innovations from this classic Swedish chain of restaurants, but if this is what their burgers still are like we won't stray from their regular steak menu in the future.