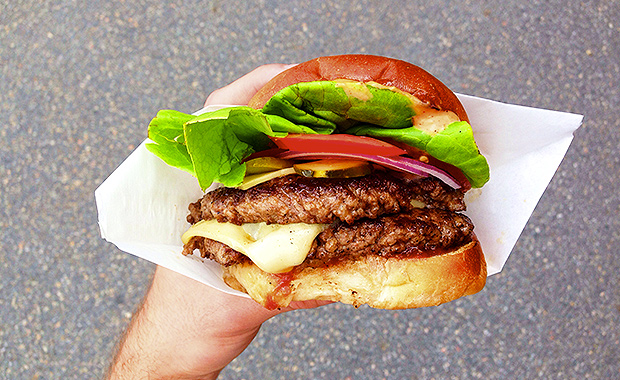 Frick & Hagberg har stängt sin verksamhet.
Foodtrucken Frick & Hagberg serverar främst lunch norr om Slussen (se deras veckoschema på Instagram), men det är alltid värt mödan att hitta dem.
Köttet är ekologiskt och mals enligt blumenthalmetoden. Potatisbrödet är saftigt och suger upp köttsafterna i botten, medan den egengjorda dressingen högst upp fogar samman brödet med salladen, löken och den halvsmälta gruyère-osten. Resultatet blir en otroligt mör burgare som nästan smälter i munnen. Köttet skulle kanske kunna ha lite mer stekyta, men det är en petitess i sammanhanget när allt annat är så bra.
Frick & Hagberg saknar för närvarande möjlighet att servera pommes frites under särskilt regelbundna former. Vi hoppas att det ändras snart.
In English
It ain't easy tracking down the food truck Frick & Hagberg, mainly as they mainly serve lunch and advertise their times on Instagram. But it's always worth it, as the soft potato roll and juicy blumenthal patty is so tender that it almost melts in your mouth. This is Stockholm's best food truck burger – Frickin' awesome!