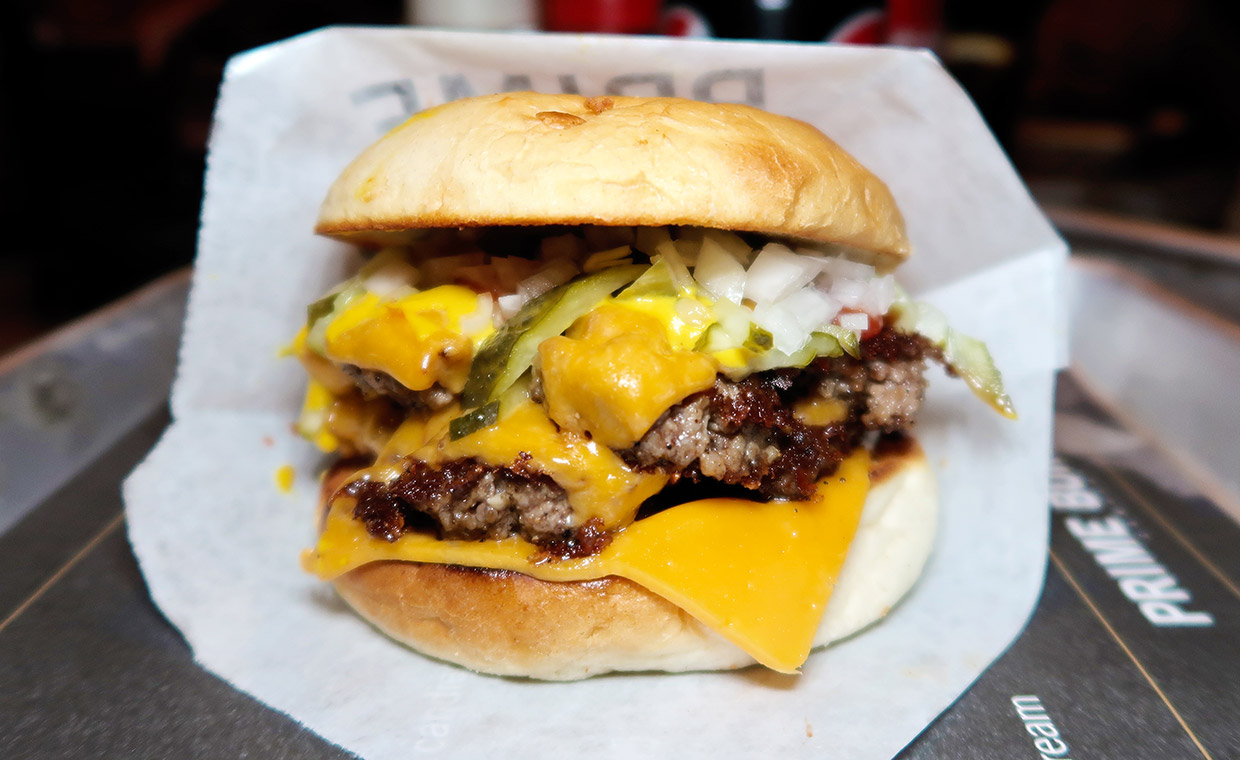 Sedan Prime Burger Company öppnade sin första restaurang på Birger Jarlsgatan 2013 har de varit en stor del av Stockholms burgarscen. Nu har de äntligen uppdaterat sitt koncept och gjort en helrenovering av både menyutbudet, inredningen och känslan i alla sina restauranger, och resultatet är väldigt lovande. Den uppdaterade menyn innehåller flera nya burgarskapelser, men vi testade deras cheeseburgare Mike's Cheese med två smashade 100-gramsköttpuckar, tre skivor cheddarost, senap, ketchup, pickles och silverlök. Burgaren kostade 125 kronor, och vi beställde även in vanliga pommes frites och sötpotatispommesfrites för 30 respektive 35 kronor.
Burgaren serverades prydligt i en pappersficka och såg riktigt inbjudande ut med en rejäl stekyta och sina tre ostskivor. Den kändes bra i handen även om den var på gränsen till att vara för stor, och vi kunde konstatera efter första tuggan att alla ingredienser var jämnt distribuerade över hela burgaren. Köttet hade en helt klart tillfredsställande köttsmak tillsammans med en rejäl kryddning som balanserades fint mot de tre ostskivorna. Köttpuckarna var lite tjocka och hade kunnat vara lite mindre, då det blev ganska torrt och mastigt framåt slutet. Även ostskivorna kunde ha smälts lite mer för att få den där magiska kladdigheten. Den avlånga och grovt hackade saltgurkan var dessutom ett ganska lustigt val då den tog rätt mycket plats, och den var dessutom alldeles för salt och tog över rent smakmässigt. Men som en cheeseburgare var detta helt klart lyckat. Båda varianterna av pommes frites – den vanliga och sötpotatisen – hade i alla fall en utmärkt textur och smak vilket gav hela måltiden en fin guldkant.
Med sin uppdaterade meny har Prime Burger Company moderniserat sitt koncept och tagit ett steg närmare toppen av Stockholms burgarscen. Det finns vissa saker att finslipa på fortfarande, men detta är absolut ett steg i rätt riktning ett rejält lyft för en av Stockholms äldsta premiumburgarkedjor.
In English
Prime Burger Company opened their first restaurant in Stockholm back in 2013, and have slowly expanded throughout the Swedish capital. They have recently updated their concept and changed their menus and interiors in all their restaurants, and the results are really promising. The updated menu contains several new burgers, but we opted for their classic cheeseburger "Mike's Cheese", with two 100 gram patties, three slices of cheddar, mustard, ketchup, pickles and white onions. The burger cost 125 SEK (13 USD), and we also ordered some french fries and sweet potato fries for 30 and 35 SEK (3-4 USD).
The burger came served in a convenient paper sleeve and looked pretty inviting with a nice crust and loads of cheese. It felt great in our hand despite being pretty big, and all the ingredients had been distributed nicely throughout the burger. The patties were properly seasoned and had a great beefy taste, and the excellent cheese balanced out the flavours nicely. We could perhaps have done with a bit smaller patties, as the meal got a bit heavy towards the end. This could also be due to the fact that the cheese hadn't melted properly. The pickles had been coarsely chopped into long slices, and since they also were far too salty they took over somewhat. But this was a really good cheeseburger. We also liked both fries, which boasted great flavours and textures that really improved our meal.
Prime Burger Company's updated menu and modernised concept has really elevated their position in Stockholm. They've still got a way to go, but this is a definite step up for one of Stockholm's oldest premium burger chains.