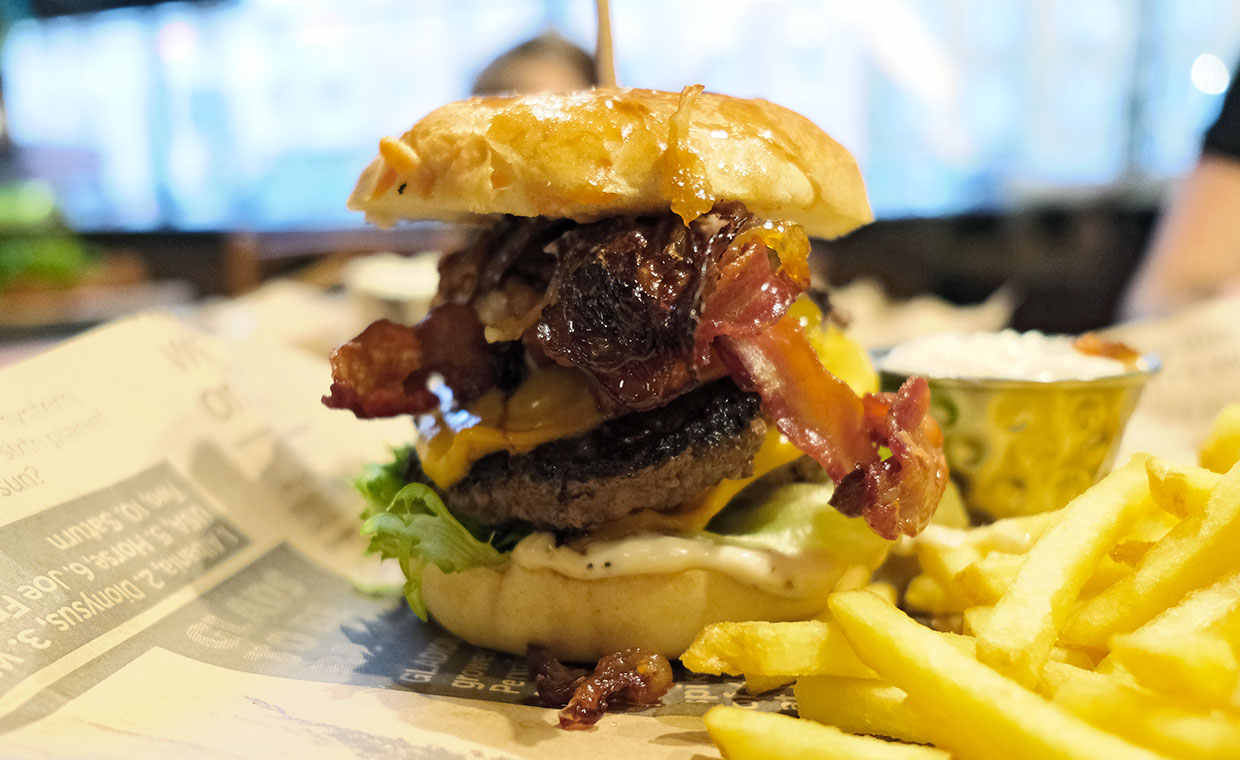 Klang Market finns på flera platser i Stockholm och har även en restaurang i Uppsala. De kallar sig för ett andra vardagsrum, och restaurangen i Hornstull var definitivt inbjudande med stilren inredning och en riktigt gemytlig service från personalen. Menyn innehåller en hamburgare, som kan kompletteras med extra köttpuckar och bacon. En dubbelburgare med 200 gram kött kostade 155 kronor på lunchen (175 kronor på kvällen) inklusive pommes frites och en parmesandipp. Bacon kostade ytterligare 15 kronor.
Vår dubbelburgare med bacon, ost, friterad lök, sallad och tryffelmajonnäs serverades i ett sötpotatisbröd och hade spetsats med en grillpinne. Vi ogillar främst pinnar i burgare för att de brukar leda till att brödet blir uppblött av köttsafterna, men i detta fall var köttet så pass torrt att det faktiskt inte spelade någon större roll. Den var visserligen ruskigt slarvigt hopbyggd, så pinnen fyllde en viss funktion – även om vi hade föredragit att de bara byggt burgaren lite snyggare.
Första tuggan bjöd på lite olika texturer från salladen och köttet, men det märktes snabbt att denna hamburgare inte tillagats med kärlek. Köttpuckarna var hårt packade och väldigt hårt stekta, och hade i princip inte saltats eller pepprats alls. Hamburgaren blev torrare ju mer vi åt av den, och var rätt svåräten framåt slutet. Det mesta av smaken och saftigheten kom faktiskt från tryffelmajonnäsen – en ingrediens vi sällan har särskilt mycket gott att säga om.
Parmesandippen var i alla fall en intressant touch och lyfte pommes fritesen något. Men vi kan inte rekommendera cheeseburgaren på Klang Market – särskilt inte när vi tillbringade större delen av måltiden med att titta längtansfullt på Hornstulls Burgers & Grill som låg tio meter bort.
In English
Klang Market have several restaurants in Sweden. Most of them are in Stockholm, but they also have one in Uppsala. Their ambition is to be a second living room, and their Hornstull restaurant felt very inviting with modern interiors and great service from the staff. They have one burger on the menu which can be customised with bacon and additional patties. A double burger with 200 grams of meat costs 155 SEK (16.5 USD) during lunch and 175 SEK (18.5 USD) in the evening, including fries and a parmesan dip. Bacon costs 15 SEK (2 USD) extra.
Our double bacon burger also came with cheese, fried onions, lettuce and a truffle mayo, served in a sweet potato bun. It had also been run through with a wooden skewer. We mainly dislike skewers due to them turning the bottom bun soggy with meat juices, but our patty was so dry that it didn't really matter. In this case the burger was lopsided, so the skewer actually held everything in place – but this hadn't been a problem if they'd just assembled it properly.
The first bite felt somewhat promising, with different textures from the patty and the lettuce. But it soon became apparent that this burger could have done with quite a bit more love in the kitchen. The patties were tough and overcooked, and lacked seasoning. The burger got drier with each bite, and we actually struggled to finish our meal. Most of the flavour and juiciness actually came from the truffle mayo – an ingredient we seldom have nice things to say about.
At least the parmesan dip was interesting and made the fries enjoyable. But we really can't recommend the burger at Klang Market, especially seeing as we spent most of our meal looking longingly at Hornstulls Burgers & Grill just a few metres away.