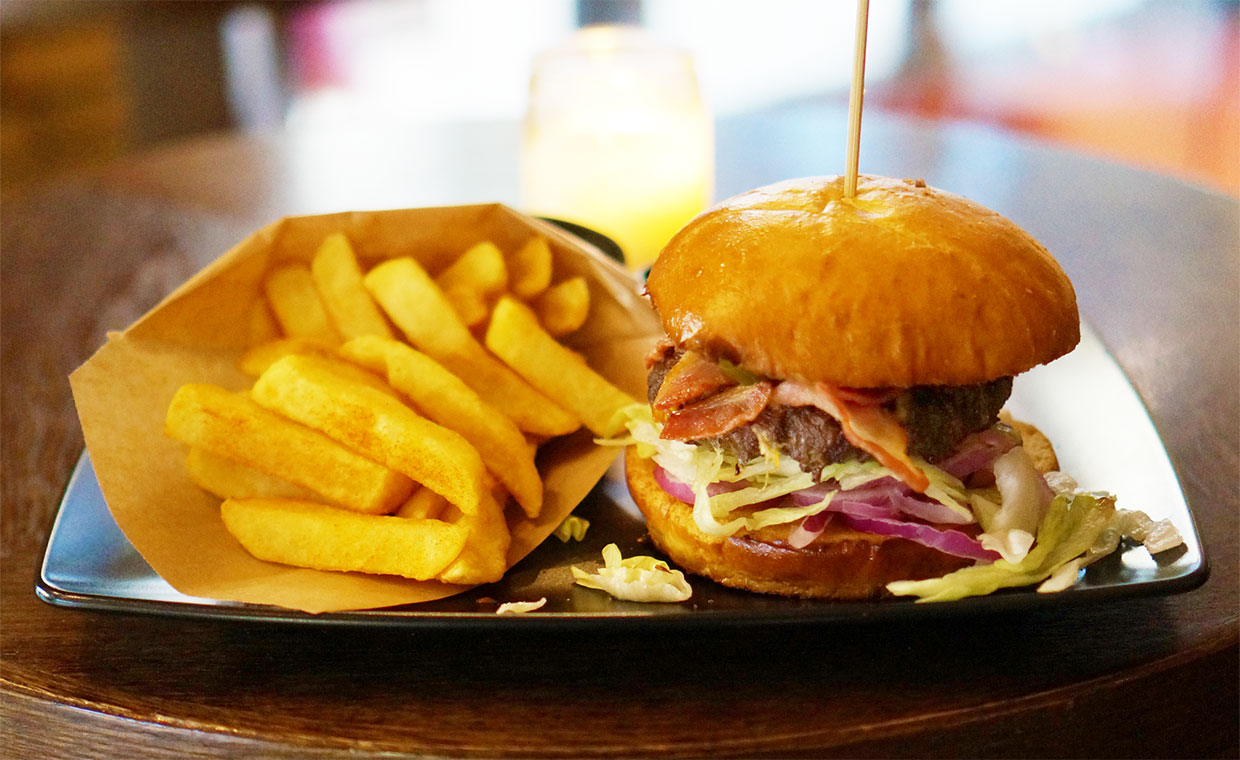 Det är inte ofta vi recenserar halvstora restaurangkedjor trots att de har burgare, främst eftersom de brukar vara smaklösa och tillagade utan särskilt mycket kärlek. Men när Jensen's Bøfhus överlämnade ett presentkort till oss och berättade att de nu serverade en burgare gjort på hängmörat kött så kände vi att det var dags för ett besök. De har närmare 50 restauranger i Norden, och vi besökte en av deras många restauranger i centrala Stockholm.
Trots att lokalen var halvtom fick vi vänta nästan smärtsamt länge på att få beställa, men sedan serverades maten ganska snabbt. Deras "Dry Aged-burgare" kostade 179 kronor inklusive pommes frites, och bestod av 200 gram hängmörat nötkött, ost, bacon och grönsaker. Besvikelsen kom direkt när vi plockade upp burgaren, eftersom brödet var täckt av en tunn, smulig skorpa. Vi misstänker att det hade stått framme hela dagen och torkat ut. Det hängmörade köttet smakade inte särskilt mycket alls, men det var i alla fall aningen rosa och ganska lättätet. Vi beställde vår burgare "hot and spicy" med jalapenõs och en het sås, men den största behållningen var faktiskt det krispigt salta baconet.
Vi hade förväntat oss mer efter allt förhandssnack och det höga priset, men Jensen's Bøfhus är ytterligare ett bevis på att bra burgare måste tillagas med kärlek.
In English
Jensen's Bøfhus is a quite large Nordic restaurant chain with almost 50 restaurants, and we visited one of their establishments in central Stockholm after hearing about their dry-aged burgers, At a premium price, we were hoping for a lot of flavours, but they fell flat. The bun that was so dry that it was crumbly to the touch, and the patty didn't taste much at all, despite being slightly pink in the middle. The bacon and jalapeños were pretty nice though, but these were far from enough redeeming qualities. It's a pity that they can't make a great burger despite having high-quality meat.