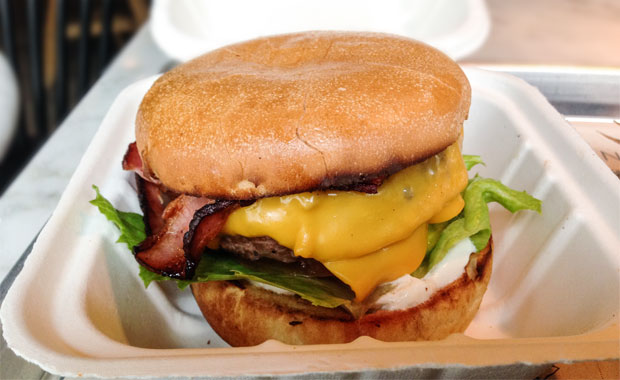 Vigårda är ett snabbmatskoncept från stjärnkockarna Melker Andersson och Danyel Couet som sedan mars 2012 har lockat hungriga besökare till sina tre restauranger. Förutom en stadig ström av gäster kan de även stoltsera med att de har vunnit Fast Food Awards för "Årets Rookie" samt "Årets Snabbmatsrestaurang/Koncept".
Menyn erbjuder många intressanta alternativ som burgare med BBQ-grillad fläskkarré, grillad bogstek och lammstek. Men som de puritaner vi är så valde vi en nötfärsburgare med bacon, cheddar, rödlök, dillgurka och majonnäs. Samtliga burgare serveras med en grönsakscrudité, en dippsås och ett val av tillbehör, som består av antingen en sallad eller havssaltade pommes frites.
Burgaren var som väntat en snabbmatsburgare i en lyxförpackning. Köttet var väldigt torrt och smakade inte särskilt mycket. Surdegsbrödet får pluspoäng för att det var uppvärmt, men annars var det inget speciellt. Pommes fritesen var dock förvånansvärt bra, och den ackompanjerade grönsakscruditén passade verkligen burgaren.
Med ett generöst prisspann på 70 till 90 kronor så får man mycket burgare för pengarna, och det är vi nöjda med.
In English
As an upscale fast food burger joint, Vigårda impresses with its low prices and tasty fries. The burger itself isn't amazing, but you could do much worse. The vegetable crudité is an unexpected treat as well, as is the fact that you can forego the beef patty and have a lamb or pork filling instead.