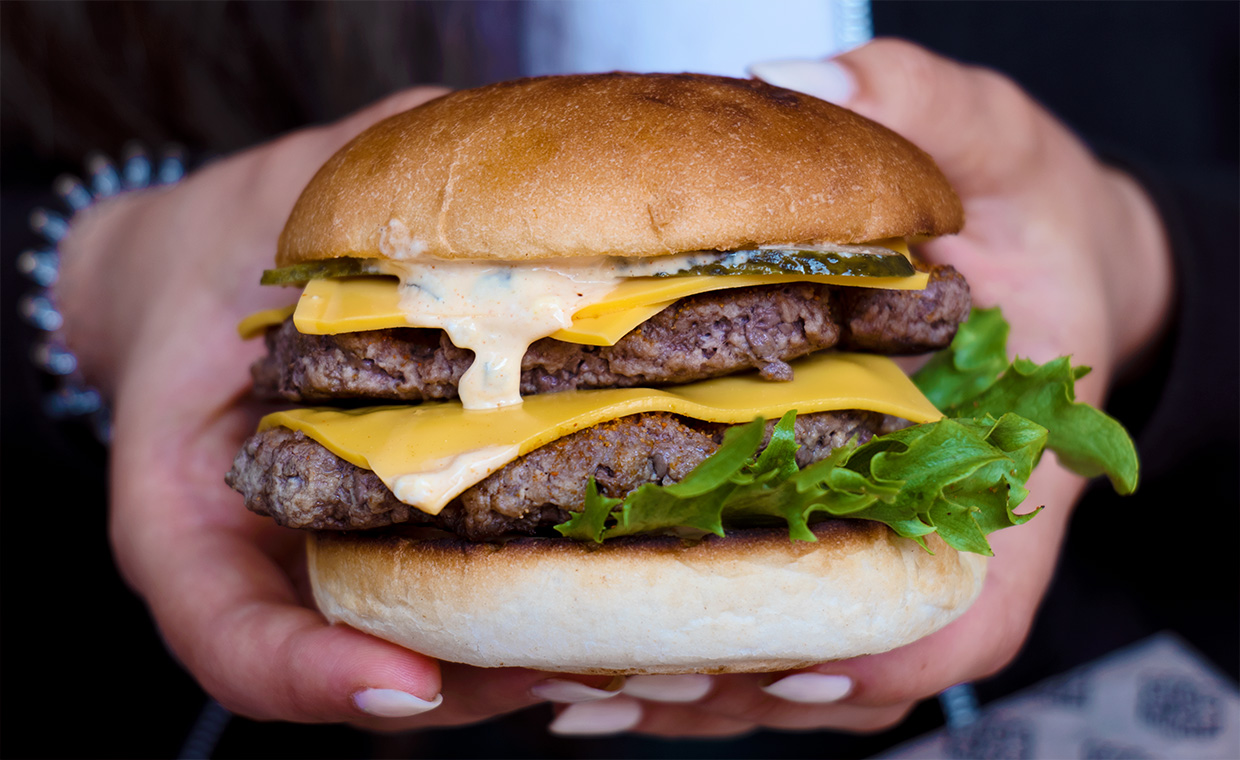 Grab & Go Burger har lanserats som ett nytt franchisekoncept för Sverige och andra länder, men har för närvarande endast en restaurang – i centrala Visby. De säger sig lägga stort fokus på råvarorna och lever efter mottot "keep it simple". Vid vårt besök beställde vi en dubbel Trucker för 139 kronor. Det var en klassisk cheeseburgare med två köttpuckar på 120 gram samt cheddar, krispsallad, saltgruka och en klassisk burgardressing som kallades för Grab's Original. För ytterligare 30 kronor ingick en portion pommes frites, en dryck samt kaffe på maten vilket vi såklart uppskattar.
När hamburgaren serverades blev vi lite oroliga, för den såg otroligt torr ut. Våra farhågor möttes tyvärr också vid första tuggan. Köttet var nämligen för torrt och lite tråkigt i färgen, troligtvis på grund av en för låg fetthalt. Osten var dessutom helt osmält, vilket kändes som en riktigt onödig miss. Den klassiska dressingen var god, men eftersom det fanns alldeles för lite av den och så hindrade den tyvärr inte burgaren från sin torrhet. Det egenbakade brödet såg visserligen inte mycket ut för världen, men det var riktigt bra; precis lagom välrostat och fluffigt. Picklesen var tunt skivad och riktigt smakrik, med en välbalanserad syra och sötma. Men överlag så hade burgaren smakat bättre med lite mer sälta. Pommes fritesen var luftfriterade med en specialbyggd airfryer för att göra dem nyttigare, men de hade faktiskt behövt lite olja för att göra dem godare. Nu påminde de mer om frysta pommes frites man tillagar hemma i ugnen och sedan har värmt upp dagen efter.
Utöver det goda brödet så var måltidens höjdpunkt den väldigt trevliga personalen. Men rent burgarmässigt så saknar Grab & Go Burger många detaljer som kanske borde krävas innan att konceptet kan bli till en succé.
In English
Grab & Go Burger has been launched as a new franchise concept for Sweden and abroad, but they currently only have one restaurant in Visby, on the Swedish island of Gotland. They claim to focus a lot on the ingredients and follow the motto "keep it simple". During our visit we ordered a double Trucker burger for 139 SEK (16 USD); a classic cheeseburger with double 120-gram patties, cheddar, lettuce, pickles and a classic burger sauce called Grab's Original. For an additional 30 SEK (3.5 USD) we got an order of french fries, a soft drink and a cup of coffee, which was a nice touch.
But when the burger arrived we felt a bit nervous, seeing as it looked really dry. And our fears came true after just one bite, as the patties were really dry and bland looking, probably due to the fat content being too low. The cheese hadn't been melted at all either, which felt like a really unnecessary mistake. The burger sauce tasted nice, but there wasn't enough of it to stop the dryness from the burger. Their homemade bun looked a bit boring, but was surprisingly good; fluffy and toasted just right. We liked the thinly sliced and tasty pickle, which had a well-balanced tartness and sweetness. But overall the burger would have benefited from a bit more salt. The french fries had been air fried in a custom air fryer to make them healthier, but they really should have used some oil to make them tastier. Our fries tasted like they'd been made in a regular oven and then been reheated the next day.
Apart from the nice bun, the highlight of our meal came from the really friendly staff. But burger wise, Grab & Go Burger fall short of many details that ought be met in order to become a successful concept.