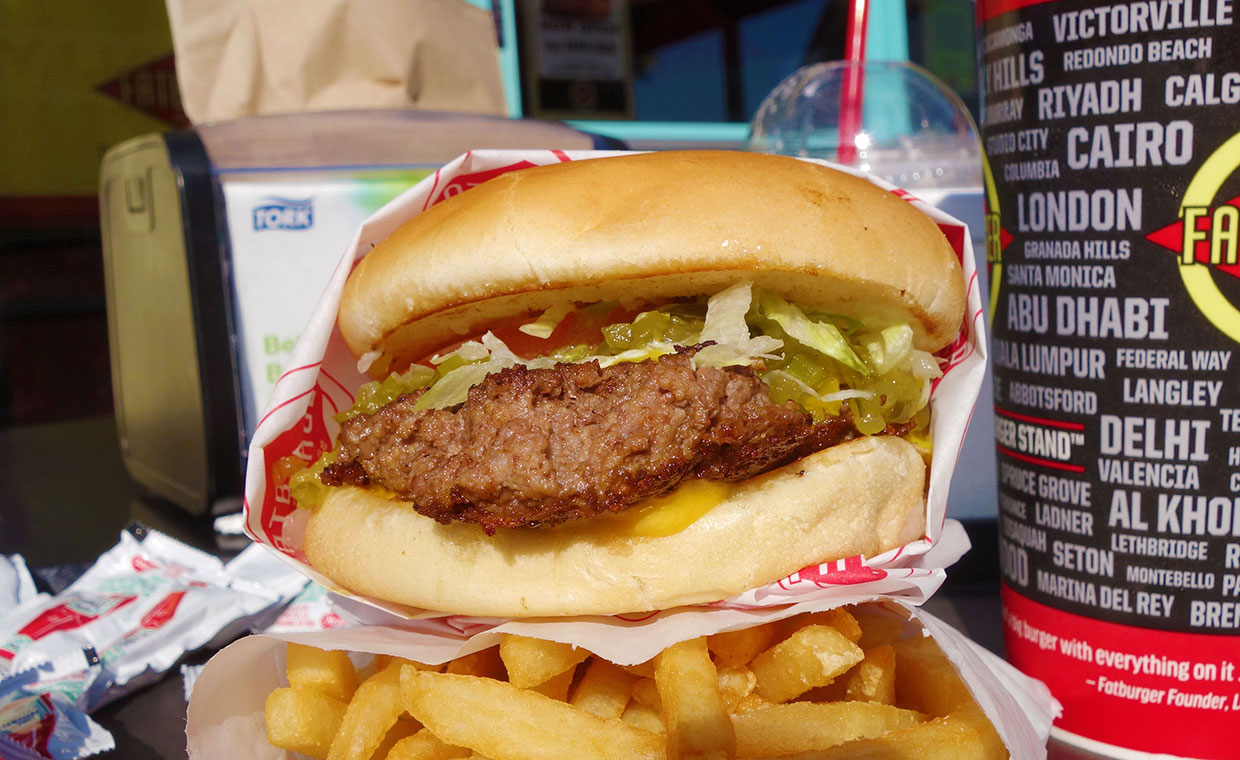 Läs våra åsikter om "Impossible Burger"
Den amerikanska hamburgerkedjan Fatburger grundades under mitten av 1900-talet i Kalifornien, och har sedan dess expanderat över hela världen med cirka 200 restauranger. Konceptet är enkla burgare och shakes gjorda på bra och färska råvaror, till ett hyfsat lågt pris. Vi besökte en av deras äldre restauranger – stort som ett gatukök – i centrala Los Angeles.
Valet stod mellan en enkel burgare på 170 gram eller en dubbelburgare på 250 gram, men det föll till slut på en enkel Fatburger med ost, sallad, tomat, lök, relish, senap och majonnäs. Köttet var saftigt, men smakade tyvärr inte särskilt mycket. Dessutom så var brödet ganska torrt, och inte alls så färskt som vi hade hoppats. Den största överraskningen var nog den stora mängden relish, som visserligen var god men som kanske tog över lite för mycket.
Vi valde deras tunna pommes frites denna gång, men varken de eller den tjocka varianten bjuder på några stora smaksensationer. Fatburger är ytterligare ett bevis på att den amerikanska burgarmodellen med färskt kött kan fungera. Deras snabbmatskoncept är bra, men de når ändå inte lika långt som sina konkurrenter – särskilt inte den stora och överlägsna Los Angeles-kedjan In-N-Out Burger.
In English
The American burger chain Fatburger have served fresh burgers since the mid 20th century, and we visited one of their classic Los Angeles locations. There we ordered their single Fatburger with a 1/3 lb patty, cheese, sallad, tomato, onions, relish, mustard and mayo. The patty was juicy, but didn't pack very much flavour and we regretted not getting a double (1/2 lb) burger. The bun was also a bit dry, and not as fresh as we'd hoped. We were also a bit overwhelmed by the large amounts of relish, but we didn't mind too much since it was quite tasty. Neither the fat nor the skinny fries stood out either, and even though Fatburger show that it's possible to create a high-quality fast food burger with fresh ingredients, they don't really stand up to the competition – especially the local favourite In-N-Out Burger.