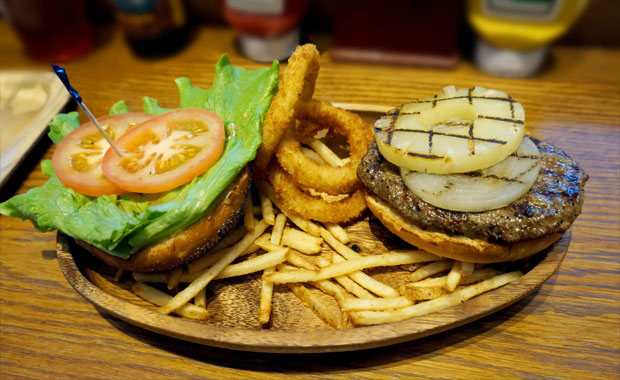 Kua 'Aina är en restaurangkedja från Hawaii som även finns i London och Tokyo. Vi besökte en av deras restauranger i Tokyo i skuggan av utkikstornet Sky Tree. Inredningen försöker sitt bästa att ge en känsla av en liten stuga på en strand, men det går inte att komma ifrån att vi befinner oss inuti ett nybyggt köpcenter under en av världens högsta byggnader.
Vi beställde en Pineapple Burger, som är en hamburgare med ett par skivor ananas istället för ost. Den första tuggan överraskade då vi aldrig tidigare smakat en så här torr burgare. Köttet var kompakt, hårdstekt och smakade nästan ingenting. Brödet var också torrt utan att för den sakens skull kännas gammalt och hårt, men det tillförde inte heller någon smak. Till och med ananasbiten hade de lyckats göra så torr att varje tugga krävde en klunk av dricka.
Det enda positiva är att de faktiskt hade god dryck, bland annat öl från det hawaiianska bryggeriet Kona Brewing Company.
In English
The Hawai'ian chain Kua 'Aina can be found outside the Aloha state nowadays in both London and Tokyo. We visited their Tokyo Sky Tree location, which did its best to imitate a beach hut.
The Pineapple Burger, which is a regular hamburger with pineapple instead of cheese, was drier than any burger we've previously eaten. The compact meat and the dry bread were supplemented by char-grilled and equally dry pineapple slices. We were just thankful that they served beer from the always excellent Kona Brewing Company, otherwise we don't know if we'd be able to finish our meal.