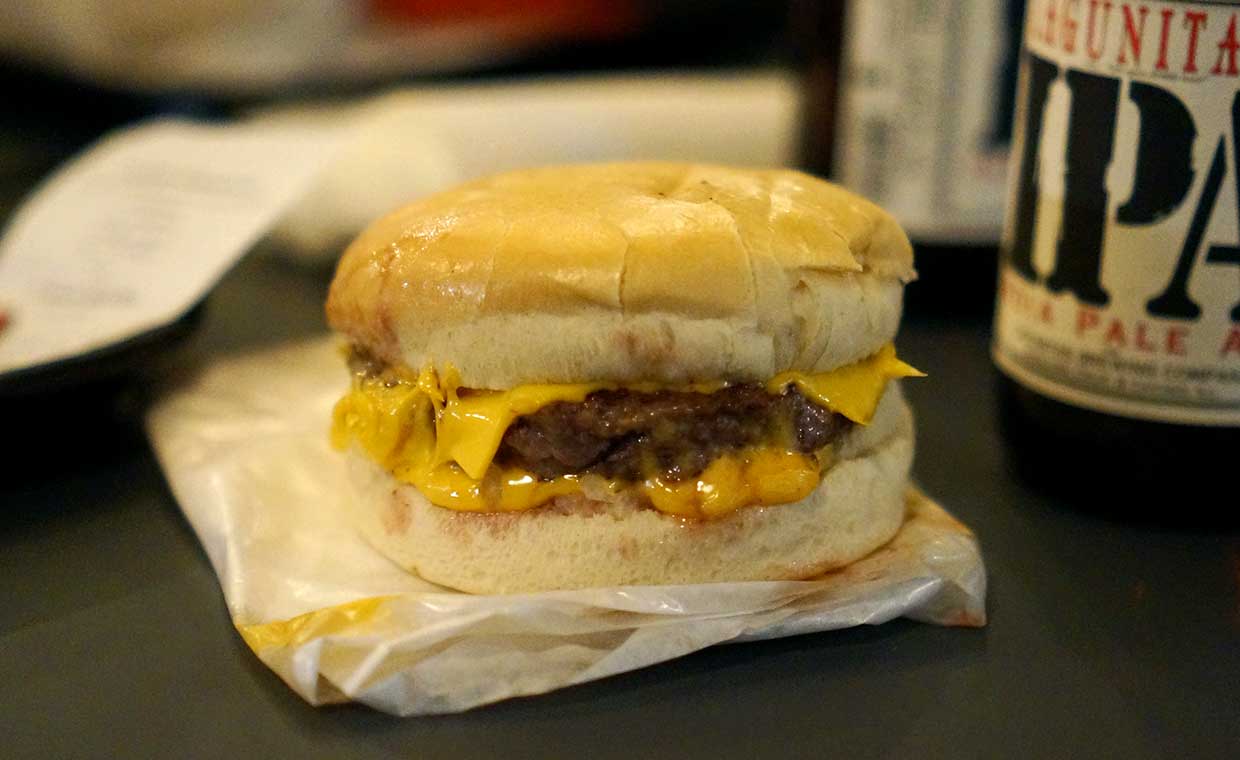 Med inspiration hämtad från Frankrikes populära mackbarer har Snack Bar sedan starten serverat en av Stockholms allra bästa kebaber. Nu har de expanderat sitt koncept till foodcourten Teatern i Ringens Centrum och lagt till en cheeseburgare på menyn.
Eftersom vi älskar deras kebab blev vi givetvis exalterade, och hade höga förhoppningar på deras burgare. Efter vår beställning reagerade vi på att köttpuckarna som lades på stekbordet var färdigpressade, vilket gjorde att köttet blir mer kompakt än när det steks med den så kallade smash-tekniken. Vi reagerade även på att en av ostskivorna lades osmält direkt på brödet.
När vi väl fick våra burgare, tillsammans med silverlök, bostongurka, ketchup och senap, så stämde tyvärr våra farhågor. Köttet var kompakt, och cheddarosten i botten hade inte smält tillräckligt vilket medförde en tuggig och seg konsistens tillsammans med det väldigt mjuka brödet.
Burgaren smakade faktiskt förvånansvärt mycket som en vanlig cheeseburgare på McDonald's, vilket inte är särskilt roligt när man betalar kring hundralappen för en burgare med pommes frites.
Sammanfattningsvis kan vi inte rekommendera Snack Bars cheeseburgare. Men vi rekommenderar ändå ett besök, och att du istället testar deras utomordentligt goda kebab gjord på kalv- och kalkonkött.
In English
Snack Bar get their inspiration from sandwich shops in France and have served one of the best kebabs in Stockholm for a while now. We were really excited when they announced that they had added a cheeseburger to their menu in their newly opened snack bar in Teatern, located in Stockholm's Södermalm district. Unfortunately the burger wasn't at par with the quality of their kebab. The meat was quite compact and the whole burger was chewy and gluey due to unmelted cheese and an overly soft bun. In fact, the burger reminded us of a regular cheeseburger from McDonald's, and that doesn't cut it when you pay 99 SEK for a burger with fries. Still, they're worth a visit … just order their veal and turkey kebab instead.