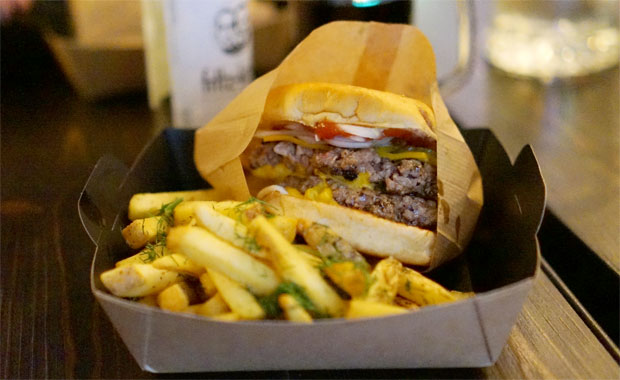 Uppdatering, september 2017: Efter att upplevt en kvalitetsförbättring har vi nu beslutat att höja betyget till 5/5
Barrels är det senaste tillskottet till Stockholms ständigt växande skara av kvalitativa hamburgerhak. Deras resa har varit lång, och redan nio månader innan de öppnade delade de med sig av information om sina rigorösa processer för att skapa den perfekta burgaren.
Hela konceptet känns välplanerat och genomarbetat, allt från den stilrena lokalen till burgaren man får serverad. Menyn har ett par intressanta alternativa burgare, till exempel en korvburgare och hamburgare som serveras med bearnaisesås. En annan rolig och uppskattad detalj är att alla desserter är inspirerade av burgare.
Vi valde att testa deras Barrels-burgare med två 120-gramsköttpuckar som serverades i ett lätt rostat bröd med dijonsenap, silverlök, saltgurka, cheddarost och majonnäs. Burgaren är mycket välkomponerad och smakerna fungerar väldigt bra tillsammans. Köttet är höjdpunkten med sin goda kryddning och rejäla saftighet.
Tillbehören som finns på menyn består antingen av dillkryddade pommes frites eller tillagade gröna bönor. De gröna bönorna är riktigt bra, men pommes fritesen skulle vi gärna haft med någon annan kryddning, exempelvis rosmarin, och de hade gärna fått varit lite krispigare.
Men med det sagt serverar Barrels en av de bästa burgarna i Stockholm och erbjuder ett fullgott alternativ till luxuösa burgaren hos Tweed ett kvarter bort.
In English
Barrels is the latest addition to the ever growing high quality burger scene in Stockholm, and it really shows that they have given a lot of effort and thought into their burgers. All components work together smoothly, and the high-point of the meal is the really juicy patty. The only obvious thing we think needs improvement is their dill-seasoned fries, which we aren't a big fan of. However, we recommend ordering their tasty haricots verts instead.