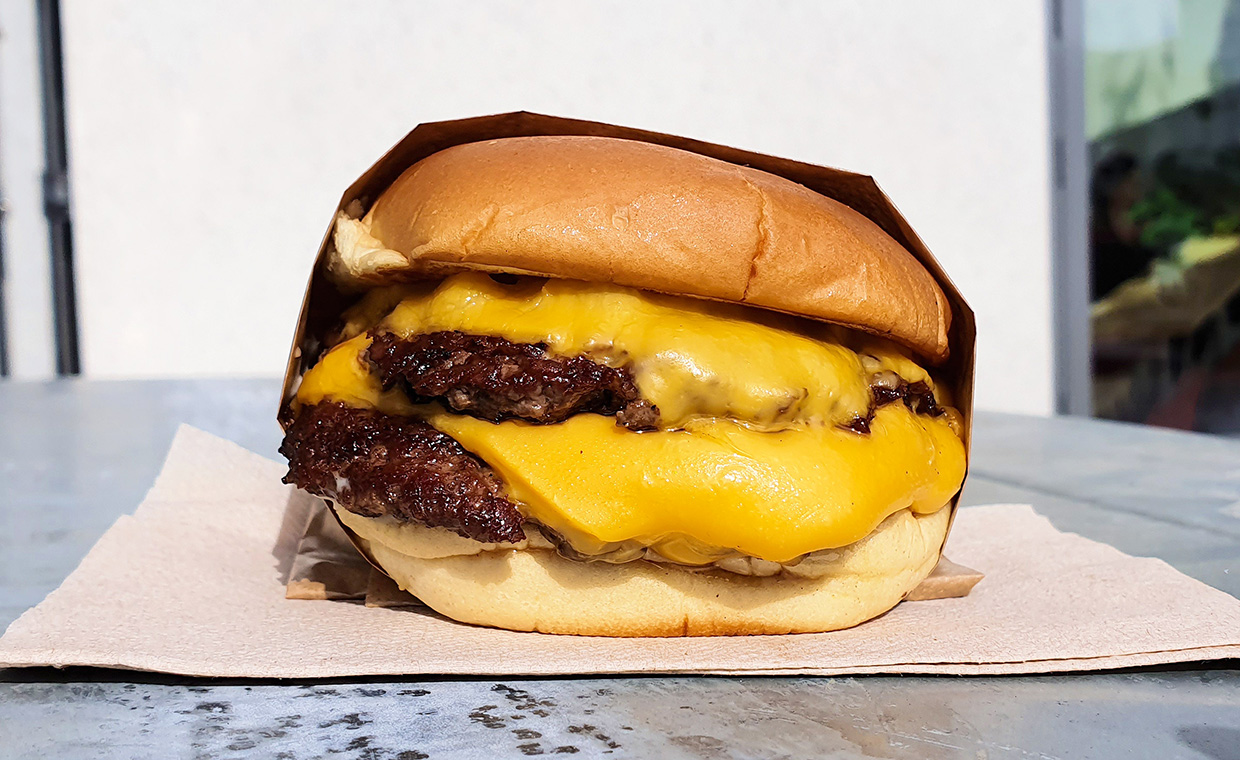 Foodtrucken The Goods öppnade luckan utanför Kungsmässan i Kungsbacka under våren 2020 och har sedermera flyttat in i själva mässan och nu även i centrala Göteborg. De har även för avsikt att öppna flera restauranger. Men vid recensionstillfället så serverades burgarna från trucken, och menyn var föredömligt kortfattad med tre olika burgare som alla kunde fås med enkla, dubbla eller trippla köttpuckar på 75 gram styck. Köttet är 100 procent amerikansk högrev och de är även det första burgarstället i Sverige som använder det legendariska Martin's Potato Roll – då ägaren även driver ett importföretag som innehar den skandinaviska distributionen av detta klassiska bröd (som bland annat används av Shake Shack).
Vi beställde en dubbel cheeseburgare för 99 kronor, med två köttpuckar och dubbla skivor american cheese, samt majonnäs, hackad lök, ketchup, senap och pickles – snyggt serverat i ett härligt uppvärmt potatisbröd. Och om cheeseburgaren såg bra ut när den anlände så blev upplevelsen ännu bättre när vi tog vår första tugga. Snacka om hamburgarharmoni! Köttet var otroligt smakrikt och saftigt, den krämiga osten omfamnade köttet snyggt och de övriga komponenterna var fint balanserade så att inget tog för mycket plats. Det är svårt att bli besviken på det följsamma brödet från Martin's, och så var inte fallet denna gång heller.
Vi fann inga tydliga svagheter alls, utan kan bara varmt rekommendera alla hamburgarälskare på västkusten att besöka foodtrucken i Kungsbacka eller deras restaurang i centrala Göteborg. The Goods serverar en fantastiskt enkel burgare, och vi hoppas att vi får se dem expandera till flera restauranger inom kort.
In English
The Goods is a foodtruck that first started serving burgers outside the Kungsmässan convention centre in Kungsbacka, Gothenburg during the spring of 2020, and they're aiming to open more restaurants in the future – including one inside the convention centre in the summer of 2020. But as for now they're slinging burgers from the truck, and their menu is nice and simple with three burgers that come with single, double or triple 75 gram patties. The beef is 100 percent American chuck and they're also the first establishment in Sweden to use the legendary Martin's Potato Rolls – the owner is also the Scandinavian distributor of this classic burger bun (that's used by Shake Shack, amongst others).
We ordered a double cheeseburger for 99 SEK (10 USD), with 2 beef patties and double slices of American cheese, plus mayo, diced onions, ketchup, mustard and pickles – served in a toasted potato roll. It looked great, and thankfully it tasted even better. All the ingredients worked together amazingly. The beef was super juicy and packed with flavours, the gooey cheese had melted around the meat and the other ingredients complemented each other and balanced each other out. We always enjoy Martin's Potato Rolls as well, and this was no exception.
We couldn't really find much to complain about, and recommend all burger lovers on the west coast to visit their food truck in Kungsbacka. The Goods serve a simple but amazing burger, and we hope that they manage to open several more restaurants soon!