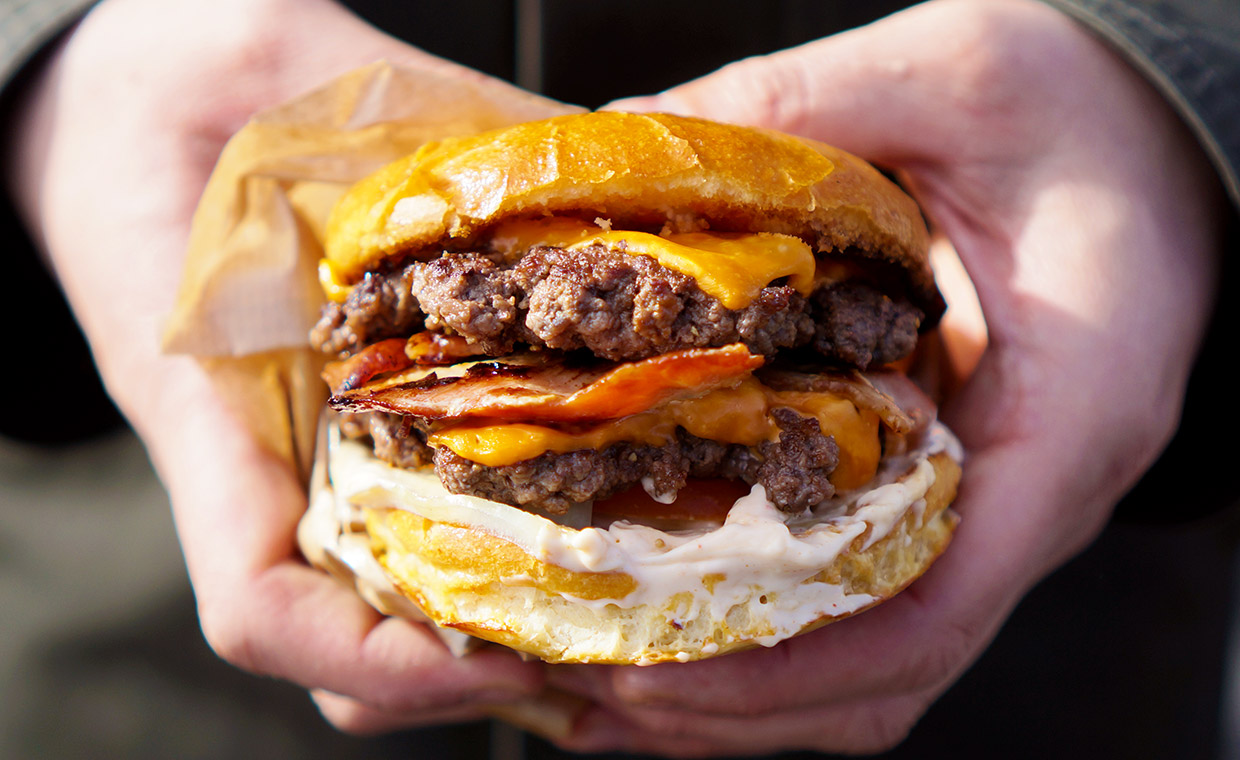 The Wagon Burger & Brews är en liten burgarvagn som öppnade under 2020, och som ligger vid Grisslinge Havsbad i Stockholmsförorten Värmdö. Här serverar de en handfull olika hamburgare, och en dubbelburgare med 200 gram högrev från en närliggande gård kostar mellan 100 och 115 kronor, med pommes frites för ytterligare 15 kronor. Vi beställde flera olika burgare, bland annat en Smokey Bacon Cheese med bacon, ekologisk burgarcheddar, rökig dressing, barbecuesås, lök och tomat samt en Red Hot med ekologisk burgarcheddar, picklad chili, sourcream- & oniondressing, rostad lök och smörgåsgurka.
Våra burgare serverades i takeaway-förpackningar och såg riktigt stora och fina ut, omslutna av ett gyllenbrunt och fluffigt burgarbröd från Systrarna Delselius intilliggande bageri. Vår Smokey Bacon var lite av en smakexplosion, med en härligt rökig majonnäs och rejält med sälta i baconet. Silverlökens krispiga crunch bidrog med en härlig textur, men smakade inte så mycket. Red Hot-burgaren bjöd på några intressanta smakkombinationer och vi gillade särskilt dressingen och den varma hettan från chilin. Däremot så var den rostade löken på gränsen till bränd, vilket gjorde den något bitter. Själva köttet var saftigt, men saknade lite stekyta vid båda våra besök, och hade tjänat på lite mer salt och peppar för att lyfta smakerna. Pommes fritesen var väldigt krispiga på utsidan och krämiga i mitten, och väl värda sitt pris.
The Wagon Burger & Brews serverar riktigt goda, prisvärda och intressanta burgare med hantverkskänsla, och vi ser verkligen fram emot att se dem finslipa sitt koncept. Det här borde bli en riktig favorit för alla Värmdöbor som är sugna på en riktigt god hamburgare.
In English
The Wagon Burger & Brews is a small burger wagon that first opened in 2020, located by Grisslinge Havsbad in the Stockholm suburb of Värmdö. Here they serve a handful of different hamburgers, and a double burger with 200 grams of locally sourced chuck costs between 100 and 115 SEK (11.5-13.5 USD), plus french fries for an additional 15 SEK (2 USD). We tried several of their burgers, including their Smokey Bacon Cheese with bacon, organic burger cheddar, smoky sauce, BBQ sauce, white onions and tomato and their Red Hot with organic burger cheddar, pickled chili, sourcream & onion dressing, roasted onions and a sweet pickle.
Our burgers came served in takeout boxes and looked impressively big and tasty, wrapped in a fluffy and golden brown bun from Systrarna Delselius' adjoining bakery. Our Smokey Bacon really tasted a lot, with a really smokey mayo and salty bacon. The white onions added some great crunch, but could have tasted a bit more. The Red Hot had a few interesting flavours, and we did like the dressing and the pickled red chilis. The fried onions were on the verge of being burnt though, and tasted a bit too bitter. The beef patties were super juicy, but a tad too soft during both our visits and we would have preferred more crust and a bit more salt and pepper to lift the flavours. We enjoyed how the french fries had a crispy outside and a creamy centre, and definitely recommend them.
The Wagon Burger & Brews serve really tasty and interesting artisanal burgers at a great price-point, and we really look forward to following their journey. They're bound to be a real hit for everyone in Värmdö on the lookout for a good burger.