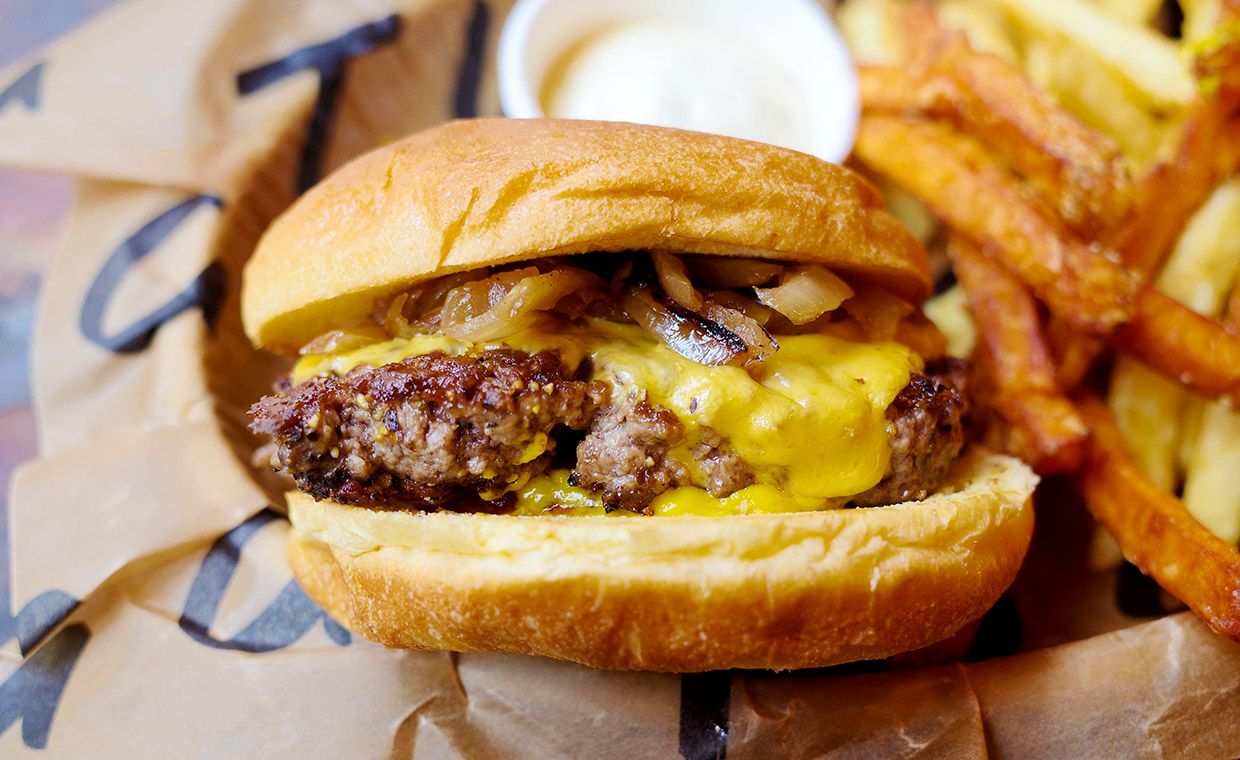 Tugg Burgers öppnade sin första restaurang i Borås redan 2014, och finns idag i flera städer runt om i Sverige. Vi besökte deras restaurang i Lund, där de erbjöd sex olika köttburgare och ett vegetariskt alternativ. Valet föll på en klassisk cheeseburgare för 95 kronor, som innehöll en 160-grams köttpuck, karamelliserad lök, cheddar, ketchup och senap. Vi köpte även till lite extra bacon för en tia, samt pommes frites och coleslaw som kostade hela 40 kronor styck.
Hamburgaren såg okej ut när den serverades, men var inget estetiskt mästerverk. Som tur var så bjöd den på en riktig smaksensation med härligt mediumstekt och smakrikt hamburgerkött av hög kvalitet. Den karamelliserade löken balanserade väl upp sältan från det knaperstekta baconet, med bra proportioner av båda. Cheddarosten gjorde sitt jobb utan att glänsa, och det varma och mjuka briochebrödet var följsamt, om än lite inspirationslöst och likt Garants butiksbröd. Coleslawen och pommes fritesen var båda goda utan att vara i toppklass, och kostade kanske lite mer än de smakade.
Tugg Burgers serverar välgjorda och goda hamburgare, och de har konsekvent hållit hög kvalitet under våra besök. Betyget är en betryggande fyra, vilket gör minikedjan till en riktig pärla i södra Sverige.
In English
Tugg Burgers opened its first burger joint in Borås in 2014, and the small chain is now primed to enter Malmö with their fourth location. We visited their Lund restaurant and ordered a cheeseburger with caramelised onions, cheddar, ketchup, mustard and extra bacon. The burger looked alright but not amazing, but it tasted great. The 160 gram patty was a nicely cooked and juicy medium, and the saltiness from the crispy bacon complemented the sweet onions perfectly. And we always enjoy a nice brioche bun. The other ingredients such as the cheddar, and sides such as the coleslaw and the french fries were ok, but no more than that. The sides were a bit too pricey as well. Tugg Burgers consistently serve high quality burgers, making them one of our favourite hamburger restaurants in the south of Sweden.