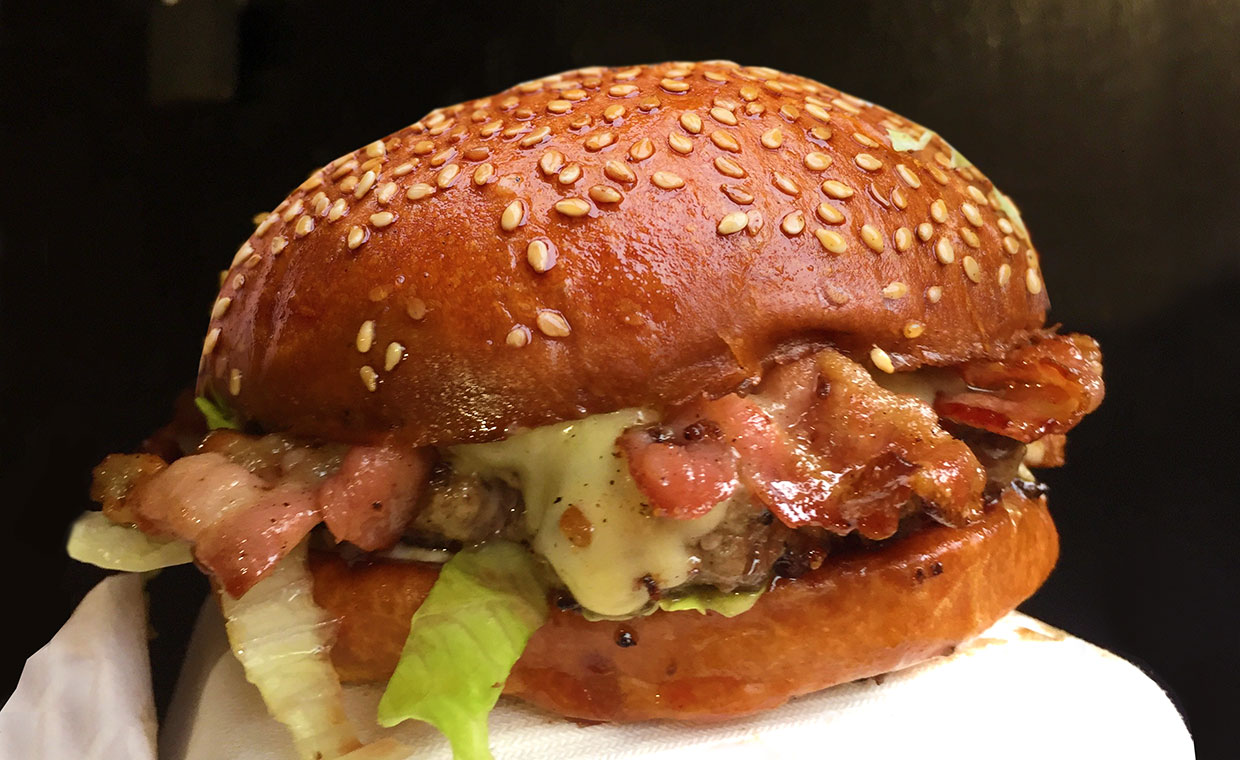 Efter diverse gästspel runt om i London har det beryktade Burger & Beyond fått en permanent plats på det nyöppnade KERB Camden Market i centrala London (samt på Dinerama i Shoreditch). Här trängs de med 34 andra streetfood-ställen, så här finns det mat som passar alla. Fast du vill inte missa Burger & Beyonds fantastiska burgare, då de är bland de bästa vi har ätit.
Paradburgaren heter The Cliff, och består av 90 dagars hängmörat kött som stekts perfekt medium rare, inklämt mellan ett lätt rostat briochebröd med tunt pancetta-bacon, Monterey Jack-ost, en gnutta strimlad sallad och en klick dragonmajonnäs. Kött som har hängmörats väldigt länge kan få en nästan övermäktig smak som tar över helt, men dragonmajonnäsens friskhet skar igenom den tunga köttsmaken och skapade en storslagen – men ändå inte överväldigande – smak som var helt ljuvlig. Det smöriga briochebrödet var färskt, mjukt och lättklämt, och höll ihop utan problem medan det tunna pancetta-baconet gav burgaren en krispighet och sälta.
Burger & Beyond har flera burgare på menyn, och The Cliff-burgaren är i särklass dyrast för 10 pund. Men det hindrade inte oss från att göra något som vi bara har gjort en gång tidigare (när vi besökte Blue Collar i New York) – nämligen att beställa en till så fort den första var uppäten. Det om något är ett tecken på att det här är en fantastisk burgare som du inte får missa, och vi är stolta över att ge den högsta betyg.
In English
Visiting Burger & Beyonds stall in the newly opened KERB Camden Market was a bit nerve-wracking, mainly because they'd been so hyped-up. We ordered The Cliff burger, a sesame brioche bun with a 90 day dry-aged patty, crispy pancetta bacon, Monterey Jack cheese, shredded salad and tarragon mayonnaise. Overly dry-aged meat can sometimes be overpowering, but the tarragon mayo cut through it and really lifted the flavours to new heights. The pancetta bacon gave the burger some crispy texture and the bun was fresh, soft and squishy. At 10 GBP, The Cliff is their most expensive burger, but this didn't stop us from doing something we've only done once before (when visiting the amazing Blue Collar in New York), namely ordering another one as soon as we'd finished it. This is one of the best burgers we've eaten, and we're proud to add it to our small list of 5 star reviews.