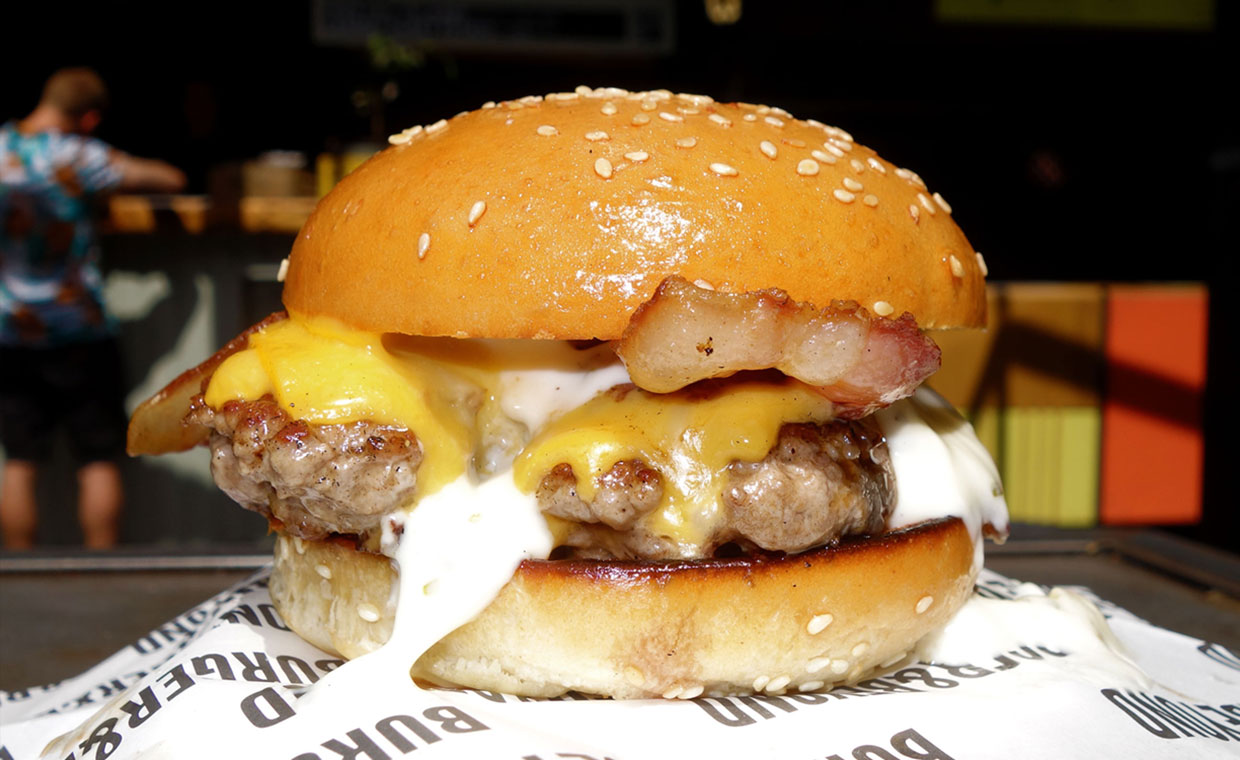 Efter diverse gästspel och marknadsstånd runt om i London har Burger & Beyond nu öppnat en restaurang i populära Shoreditch. Och vi unnar dem verkligen detta steg, för de lagar en av de bästa vi någonsin har ätit. Detta är mycket tack vare deras fantastiska kött – ofta hängmörat i otroliga 60-90 dagar. Kött som har hängmörats väldigt länge kan få en nästan övermäktig smak, men Burger & Beyond hittar alltid en perfekt balans mellan smakerna.
Vid vårt första recensionsbesök hette paradburgaren "The Cliff", med 90 dagars hängmörat kött som stekts perfekt medium rare, inklämt mellan ett lätt rostat briochebröd med tunt pancetta-bacon, Monterey Jack-ost, en gnutta strimlad sallad och en klick dragonmajonnäs. Här skar dragonmajonnäsens friskhet igenom den tunga köttsmaken och skapade en storslagen – men ändå inte överväldigande – smak som var helt ljuvlig. Det smöriga och sesamtäckta briochebrödet var färskt, mjukt och lättklämt, och höll ihop utan problem medan det tunna pancetta-baconet gav burgaren en krispighet och sälta. Den var så god att vi beställde en till direkt efteråt.
För närvarande serverar de sin "BBB" (Bacon Butter Burger), med 60 dagars hängmörat kött, dubbla skivor American cheese, pancetta-bacon, lök och en majonnäs med brynt smör. Den har en ljuvlig kombination av smaker, och vi dagdrömmer fortfarande om majonnäsen. Ibland har de även burgare med benmärgsmajonnäs, och det är innovationer som dessa som får oss att återvända vid varje resa vi gör till Englands huvudstad.
Burger & Beyond serverar Europas bästa burgare, och vi rankar dem som tvåa i världen. Missa dem inte!
In English
After operating from several market stalls in London, Burger & Beyond have opened their first restaurant in Shoreditch. And we're super happy for their success, since they cook some of the best burgers we've ever eaten. This is very much thanks to their amazing beef that they dry-age between 60 and 90 days. Dry-aged beef is packed with deep, funky flavours and can sometimes be a bit overpowering, but Burger & Beyond always manage to strike that perfect balance that stops them from crossing the line to the bad parts of funkytown.
During our first review trip they served a burger called "The Cliff", with a 90 day dry-aged medium rare patty in a sesame dusted brioche bun with crispy pancetta bacon, Monterey Jack cheese, shredded lettuce and a dollop of tarragon mayo. The tangy mayo cut through the beefiness and created some great flavours that felt just right. The bun was buttery and fresh, and kept everything in place and the pancetta bacon added just the right amount salty crispness. It was so good that we actually ordered another one as soon as we'd finished it.
At the moment their top burger is the "BBB" (Bacon Butter Burger), with a 60 day dry-aged patty, two slices of American cheese, pancetta bacon, onions and a burnt butter mayonnaise. The taste combination is sublime, and we have constant daydreams about that mayo. Sometimes they also serve burgers with a bone marrow mayo, and it's innovations such as these that make us return each trip we make to England's capital city.
Burger & Beyond serve the best burger we've eaten in Europe, and we rank them as the second best burger in the world. Miss out at your own peril!