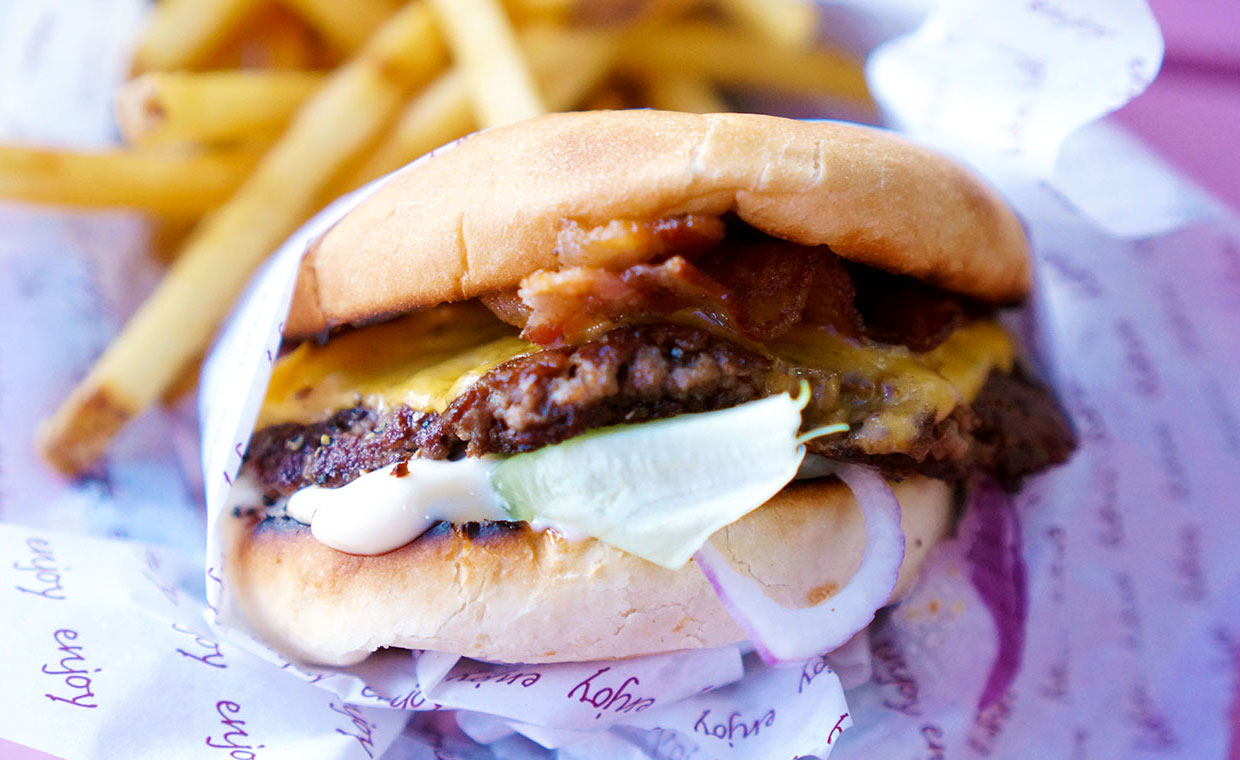 Rockin Grill är en än så länge liten men expanderande kedja av restauranger som i skrivande stund har tre utannonserade platser utöver restaurangerna i Norra Djurgårdsstaden och Haninge Centrum (där de går under namnet Rollers & Bowlers). Utseendemässigt så har de tagit mycket inspiration från gamla amerikanska diners, med sina rosa och turkosa pastellfärger. Det märks att även menyn är inspirerad av klassiska diner-menyer med listor av burgare, sides, milkshakes och pizzor. Priset på burgarna ligger för för det mesta lite under hundra kronor med blandade pålägg, och det kostar 25 kronor för varje extra 100-gramsköttpuck du vill lägga till. Burgarna går även att få med glutenfritt bröd eller i salladsblad.
Vi besökte restaurangen i Norra Djurgårdsstaden där vi beställde deras bästsäljande "King"-burgare, med majonnäs, cheddar, bacon, sallad och lök. Pucken var smashsstekt och hade en lagom krispig yta med ett saftigt innanmäte. Den höll ihop bra men var något översaltad. Potatisbrödet var kanske aningen segt, men fördelen med ett lite segt bröd är ju att det inte faller i bitar och klarar av att hantera alla köttsafter. Baconet var nära på perfekt stekt med en krispighet utan att vara det minsta bränt.
Rockin' Grill serverar bra och goda burgare utan några större fel. Tack vare den rimliga prissättningen är de klart godkända och väl värda ett besök om du befinner dig i närheten.
In English
Rockin Grill is a small but expanding chain in Stockholm that is heavily inspired by old American diner styled restaurants. We visited their location in Norra Djurgårdsstaden where we ordered their best-selling burger called King; a fairly ordinary bacon cheeseburger with mayo, cheddar cheese, bacon, lettuce, and onions. The patty was smashed with a crispy surface and a really nice taste. The brioche style bun was a bit chewy but held together well, and the bacon was fried to perfection; being crispy but not at all burnt. What we was served was a really good burger at a decent price, making it well worth a visit if you're in the area.