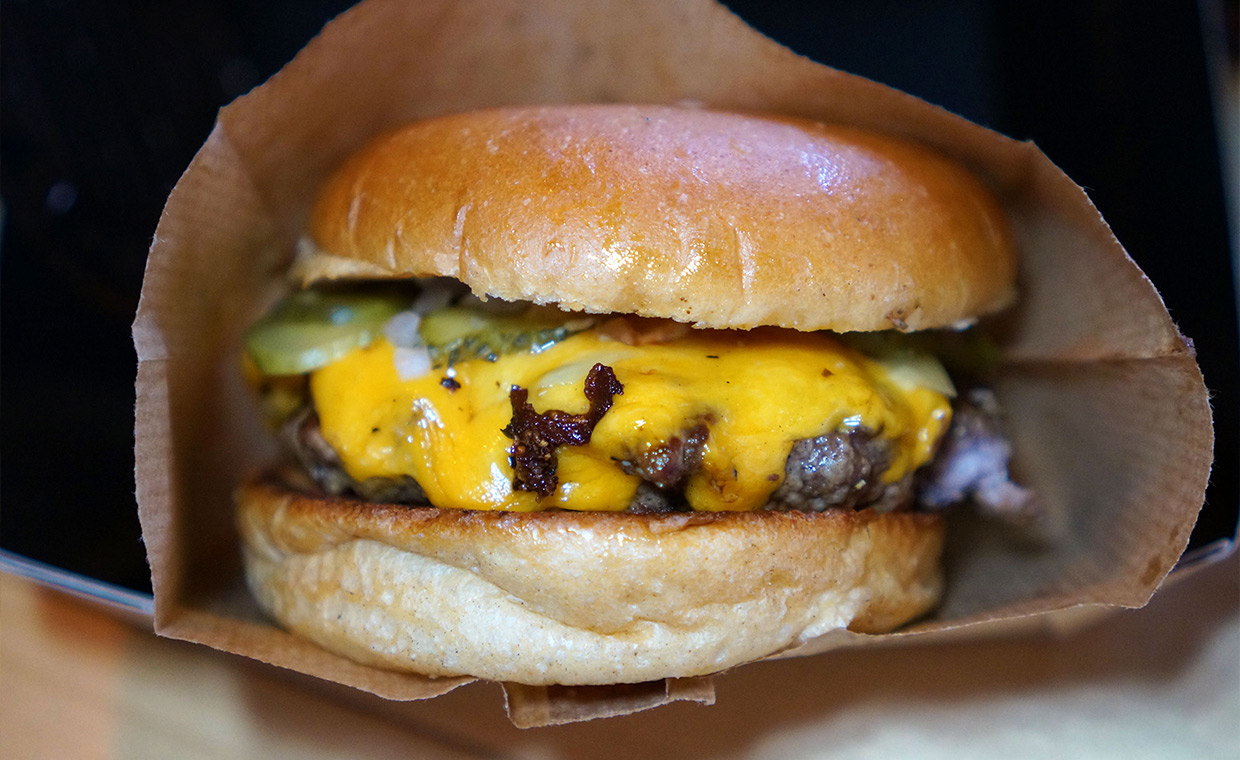 Barrels öppnade sin första restaurang i Gamla Stan i början av 2016, och har sedan dess expanderat till både centrala Stockholm och Södermalm.
Hela konceptet känns välplanerat och genomarbetat; allt från de stilrena lokalerna till burgarna som serveras. Menyn har ett par intressanta alternativa burgare, till exempel en korvburgare och hamburgare som serveras med bearnaisesås. En annan rolig och uppskattad detalj är att alla desserter är inspirerade av burgare. Men bland favoriterna hittar vi deras Triple Smash med tre mindre, hårt smashade köttpuckar och massor av ost!
Deras enkelburgare har en 160-gramspuck, medan dubbelburgarna har två 120-gramsköttpuckar, och de serveras i ett lätt rostat bröd med klassiska ingredienser, fast ofta med dijonsenap. Bacon ingår inte som standard, men är fint knaperstekt och är väl värd att köpas till. Överlag så är burgarna mycket välkomponerade och smakerna fungerar väldigt bra tillsammans. Köttet är höjdpunkten med sin goda kryddning och rejäla saftighet.
Tillbehören som finns på menyn består antingen av dillkryddade pommes frites eller tillagade gröna bönor. De gröna bönorna är riktigt bra, och om dillen inte faller dig i smaken kan du alltid be om dem med bara salt. Vi rekommenderar även deras nya ekologiska pommes frites med tillhörande ostsås – ett oumbärligt tillbehör som inte får missas.
Barrels serverar en av de bästa burgarna i Stockholm, och deras intresse för burgarkulturen har gjort att de har blivit bättre för varje år som har gått sedan öppningen.
In English
Barrels opened their first restaurant back in 2016 in Stockholms Old Town, and have since then expanded to spaceous locations Downtown and in Södermalm.
Their well-designed concept pays attention to every detail, with nice interiors and high-quality burger ingredients. The menu has a few surprises, such as a burger with cured meat and another with bearnaise sauce. We also like the fact that you can get a dessert burger after your meal.
A single burger patty is made from 160 grams of organic Swedish chuck and brisket, and a double burger has two 120 gram patties. They are juicy and packed with flavour, and really shine. They are served in a soft and slightly toasted bun. There are no burgers with bacon, but its crunchy saltiness demands that you order as an extra ingredient.
The sides are worth noting as well. If you like dill, the french fries will be a nice surprise (and you can get them with just salt if you'd like), and the haricot verdes are a nice and slighly more healthy alternative.
Barrels' loving attention to detail have made them a top contender in Stockholm's burger scene, and we are happy to report that they keep on getting better for every year that passes.