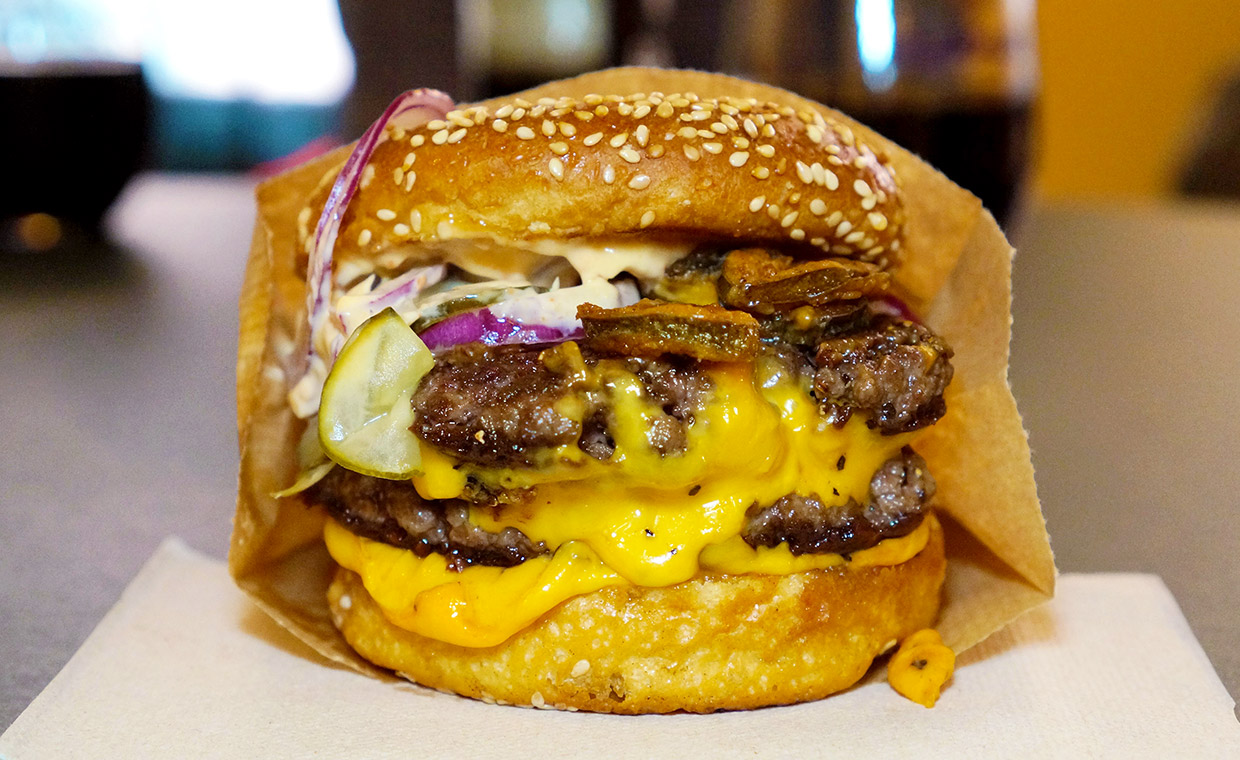 Stigbergets Fot slog upp dörrarna tidigt 2020 på Götgatsbacken på Södermalm i Stockholm. Här serveras hantverksöl från Stigbergets Bryggeri och andra utvalda ölbryggerier, medan Barrels Burgers & Beer står för maten.
Menyn erbjuder klassisk street food, bland annat två olika hamburgare; en Cheeseburgare och en Tryffelburgare. Vi beställde in cheeseburgaren för 145 kronor, med hängmörat kött, cheddarost, rödlök, saltgurka och mojo rojo-majonnäs. Det var en rejäl skapelse, med dubbla köttpuckar på totalt 220 gram hängmörat kött i centrum. Och köttet var verkligen stjärnan här – mjukt, saftigt och med en fantastisk djup köttsmak. Resten av burgaren hade designats för att lyfta köttet och förstärka umamitonerna. Rödlöken tillförde krispighet och saltgurkan bidrog med lite syra och extra sälta, men ingenting distraherade eller tog onödig plats. Samma sak gällde osten och dressingen, som bjöd på krämiga smaker i samma skala. Det mjuka men aningen frasiga brödet höll ihop allt väl, och sesamfröna på toppen gav en nötighet som samspelade väldigt väl med de andra smakerna och texturerna.
Det enda negativa är att allt gick i samma djupa, mjuka smaktoner. Det fanns ingenting som egentligen lättade upp, utan burgaren var lite av en köttsmocka som lämnade oss lite utslagna. Men den gav oss också ett belåtet leende på läpparna, och vi ser fram emot att göra ett återbesök när vi känner oss hungriga igen. Stigbergets Fot serverar faktiskt en av de bästa burgarna som Stockholm – och Sverige – har att erbjuda just nu, och rekommenderas när du vill ha lite guldkant i vardagen.
In English
Stigbergets Fot opened in the beginning of 2020 in Stockholm's Södermalm district. They serve craft beer from Stigbergets Bryggeri and other micro breweries, and the food is handled by Barrels Burgers & Beer.
Their menu consists primarily of classic street food, including two burgers; a cheese burger and a truffle burger. We ordered the cheese burger for 145 SEK (15 USD), which consisted of two dry-aged beef patties, cheddar, red onion, pickles and a mojo rojo mayo. The double patties of dry-aged beef was the real star of the show, with an amazingly deep beefyness. And the other ingredients worked well to increase the umami flavours and enhance the meat flavours. The red onions added some crisp and the pickles were both tart and salty, but nothing detracted from the main focus. The same thing could be said about the cheese and sauce, adding a nice creamyness. The soft but slightly toasted bun held everything together, and the nutiness from the sesame seeds on top worked really well here.
Our only real critisism is that all the flavours were pretty intense. There wasn't really anything that cut through these deep flavours, giving it a meaty punch that knocked us out a bit. But it packed a satisfying punch, and we already look forward to visiting them again with an empty stomach. Stigbergets Fot currently serve one of the best burgers we've eaten in Stockholm – and Sweden for that matter – and come highly recommended when you want to reward yourself with a top-notch burger.