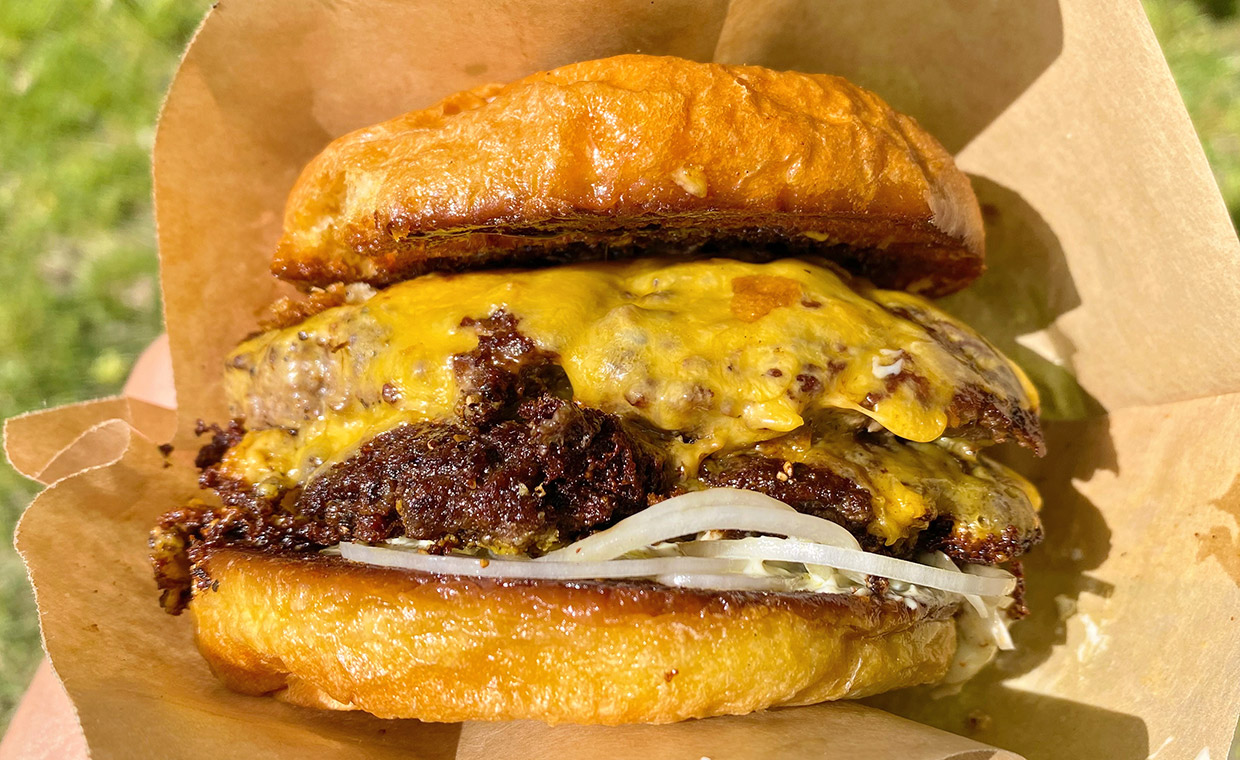 Högkvalitativa och spännande foodtrucks har börjat bli en bristvara i Stockholm, men Funky Chicken Food Truck har gått från klarhet till klarhet med sina burgare. På senare år har de verkligen seglat upp mot toppen och befäst sin position som Sveriges bästa foodtruckburgare.
Vi har älskat Funky Chicken Food Truck ända sedan vi åt deras burgare för mer än fem år sedan, och de var solklara vinnare av både juryns och publikens röst på vår burgarfestival Stockholm Burger Fest 2016. Nu har de gjort Nacka Strand till en riktig destination för burgarälskare över hela världen. De serverar en av sina sex olika burgare varje vecka under lunchtid, och vi har ännu inte ätit en som vi inte har gillat. Faktum är att vi aldrig har lämnat dem missnöjda eller hungriga. Deras Triple Cheese Burger med tre ostskivor kammade till exempel hem både juryns och publikens röst på vår hamburgarfestival Stockholm Burger Fest 2016.
Det här är äkta streetfood; en kladdig och kryddstark smakexplosion med saftigt nötkött och Sveriges i särklass bästa stekyta. Briochebrödet är försvinnande fluffigt och kanske lite för mjukt, och ibland kan alla ingredienserna ta över och hålla tillbaka de andra smakerna. Men med det sagt så bjuder deras burgare på en rejäl burgarsmocka som sitter där den ska – varje gång.
In English
There aren't as many high quality foodtrucks in Stockholm anymore, but we're happy to report that Funky Chicken Food Truck keep getting better for every year that passes. These last few seasons has seen them claim their spot as Sweden's best burger foodtruck.
Funky Chicken Food Truck have a semi-permanent location in Nacka Strand, just outside central Stockholm, where they serve their burges from Tuesday to Friday. During the summer months, they visit Hornstulls Marknad on Sundays (and sometimes even Saturdays – check their social feeds for a more updated schedule), which always results in a long queue of hungry patrons.
They rotate their burger menu each week, serving one amazing creation after the other. To be honest, we haven't eaten one we haven't loved, but their Triple Cheese Burger deserves a mention since this cheesy delight won both the public's and the jury's vote at our hamburger festival Stockholm Burger Fest 2016.
The burger is pure streetfood bliss; a gooey taste explosion that oozes meat juices, and demands to be eaten in no time. The juicy patty has an amazing crust, and is packed with flavours. The brioche bun is deceptively light and airy – almost to a fault – and the bold ingredients can sometimes overpower the other components. But the burgers are always satisfying, and they always leave us happy.