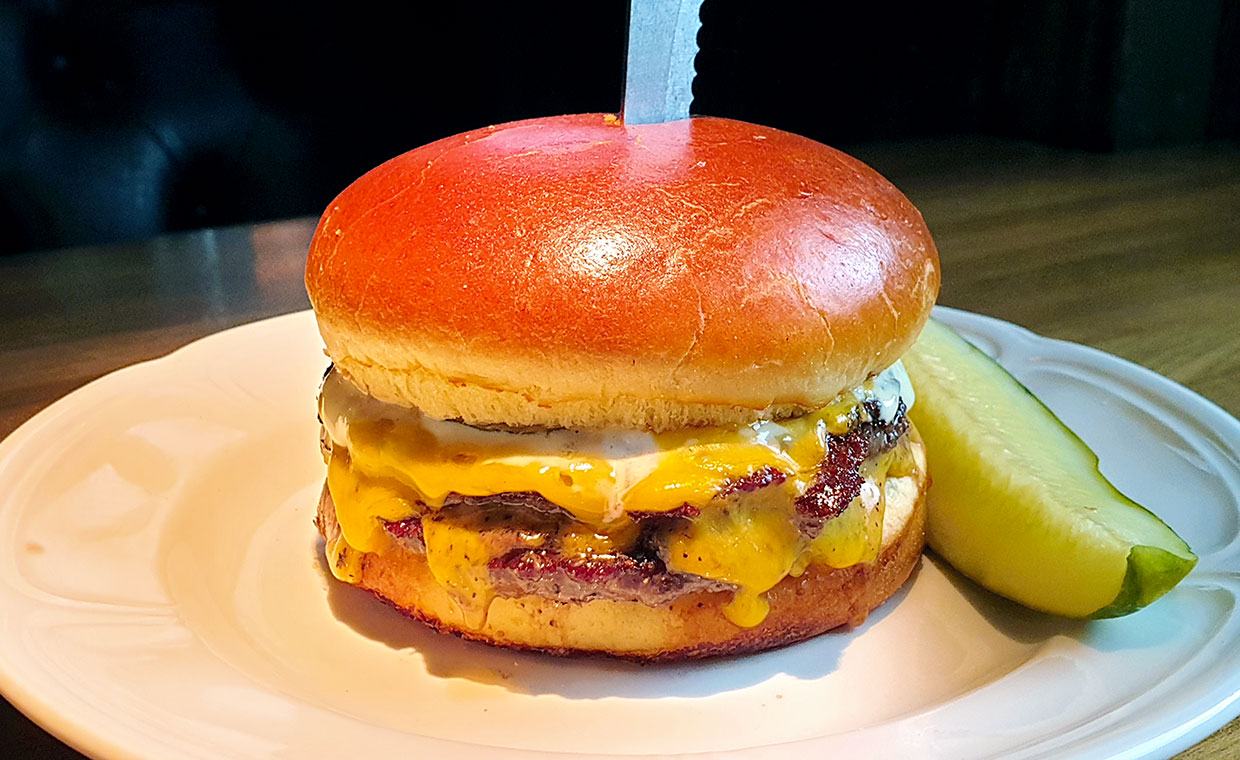 Lyxdinern Au Cheval har flera gånger utsetts till Chicagos och även USA:s bästa burgare. Den lilla kedjan har expanderat till New York, och de har även ynglat av sig i ett flertal mindre restauranger vid namn Small Cheval där de enbart säljer sin prisbelönta burgare – med avsevärt kortare väntetid än på de riktiga ställena.
Så det var med höga förväntningar vi stegade in på den klassiska Au Cheval, på 800 W Randolph Street i Chicago. Deras burgarmeny består av en cheeseburgare i utförandet singel (två köttpuckar) eller dubbel (tre köttpuckar), och det enda du kan lägga till är ägg eller bacon. Vi beställde en single för 13 USD (125 kronor), med två köttpuckar på 113 gram från W.W Johnson Farms, dijonnäs, pickles och amerikansk ost, i ett bröd från det lokala bageriet Z-Baking. Efter 20 minuter serverades burgaren, och vi undrade verkligen om den kunde smaka lika bra som den såg ut.
Cheeseburgaren låg perfekt i handen, och det fluffiga varma brödet hade en perfekt konsistens. Men det var inte det enda som var perfekt, för köttet bjöd också på en himmelsk upplevelse. Det var mediumstekt med varsam kryddning som verkligen lät köttet vara stjärnan. Den krämiga osten, den balanserade syran från dijonnäsen och picklesen visade sig vara de perfekta kamraterna till det fantastiska köttet. Ration mellan kött, bröd och tillbehören passade så bra som det bara går.
Au Cheval serverar utan tvekan en av de absolut bästa burgarna i USA, och ett oumbärligt besök för alla hamburgerkonnässörer. Om du vill slippa köer rekommenderar vi att du är där när de öppnar, eller besöker en Small Cheval, men missa dem inte för allt i världen.
In English
The gourmet diner Au Cheval has been listed as the best burger in Chicago and even the US. The small chain has expanded to New York, and they have also opened several Small Cheval locations where they only serve their burgers, with much shorter waiting times.
So our hopes were high when we stepped into the classic Au Cheval restaurant at 800 W Randolph Street in Chicago. Their burger offerings consist of cheeseburger – either a single (with 2 patties) or a double (with 3 patties), plus egg or bacon as extras. We ordered a single burger for 13 USD, with two 4 ounce patties from W.W Johnson Farms, dijonnaise, pickles and american cheese, served in a bun from the local bakery Z-Baking. 20 minutes later our beautiful burger was served, and we wondered if it really could deliver.
The cheeseburger felt great when we held it, and the warm and fluffy bun's consistency was perfect. But that was not the only flawless thing, as the meat was just as divine. It was cooked medium and gently seasoned in order to really enhance the beefy flavours. The creamy cheese and well-balanced acidity from the dijonnaise and pickles complemented the patty perfectly. And the ratio between the patty, bun and accessories was everything we'd hoped for.
Au Cheval serve one of the best burgers in the United States, and are a must-visit for all burger lovers out there. If you want to skip the worst queues, we recommend that you go there when they open, or pay a visit to one of their Small Cheval joints. Just don't miss them for anything!