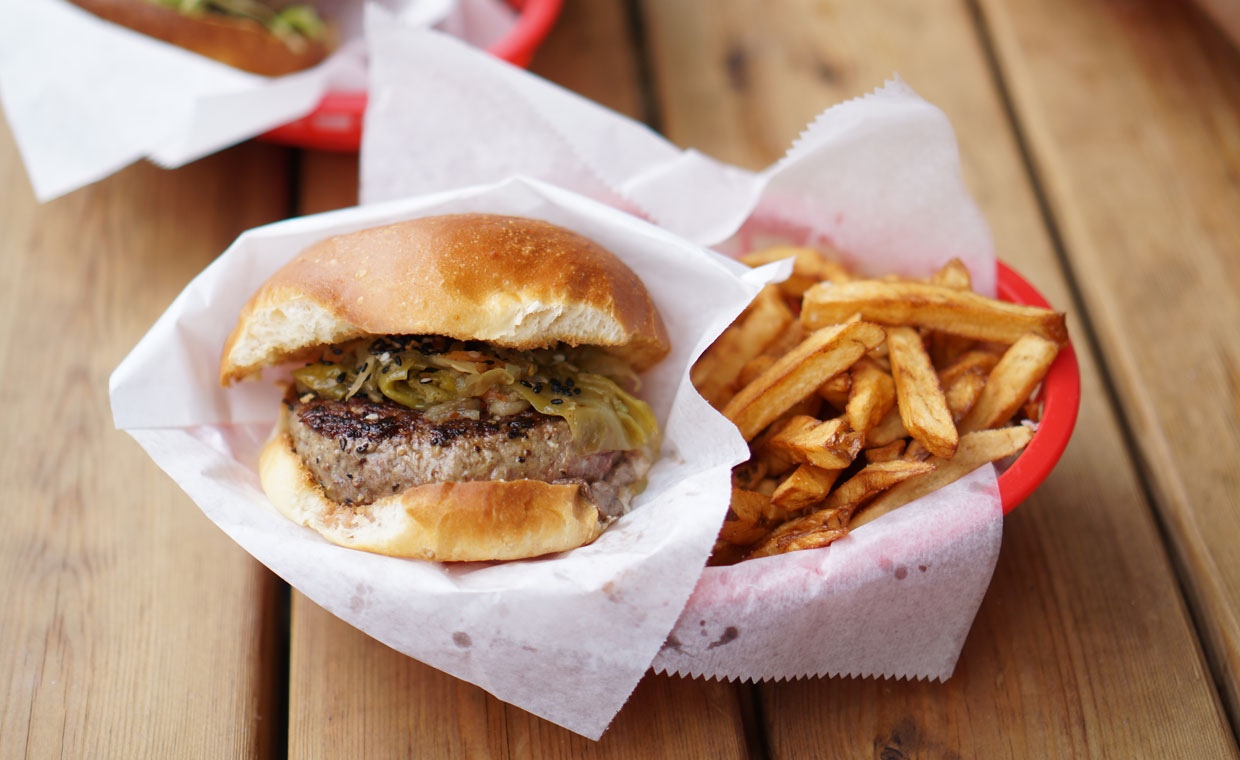 Casual Street Food i Malmö säger sig fokusera på bra snabbmat gjord på mestadels lokala råvaror utan halvfabrikat. Eftersom de ligger vid Möllan, ett av Malmös mest intressanta matområden, kollar vi därför om det även gäller burgarna.
Menyn innehåller standardburgare och ett par specialare som du får betala mellan 80 och 105 kronor för. Lägger du på runt en tjuga får du en dubbel burgare och för ytterligare tio kronor till får du pommes frites. Det går även att få burgarna vegetariska.
Vi valde deras Casual Burger. Det var mest för att när man bör vara extra stolt över en burgare om man ger den sitt eget namn, men att den innehöll kimchi lockade också. Långt ifrån alla lyckas med användandet av icke ortodoxa toppings men här har de en väl avvägd blandning med mild kimchi, hoisinsås och sesamfrön vilket ger en enkel och fräsch burgare.
Engagemanget de lagt in i komponenterna betalar sig verkligen då både brödet och det mediumstekta köttet är riktigt smakrikt, gott och funkar bra tillsammans. Om man ska vara petig så sög brödet upp såsen lite för mycket, men det är en liten negativ synpunkt på vad som vi anser vara en av  Malmös bästa burgare.
In English
Casual Street Food is a restaurant that focuses on good, locally sourced ingredients. They have regular burgers but we chose to try out their Casual Burger, which was excellently prepared with an unusual but fresh mix of toppings consisting of kimchi, hoisin sauce and sesame seeds. The patty was juicy and flavoursome, and the only thing that stopped this burger from being perfect was the bun's inability to handle all the juices – which led to it falling apart somewhat. Our favourite burger in Malmö.